2021 USA Gymnastics Championships
Senior Elite Rhythmic Gymnasts Compete At 2021 USA Gymnastics Championships
Senior Elite Rhythmic Gymnasts Compete At 2021 USA Gymnastics Championships
Senior elite rhythmic gymnasts seek the chance to represent U.S. at Tokyo Olympics as the 2021 USA Gymnastics Championships continues.
Jun 25, 2021
by FloGymnastics Staff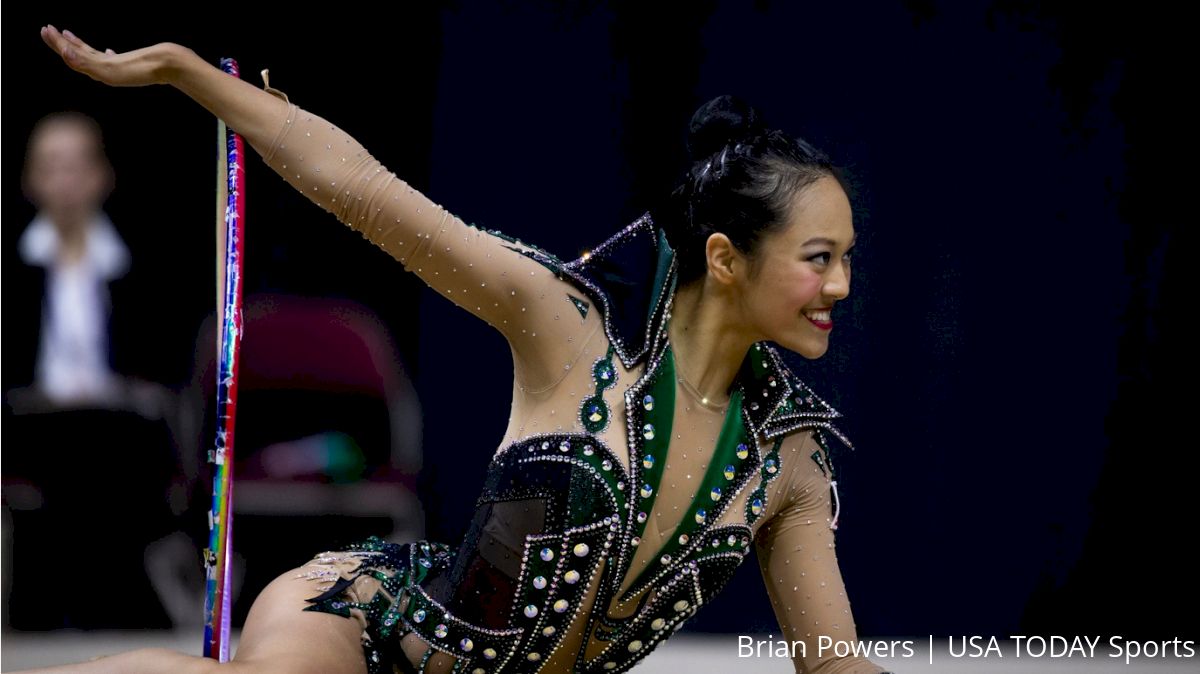 ST. LOUIS, June 25, 2021 - The senior elite rhythmic competition at the USA Gymnastics Championships kicks off today at The Dome in St. Louis. Five-time U.S. all-around champion Laura Zeng of Libertyville, Ill., and 2019 Pan American Games all-around gold medalist Evita Griskenas of Orland Park, Ill., both of North Shore Rhythmic Gymnastics Center, lead a talented field of veteran and up-and-coming rhythmic gymnasts set to compete for a spot on the Tokyo Olympic team.
The U.S. will field the largest Olympic rhythmic gymnastics team in the program's history, having secured two individual spots and a group berth for the upcoming Olympic Games. Griskenas and Zeng qualified the maximum number of individual spots through their performances at the 2019 World Championships, while the Senior National Group has unofficially secured the U.S. a place in the group competition.
The hoop and ball competitions get underway Friday with Group B at 11:30 a.m. and Group A at 1:30 p.m. CT followed by the clubs and ribbon competitions Saturday at 11:30 a.m. and 6 p.m. The top-12 gymnasts will advance to the all-around competition finals, which will be split between morning and afternoon sessions on Sunday, starting at 9:30 a.m. and 2 p.m. CT, respectively. The Olympic team will be named from among the athletes competing in Sunday's finals.

You can follow the action live on FloGymnastics. Tickets for all sessions are also available here.

Participating athletes are listed below alphabetically by state.

California
Stella-Luciana Ceo, Los Angeles, Calif./LA Ritmica
Katherine Cheng, Oak Park, Calif./California Rhythms
Alexandria Kautzman, Westlake Village, Calif./California Rhythms
Kristina Palyan, Van Nuys, Calif./Rhythmic Academy of Los Angeles
Chiara Ruggieri, Irvine, Calif./Eurogymnastics
Alexandra Sauciur, Los Angeles, Calif./Balis Gymnastics
Remy Turner, Glendale, Calif./LA Ritmica
Katherine Zhu, San Diego, Calif./Champion Rhythmics

Florida
Nerea Francis, North Miami Beach, Fla./Bessonova's School
Victoria Kobelev, Ormond Beach, Fla./Rhythmic Art
Gabriela Montano, North Miami, Fla./IK School of Gymnastics

Georgia
Elena Shinohara, Suwanee, Ga./Rhythmic Brains

Illinois
Lily Avila, Highland Park, Ill./Vitrychenko Academy
Evita Griskenas, Orland Park, Ill./North Shore Rhythmic Gymnastics Center
Yelizaveta Kovalenko, Deerfield, Ill./North Shore Rhythmic Gymnastics Center
Daria Merkulova, Grayslake, Ill./North Shore Rhythmic Gymnastics Center
Isabelle Richardson, Lake Forest, Ill./North Shore Rhythmic Gymnastics Center
Naomi Skotnikov, Highland Park, Ill./Vitrychenko Academy
Laura Zeng, Libertyville, Ill./North Shore Rhythmic Gymnastics Center
Jenna Zhao, Hinsdale, Ill./North Shore Rhythmic Gymnastics Center

Massachusetts
Mya Tam, Newton, Mass./Rhythmic Stars Gymnastics Academy

Minnesota
Erica Foster, Chanhassen, Minn./NorthWest Rhythmic

New Jersey
Esther Kiseleva, Wayne, N.J./Liberty Academy

Virginia
Elvira Belyanova, Arlington, Va./Dulles Gymnastics Academy

Washington
Lennox Hopkins-Wilkins, Puyallup, Wash./Evergreen Rhythmics