The Half In, Half Out Podcast: A Revolutionary Space In The Gym World
The Half In, Half Out Podcast: A Revolutionary Space In The Gym World
The Half In Half Out Podcast discusses LGBTQ+ culture in the gymnastics world, and invites guests on to discuss these topics as well.
Jun 25, 2021
by Miranda Martin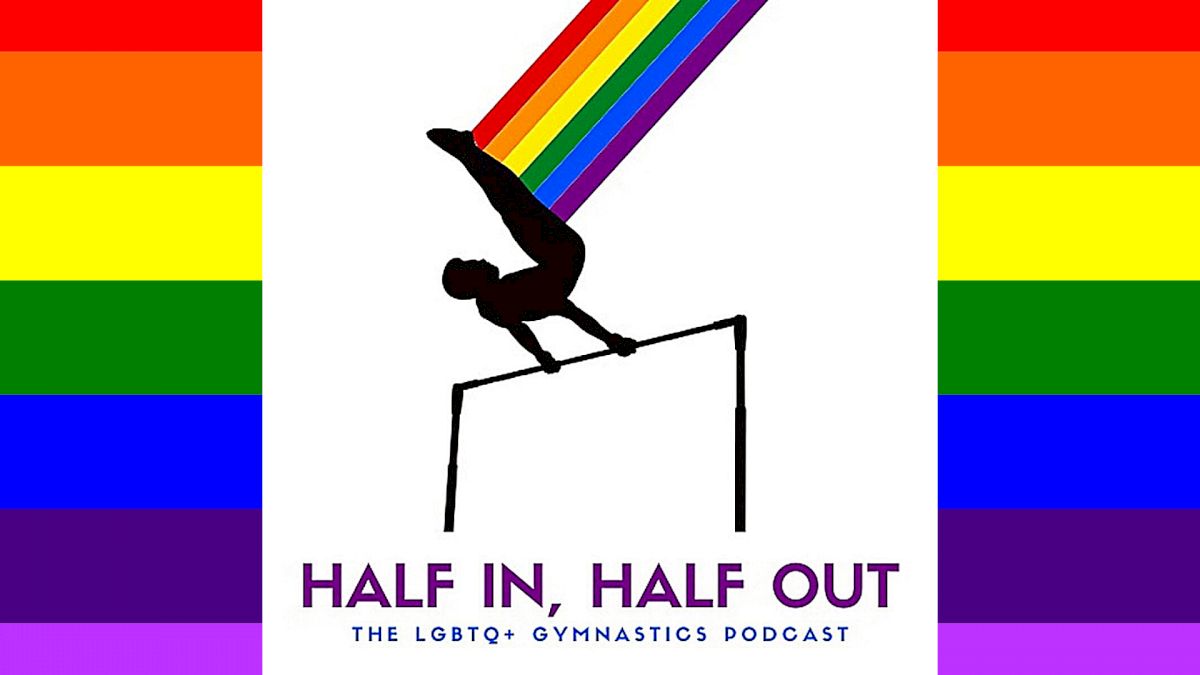 When two gymnerds who are a part of the LGBTQ+ community realized there wasn't a space to discuss LGBTQ+ issues within the gymnastics community, they decided to build their own.
Blake Bonkowski, an FTM trans person, and Kino, a bisexual cisgender woman, come together as co-hosts and co-producers of the Half In Half Out Podcast, where they discuss LGBTQ+ culture in the gymnastics world and invite guests on to discuss these topics as well. Both of them did gymnastics in their youth, and are fans today, with Blake also working at a gym and doing adult gymnastics.
The decision to create their podcast was the first brave step towards realizing a revolutionary space where gymnasts, coaches, gymnastics fans, and anyone in between could find community in a sport that conforms to strict gender roles and takes place in spaces that are often heteronormative.
In doing so, they give representation to a new generation of gymnasts and gymnerds, educate listeners on different issues, and imagine a world where gymnastics exists beyond the boundaries of societal constructions of gender, sex, and race.
Hello new followers! We're Blake and Kino, co-hosts of Half In, Half Out - the first and only gymnastics media organization focusing on the LGBTQ+ community. All liberation is connected so we are also anti-racist, combat sexism and abuse, combat ableism, and seeking equity.

— Half In, Half Out Podcast (@HIHOpodcast) June 10, 2021
Amplifying Voices
One of their early episodes featured Ella Douglas of Michigan State University shared that she felt like the only openly out women's artistic gymnast competing. Since that episode, the pair have interviewed numerous gymnasts of different identities. Her episode resonates with the community, and the following episodes show she is not alone. Gymnasts just don't know about each other without a platform to connect. For gymnasts who are not yet out publicly hearing these episodes, having the space and community can make all the difference, especially coming from such high-profile athletes.
To see gymnasts coming out and having a platform to talk about it gives confidence to others to do the same. When Kalyany Steele came out as bisexual publicly in a video at UCLA, a number of people of all ages messaged her and shared that she inspired them to live their truth. "People have told me that my story inspired them to come out to their own families, friends, or whoever. All of these messages absolutely warm my heart, and they really confirm that I did the right thing by sharing my story publicly," Kalyany shared.
"It feels so incredible knowing that my coming out and sharing my story publicly has helped others do the same and has given representation within the sport. I never had that representation growing up in the sport of gymnastics, so it makes me really happy that I can be there for anyone out there who just wants to feel valid in who they are," she added.
Being on the podcast ended up being a great experience, but at first, Kalyany wasn't sure if she should do it. "Blake and Kino reached out to me about a week after I had publicly come out to the world in my "Love, Kalyany" video. I was feeling so many emotions at the time, with so many people around the world commenting and messaging me about my coming out story, and I was honestly pretty scared to talk about everything for the first time since the video. I was feeling pretty overwhelmed with seemingly everything happening at once, so I didn't say yes to be on the podcast right away. It took me about a month to finally feel ready to do it."
Once she said yes, she was glad she did.
"It felt really special to go on the podcast—it was amazing to me that a podcast like this even existed because it highlighted two major parts of me, being about gymnastics and the LGBTQ+ community."

-Kalyany Steele
"When we first started there was barely anyone who was out as LGBTQ+ and active in the sport. And we certainly never thought that we would have a podcast...where we could reach out to people and they would say yes," Blake shared.
Kino added, "I really learned, it's not that there aren't queer people in gymnastics it's that there really hasn't been this talk about it. I remember we had an early conversation, where I said, 'Blake I don't think we'll get to have a bisexual gymnast on this podcast.' And Blake was like, 'You're wrong.'" Since then, the majority of gymnasts in the LGBTQ+ community that they've interviewed identify as bisexual.
"It's not that people aren't there, and we never thought that people weren't there, it's just that people haven't had a platform to talk about it."

-Kino
The Half In Half Out Podcast gives them that platform to share their experiences, talk about their identity, connect with others, and find unity in a sport.
Another early interviewee they spoke to was LGBTQ+ gymnastics coach Randy Lane, who believed in their vision for the podcast. Speaking to him early on gave them credibility and allowed other interviewees to see what the show would be like.
How It All Began
Kino and Blake met at an NCAA Regionals competition at the University of Michigan hosting four teams, one of them being UCLA. After seeing another adult in the crowd of mostly kids and parents wearing UCLA gear, the pair introduced themselves and hit it off immediately. The full story of how the two met can be found on their first podcast episode, titled "Meet the Hosts," and it's definitely one to listen to. After meeting it took them about a year to discuss doing a podcast. Blake had the idea first, but when he brought it up to Kino, she wasn't completely sold on the idea.
"We had conversations about both being LGBTQ+ people, both wishing that people were having this conversation in gymnastics, and then eventually I said, 'Well I could totally see myself being one of those people.' And [Kino was] the person I felt like I could have that conversation with," Blake shared. And so it began.
Kino stitched in some of her experience in podcasting, and they went for it. Kino and Blake never imagined it would grow into what it is today, a true community. That community doesn't just include people who are LGBTQ+ - it's a space for anyone who wants to hear gymnastics reporting and can identify as an ally, questioning, or anything else, as all are welcome to listen.
"You do not have to be LGBTQ+ to be on our podcast. We've had multiple guests who aren't. Because of what we talked about originally, what do we do in a situation where our guest might not be LGBTQ+? Everything is inherently queer because we're talking about it. So it doesn't really matter who we're talking to, those things are going to come up because they're going to be coming from our perspective," Kino shared.
The podcast blossomed as both a bright spot of unexpected hope and a reminder that things have a long way to go in the gymnastics world before there is total acceptance.
The pair have spoken to a lot of people who are creating safer spaces in the sport, such as gender-expansive gymnastics programs, but they've also learned about some homophobic and transphobic gyms and areas. In those places, Blake shared, "The gymnastics space can be a barrier in the personal coming out process, where that alone is going to alienate queer people in the sport, it's going to make us feel unwelcome, it's going to make us have unsafe experiences that is just going to be a problem if you're a queer person in the sport."
It's not just outward homophobia and transphobia that is a problem, it's the strict gender binary and gender expectations within the sport, the pair shared.
Reflecting on his own gymnastics experience, Blake stated, "Nobody ever said to me, 'You can't think you like girls' or 'You can't be here, we think that you're going to grow up and be a boy.' People were just like, 'You're weird' or 'Why are you wearing that?' or ignoring me or not coaching me...I just knew I wanted to be there and then eventually I didn't."
Goals of the Podcast
The Half In Half Out podcast amplifies the experiences of gymnasts, positive or negative, so every person who listens knows that they're not alone and there are safe spaces in this world. It is with great hope that Blake and Kino's bold idea of starting a LGBTQ+ podcast eases the conversation for the future generations of gymnasts to embrace who they are without judgment or fear.
"We tell every person we interview that our goal for this episode is for you to have a platform, whatever it is that's important to you to share with our audience… it really is our goal is to have a space where especially LGBTQ+ people in the sport but also where people of various identities in the sport, people of all genders in the sport, to have a space where they feel like they're going to be heard and where their particular perspective on the world and the sport of gymnastics is going to be heard, appreciated, valued, and honored," Blake shared.
How to Host a Pride Meet, our guide for any team interested in hosting their first Pride meet, or improve upon theirs in the future, is here! https://t.co/GW9cKlNtA4

— Half In, Half Out Podcast (@HIHOpodcast) January 27, 2021
Their goal for making the podcast isn't just to create representation and awareness, it's also to make actual change in the sport.
"There are still a lot of gyms or corners of the gymnastics community - areas, countries, and more where athletes don't feel safe to be out, to share their sexual orientation, gender identity, to talk about it...our work doesn't end until every gym is a safe, welcoming place for an LGBTQ+ child or adult to do gymnastics, to work, or to just be a fan," Blake shared.
Kino encourages national governing bodies to consider structural changes as well, such as only having competitions in countries or states where it's safe to exist as an LGBTQ+ person and their identity is protected by the law. That can mean only traveling to meets where it's a safe experience for all gymnasts, coaches, fans, and media.
The Effect on the Gymnastics Community
Blake and Kino aren't slowing down anytime soon. The pair is workshopping many other ideas about upcoming episodes, such as a panel discussion of gymnasts to talk about specific issues and experiences.
The LGBTQ+ gymnastics fanbase wasn't something Half In Half Out created, it's always been there. Establishing a space where athletes, coaches, fans, and anyone in between can openly discuss their identities and amplify voices of those within the community is something that fills them with great pride. Former gymnasts or gymnastics fans in their thirties, forties, fifties, and beyond frequently reach out and share how thankful they are to hear someone finally having this overdue conversation.
Makayla Sol-Speed, known as Makayla Loves Gymnastics on her social media and YouTube Channel where she writes and speaks as a gymnastics blogger, has been a longtime fan of the podcast and even appeared on an episode. She also worked on a campaign to get Dianne Durham into the USAG Hall of Fame, and the HIHO Podcast amplified her efforts immediately.
Makayla is a longtime gymnastics fan and shared what the podcast means to her, saying, "I am a proud Black trans woman, and the Half In Half Out podcast, for me, is what I have been missing my whole life. They are representation I never knew I needed...they are a breath of fresh air even in the gymnastics world...especially Blake as a trans person to see him do interviews and get a press pass and get to be on the floor at major events...even though I am older than both of them I actually aspire to be like them one day. In a nutshell, the HIHOP has helped me want to go from a fan voice to a leadership role in the gymnastics community...they are one of the first people to help me with my Dianne Durham campaign...I genuinely respect and admire them," shared Makayla.
We look forward to watching Blake and Kino continue to invoke change and create unity in the gymnastics community.
You can find the Half In Half Out Podcast on Apple Podcasts, Google, Spotify, Spreaker, Twitter, Facebook, and Instagram.