6 Things We Learned In Simone vs Herself Episode 2
6 Things We Learned In Simone vs Herself Episode 2
Simone vs Herself episode 2 gives insight into Simone Biles at the 2019 World Championships as she gets two eponymous skills and a flashback to Rio 2016.
Jun 24, 2021
by Amanda Wijangco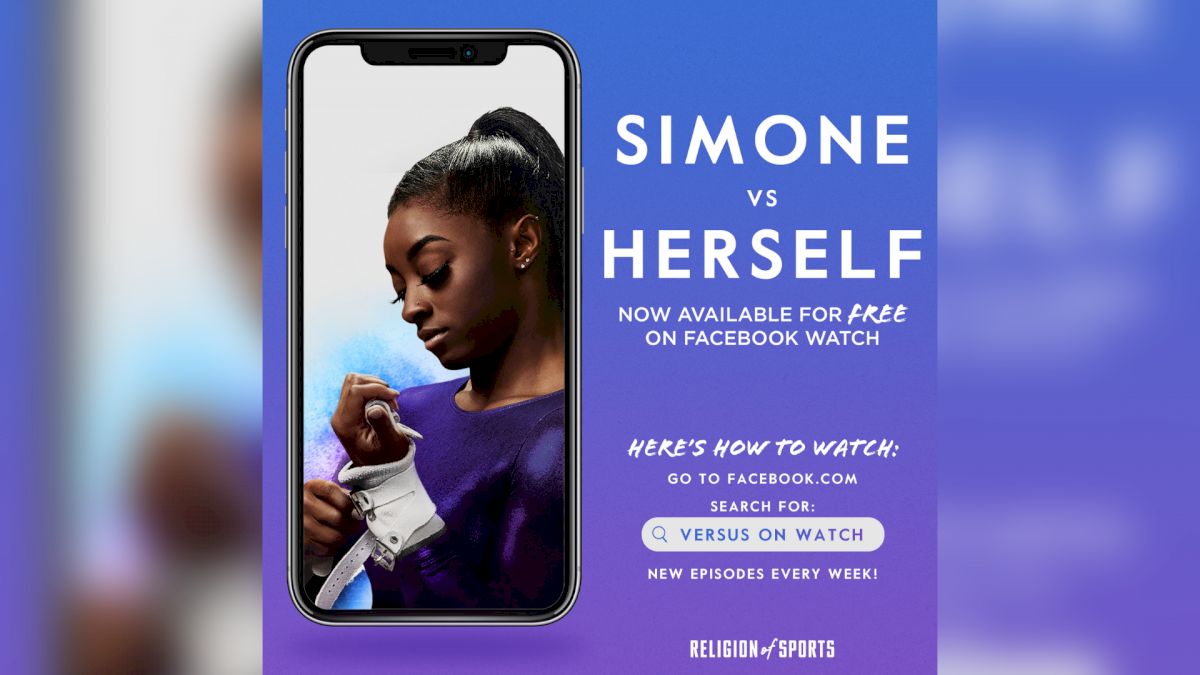 Simone vs Herself episode two, title "Can I Do It Again?" is appropriately titled as Simone Biles arrived in St. Louis for the 2021 Olympic Trials the same day of its release. In the second episode, viewers get a flashback to Biles at two major international competitions — the 2016 Rio Olympics and the 2019 World Championships — and how those meets have been a factor into her overall self and training for Tokyo.
Here are some things we learned in this week's episode, available on Facebook Watch:
She was worried about others' thoughts in Rio.
Much of the Rio flashback in the episode concerns the balance beam final in which Biles won bronze. Simone was "pissed" people were mad she didn't win gold and "felt alone" because she felt no one else was happy for her. She mentioned that everyone always refers to her as a "four-time Olympic gold medalist" and jokingly said, "My bronze feels neglected!"
Her Olympic bronze medal is tarnished.
At the end of the segment regarding her Olympic beam medal, the episode shows Biles and her mom, Nellie, at home. Nellie says all of Simone's medals are fine except the bronze, which is tarnished. So Nellie says they need to be sent back and replaced as she was told some of the Rio medals were defective. When asked if her Olympic bronze is defective, she says "Mhm," followed by a laugh and "I had a defective performance!"
Doing the triple-double "doesn't really feel like anything."
As the episode moves on to cover the 2019 World Championships, it focuses on the skills Biles debuted in Stuttgart. The reigning Olympic and World all-around champion became the first female gymnast to compete a triple double on floor in international competition and thus earned another eponymous skill on floor exercise. When asked what it feels like to do a triple-twisting double tuck, she initially answered that it "doesn't really feel like anything." She later says "It feels more like a sound rather than a feel," and jokingly added that "Half the time, honestly, I feel like I'm just going to die."
She has some thoughts on the rating of the Biles on beam.
The episode shows Simone debuting the double-double dismount off beam in addition to her doing post-meet press in the mixed zone after the competition. To interviewers, she expresses her joy in successfully getting the double-double beam dismount and triple-double pass on floor named after her.
But in commentary footage recorded for Simone vs Herself, she says "I'm almost 99.9% sure if any other athlete were to do it besides me, they would give it correct credit. But since I'm already way ahead of everybody, they kind of want to pull it back, 'cause sometimes they don't think it's fair that I win all the time."
The FIG has given the Biles dismount an H rating.
There's a planned response to the FIG when it rates the Yurchenko double pike vault.
Considering her thoughts on how her beam dismount was rated, it makes sense for Simone and her coaches to "have all of (their) facts and notes in order" for when the FIG rates the Yurchenko double pike vault in Tokyo. "We have our agenda of the things we might say back," Simone said.
"She wants to push the boundaries of the sport, and hopefully the FIG will agree with that and will give that vault a high value, considering the risk that she's taking," Biles' coach, Laurent Landi said.
Unlike in Rio, Biles isn't afraid of judgment anymore.
At the start of this week's episode, she discussed her worries and insecurities about what other people think of her and her gymnastics. By the end of the episode, Simone is shown at her home by herself during the pandemic. She once again mentioned how quarantine allowed her to connect with herself and her emotions in a way she hadn't been able to before. Now she is comfortable showing who she is without people judging her because she knows herself and isn't worried about others' opinions anymore.
Facebook Watch will release new episodes of Simone vs Herself weekly with a total of seven episodes ahead of the Olympic Games.