2021 American Classic and Hopes Classic
10 Superhero Costumes That Give Us Major Leotard Inspiration
10 Superhero Costumes That Give Us Major Leotard Inspiration
These 10 Marvel and DC superhero costumes are great design inspiration for current and future gymnastics leotards.
Apr 21, 2021
by Amanda Wijangco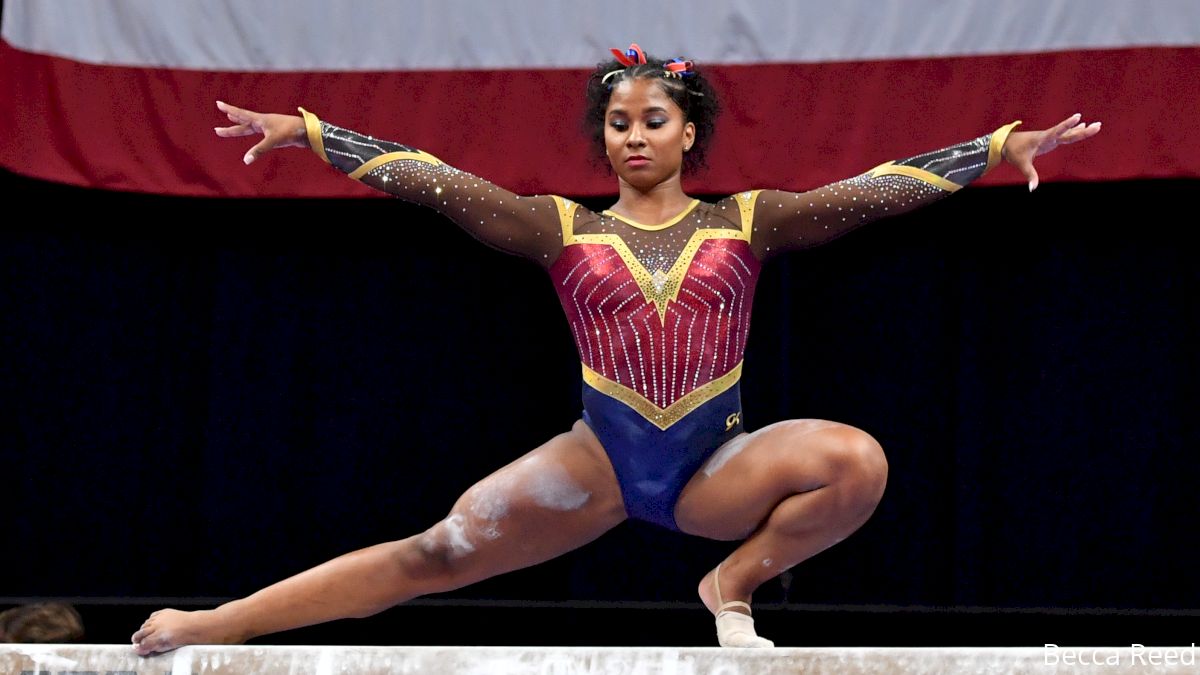 If gymnastics is the highest you can get to flying, then gymnasts are the superheroes of sports. Like superheroes, gymnasts don their own unique kind of armor: leotards. Superhero costumes and gymnastics leotards alike allow for specialized unique movement, and gymnasts have even worn leotards inspired by superheroes.
Jordan Chiles wore an iconic Wonder Woman-inspired look at the 2018 U.S. Gymnastics Championships. Earlier this year, Laurie Hernandez announced all of her leotards for this season would be inspired by superheroes. Hernandez took Captain Marvel's color palette and sported her take at the 2021 Winter Cup.
Here are 10 more superhero costumes that would lend themselves well as leos and already-existing leotards that can help you channel your inner superhero.
Wanda Maximoff's new Scarlet Witch suit from WandaVision
WandaVision has been the superhero talk of the town this year — but no spoilers here! — and the Sokovian protagonist not only debuted the classic costume from the comics but also a new, sleek and modern version designed especially for the Disney+ show.
Break the fourth wall of #WandaVision with Marvel Studios Assembled: The Making of WandaVision. The Original Special is now streaming on @DisneyPlus. pic.twitter.com/MdNuFnqToc

— WandaVision (@wandavision) March 13, 2021
While the classic Scarlet Witch costume is a bright and bold red, Wanda Maximoff's newest look truly embodies the name "Scarlet Witch." Both the headpiece and bodysuit are dark red hues with intricate and sharp designs, bringing a darker and more contemporary vibe.
How to channel this look:
Sam Wilson's New Falcon Suit From The Falcon and the Winter Soldier
Disney+'s latest Marvel series also features more new suits from newer members of the Earth's mightiest heroes. Stepping into the spotlight is Steve Rogers' right-hand man Sam Wilson with a new uniform that truly embodies the bird for which he's named after. With a wing-like design across the chest and pointed peak at the center, it resembles a falcon in a modern and subtle way.
A leotard with a modern wing-like design sounds awesome and perfect to help athletes soar through the air, especially on bars during releases and on beam and floor during leaps and jumps.
How to channel this look:
The Dora Milaje Uniforms
The Dora Milaje, Wakanda's fierce female warriors, are truly a force to be reckoned with. Not only do the Dora Milaje excel in combat, but they do so in a style that's true to their culture. Their uniforms are rich and detailed with deep colors, beautiful patterns, and stunning adornments throughout.
UCLA alumna Sadiqua Bynum was actually in Black Panther as a member of the Dora Milaje, showing off her strong, athletic prowess in fantastic fashion.
How to channel this look:


Black Panther's Suit
Gymnastics and superheroes alike have their royalty, and both have shown that royalty does not have to look the part with fancy frills and sparkling jewels. But a cool outfit doesn't hurt either.
T'Challa is the king of Wakanda and has a one-of-a-kind suit fit for a king who isn't afraid to fight for his people (and the world). With the moniker of Black Panther, it only makes sense for his suit to be black, but it isn't flat despite being monochromatic. The fabric is textured and has details with varying finishes that allow light to shine on it and create depth. In addition, there are claw-like details throughout, most noticeably the necklace. The look says Black Panther without being an actual animal costume.
How to channel this look:
Captain Marvel's Suit
Laurie Hernandez sported a Captain Marvel-inspired leotard earlier this year at the 2021 Winter Cup by using the colors of Carol Danvers' suit in her leotard. However, the actual design of Danvers' Kree-turned-superhero uniform provides awesome inspiration that could easily be utilized for a leotard.
The superpowered Air Force veteran sports classic and bold colors that are simply striking when juxtaposed with gold. The star at the heart creates a focal point that ties everything together.
How to channel this look:
Spider-Man Future Foundation Suit
Remember when Spider-Man joined the Fantastic Four? It happened! Take the Future Foundation suit for a spin, now live in #SpiderManPS4: https://t.co/camZAEa0Ui pic.twitter.com/33cydC09eT

— PlayStation (@PlayStation) January 29, 2019
With three iterations of the Spider-Man movies in the past 20 years, it's safe to say the webbed hero is popular. While Peter Parker is known for the classic red and blue suit, his Future Foundation suit is striking.
The white and black create as much contrast as possible and make for a really bold, clean look. It still has the classic spider at the center with a web design stemming from it in addition to some rectangular elements going down the side, which prevents it from looking too plain. Jordan Chiles currently has Spider-Man floor music and is no stranger to superhero leos, so maybe this is a look she should have considered?
How to channel this look:
Shang-Chi's Uniform From Shang-Chi and The Legend of The Ten Rings
Whoever said that you could only RECEIVE presents on your birthday? Today, I'm giving you your VERY FIRST LOOK at the teaser poster for @ShangChi and the Legend of the Ten Rings!!

Coming to theatres September 3rd (trailer drops in a few weeks).

WE'RE ALMOST THERE, PEOPLE!!!! pic.twitter.com/Kzgkg8djeQ

— Simu Liu (@SimuLiu) April 19, 2021
New Marvel movies are finally back this year, and the Master of Kung Fu, Shang-Chi, is being introduced to the mainstream world and Marvel Cinematic Universe this fall in Shang-Chi and The Legend of The Ten Rings. Martial arts uniforms aren't necessarily known to be flashy or stylish, serving function over fashion, but the uniform Shang-Chi wears in the movie teaser poster definitely serves both.
The red top is full of texture from the base material and the trims to the different shades of red. Its design is rugged and sharp, and it has a high collar neckline like that of traditional Kung Fu uniforms, which isn't unseen in gymnastics leotards. The entire shirt is full of detail, from the criss cross pattern (also not a new element to leos) to the shoulder pads and V-neck panels.
How to channel this look:
Wonder Woman's Gold Armor From Wonder Woman 1984
Chiles's unforgettable Wonder Woman leo from 2018 was already mentioned, but there's a new outfit from the Amazonian goddess warrior that also provides excellent design inspo.
Only one word truly captures Diana Prince's new threads, and that is golden. The armor is gold from head to toe but is far from plain despite the monochromatic look. The layers of armor create depth, texture, and — of course — a stunning shine.
How to channel this look:
Mera's Suit and Crown From Aquaman and Justice League
While Marvel comics and superheroes seem to dominate the mainstream superhero conversation, there are DC characters who can provide design inspiration as well — and DC is much more than Batman, Superman or even Wonder Woman. Mera, from the Aquaman comics and movies, has a stunning suit and crown. As aquatic royalty, her suit is mermaid-esque and has sparkling emerald scales all over that reflect light all over. It's also adorned with radiant gold accents on the belt and arms fit for royalty.
How to channel this look:
Alex Danvers' Sentinel Suit From Supergirl
DC Comics has established a solid universe with their TV shows, including Supergirl, which is in its final season this year. While Supergirl may automatically lead to visions of the iconic "S" logo both Supergirl and Superman don on their chests, the show has other looks that lend themselves to leos better than the title character's.
Alex Danvers, pictured on the far right, the sister of Kara (aka Supergirl) began the show as a government agent whose work attire consisted of a black, sleek, form-fitting suit but is ending the show in much more style. Government agent no more, she helps Kara and their friends save the world in a blue and black Sentinel suit.
The blue provides a nice contrast and pop of color to the entire outfit, and the vertical curves stemming from the waist create a nice silhouette. The lace-up detail in the middle is also a fun touch that has been replicated in leos before.
How to channel this look: