10 Gymnasts To Celebrate During Women's History Month
10 Gymnasts To Celebrate During Women's History Month
Ten gymnasts to celebrate during women's history month because of their contributions to the sport and the world.
Mar 3, 2021
by Miranda Martin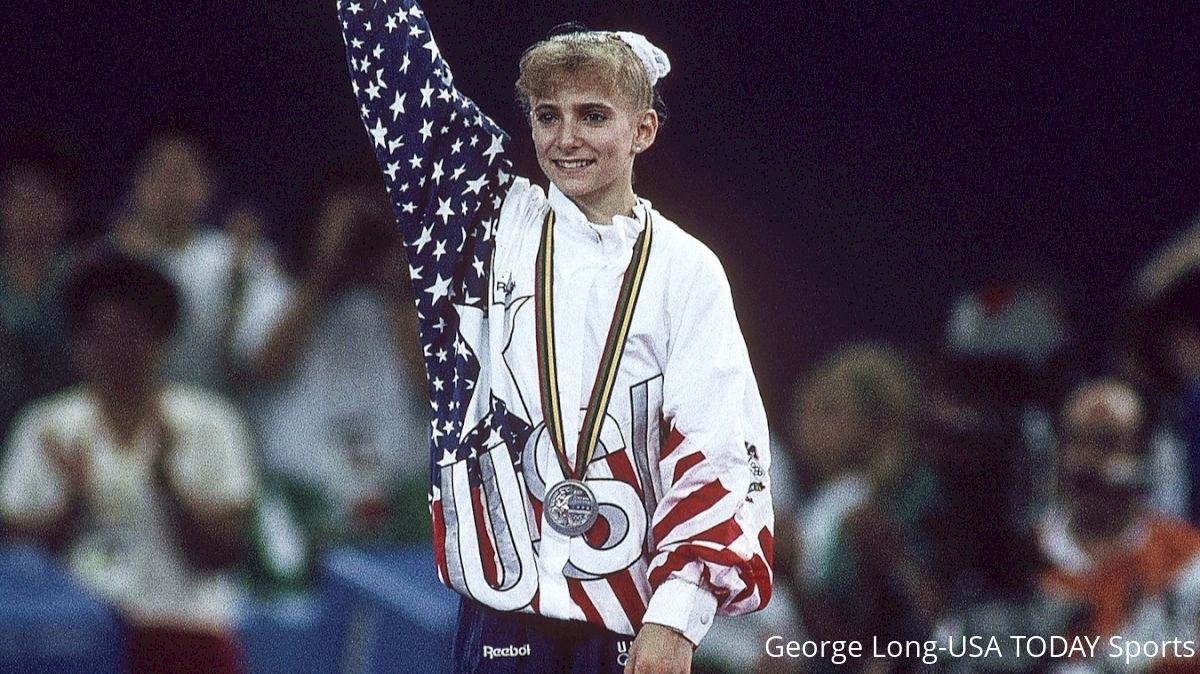 The sport of gymnastics is filled with legendary, gravity-defining women, but here are ten gymnasts we celebrate for Women's History Month who have made their mark for their contributions to the sport and the world.
We're celebrating Simone every day of our lives, but she's a frontrunner for this list for all the barriers she's broken and the attention she's brought to the sport of gymnastics. Biles is also an outspoken advocate for youth in foster care, as she grew up temporarily in foster care herself. Additionally, she's talked about being diagnosed with ADHD and taking medication for it, which can be inspiring to young gymnasts who are diagnosed.
Having ADHD, and taking medicine for it is nothing to be ashamed of nothing that I'm afraid to let people know.

— Simone Biles (@Simone_Biles) September 13, 2016
Aly Raisman has been so involved with advocating for gymnasts everywhere, we wrote an entire article on it. From mental health to fighting against sexual abuse, to speaking up for positive body representation in the media and training coaches to create a safer environment for kids in sports, Raisman is the definition of using her platform for good.
"I just want to talk about mental health because I don't want people to feel alone, and healing isn't one-size-fits-all."

— @Aly_Raisman pic.twitter.com/t1lEFedQpr

— Alexis Benveniste (@apbenven) September 8, 2020
Savannah Schoenherr
With few openly LGBTQ+ gymnasts competing, gymnasts sharing their sexuality openly is a big deal. Savannah Schoenherr isn't the first gymnast to come out as LGBTQ+, but she did it in a public way with a video that went slightly viral, it has brought so much recognition to different identities. Seeing her supported by her team and thriving in gymnastics is surely a positive representation for gymnasts in the LGBTQ+ community. We've seen more and more pride meets in recent years in NCAA, and her NCAA team Florida recently hosted their first pride meet, clearly showing her and other out gymnasts' impact.
Never be afraid to be your true self.
❤️🧡💛💚💙💜

We are so proud of you, @savannah_fs! 🌈 #PrideMonth #LoveWins #GoGators pic.twitter.com/XfrwfldQ3R

— Gators Gymnastics (@GatorsGym) June 24, 2020
Dianne Durham
Durham was a pioneer in the sport of gymnastics. As the first Black senior national gymnastics champion, she paved the way for other gymnasts of color who came after her and is someone to remember during Women's History Month.
Day 26 #BHM: We have a local hero in Dianne Durham born in Gary, IN but spent most of her days in the Chicagoland area. Another 1st and only for a while, Dianne became the first Black gymnast to win a U.S. national championship when given the opportunity. https://t.co/loabLFwhbb

— HunterOJH (@OjhHunter) February 26, 2021
Nadia Comaneci is a staple in gymnastics and women's history as the first gymnast to be awarded a perfect 10.0 at the 1976 Olympic Games. Her accomplishment is often celebrated as not only a legacy in the sport but also an accomplishment for female-identifying athletes everywhere.
History was written #OnThisDay in 1976! Enjoy Nadia Comaneci and her iconic perfect 10s at the Montreal Olympics! 🇷🇴🌟 pic.twitter.com/A49gKxq01G

— European Gymnastics (@UEGymnastics) July 18, 2020
Natasha Coates
Coates is a role model for gymnasts of all abilities. Her Mast Cell Activation Syndrome (MCAS) means that different triggers can give her extreme allergic reactions, from simply sweating, crying, or more. Coates speaks out for gymnasts with disabilities and encourages everyone to join gymnastics, paving the way for more inclusivity in the sport.
Laurie Hernandez is known for speaking out about mental health, a revolutionary act in a sport that has dealt with so much abuse of many forms and a culture of silence around it. Hernandez is changing the stigma surrounding mental health by sharing her experiences, changing the course of gymnastics history.
"I was already dealing with some depression during gymnastics on and off. But during those two years it just snowballed." | Olympian Laurie Hernandez Shares Her Mental Health Journey: //t.co/4JJqNEgp8V">https via @IDONTMIND pic.twitter.com/ics7GRBP1T

— Mental Health America (@MentalHealthAm) November 22, 2019
A lot of NCAA gymnasts, Trinity Thomas included, have spoken out about the racial injustices in our society. This has spurred activism in gymnastics, such as Black Lives Matter competitions and more.
Though she is young and has lots of history left to make, Hurd has been unflinching in her activism and standing up for what she believes in. She's leading a new generation of gymnasts that use their voices to create change and making history as she does it.
it's voter registration day! are you registered to vote? very excited to vote in my first election because EVERY. VOTE. MATTERS.https://t.co/4WKJGXSAfD#VoteReady

— morgan hurd (@morgihurd) September 22, 2020
Shannon Miller is the most decorated U.S. female gymnast in Olympic history, with a total of seven medals between the 1992 and 1996 Olympic Games. She has two gold medals (1996 team and balance beam), two silver medals (1992 all-around and balance beam), and three bronze medals (1992 team, uneven bars, and floor).
1996 Olympic flashback: Shannon Miller, the most decorated gymnast in U.S. history https://t.co/2aflFrdtvn pic.twitter.com/88BaFU8Rvf

— People (@people) August 5, 2016
Who did we miss that you're thinking about during Women's History Month? Tell us in the comments or email flogymnastics@flosports.tv.