2021 Metroplex Challenge
Oklahoma Gymnast Audrey Davis: Keeping It Fun & Competing For Family
Oklahoma Gymnast Audrey Davis: Keeping It Fun & Competing For Family
Get to know Audrey Davis as she shares her experience so far as a collegiate gymnast, her pre-meet ritual, and some of her favorite things to do.
Feb 8, 2021
by Olivia Karas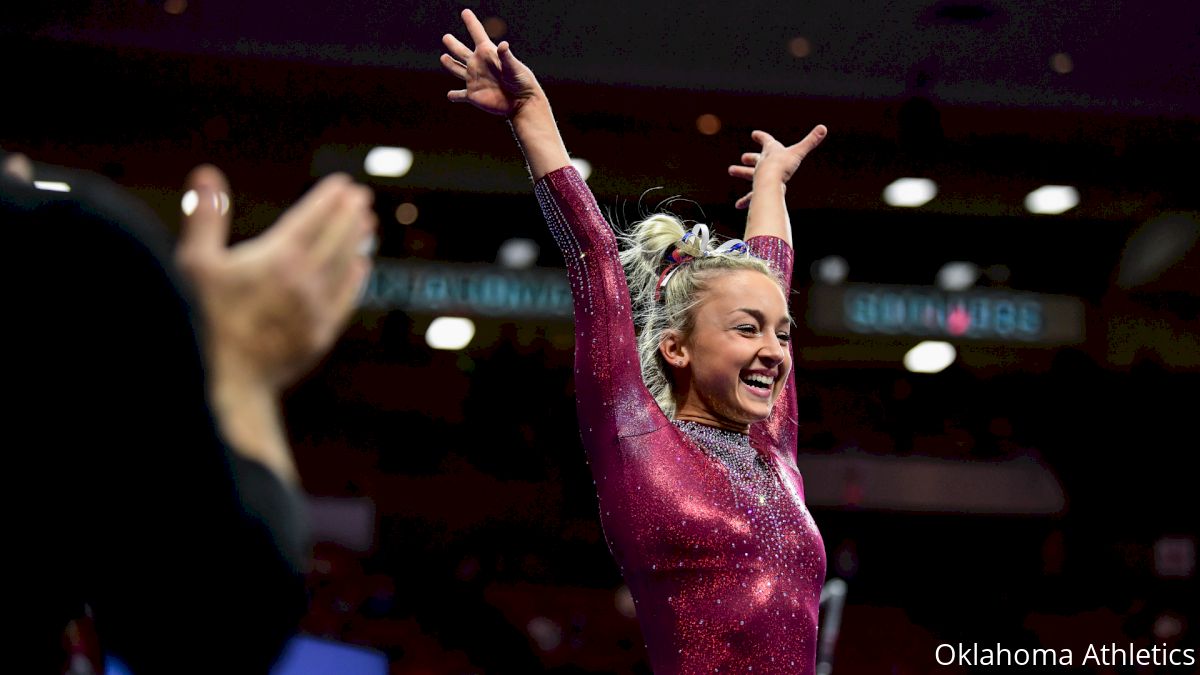 The NCAA has been lucky to introduce Oklahoma star freshman Audrey Davis to the collegiate gymnastics stage. Her beautiful lines and confident beam aren't the only things we should know about the superstar.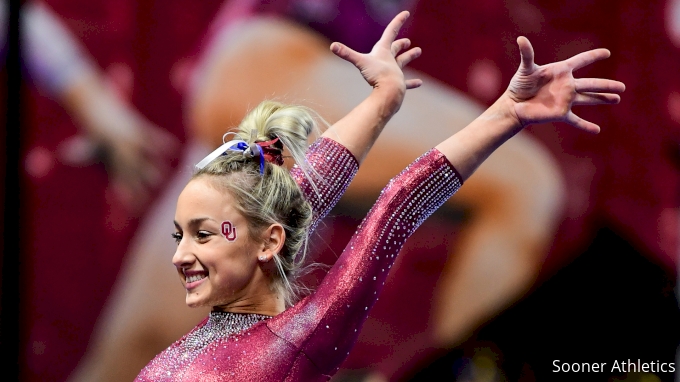 Get to know Audrey more as she shares her experience so far as a collegiate gymnast, her pre-meet ritual, and some favorite things to do outside of gymnastics. Plus, the insight scoop on her go-to coffee order.
What was it like to put an OU leotard on for the first time?
Putting an OU leotard on for the first time was one of the most amazing experiences I've ever had. I had dreamed of that moment for so long, wondering what it would feel like. And I had no words. It felt so good to be with the team and officially be able to compete for the University of Oklahoma. Plus, the first leotard we wore this year was a new one that had never been worn before. The team voted on which to wear and this is the one that was chosen. I was super excited as it is my favorite one.
What has been your favorite moment on the team thus far?
Honestly, practice. When I'm around all of the girls and spending time with them, we have a blast connecting and working toward one goal. Specifically, Ragan (Smith) and I will dance around during the entire practice and make it a good time. She and I can goof off but also get our assignments done. Kari (Thomas) and I constantly motivate each other during practice and at meets. It's really nice to have someone like her who helps build me up when I need it, and me to her too. Overall, I like making practice fun by dancing around to keep the mood light.
Do you have a pre-meet ritual? If not, do you do anything/say anything specific before you salute to compete?
My pre-meet ritual is very different from others. I have a specific picture of my dad and me that I bring to every meet and put in my locker. I talk to my dad before the meet, as it calms me down and grounds me before the day ahead. You will also notice that I rub my stomach before every event. In that moment, I tell myself that I'm doing it for him.
What is the best advice you have received so far in college?
Assistant coach Tom (Haley) gives the best advice. The best advice he has given me, though is this: He tells us that if you can make your routines while feeling your worst, then imagine how you will do when you are feeling your best. Practice is tiring and our bodies aren't always feeling great. But he's right. If I can do it now, imagine how I'll do when I have adrenaline and feel my best.
What is your favorite event and why?
I love bars and beam. I can't really pick between the two. I love bars because it feels like I'm flying and my routine is pretty unique. I love showing everyone what I can do and standing out with different skills.
She's been waiting for this one!

Davis gets the STICK and a CAREER-HIGH 9.95!!!!! pic.twitter.com/V2eFfdlWd8

— Oklahoma Women's Gym (@OU_WGymnastics) February 1, 2021
Beam is where I can show my confidence and really be a beam queen. It is very empowering.
AUDREY. DAVIS.

She responds from last week in a 𝐁𝐈𝐆 way with a career-high 9️⃣.9️⃣5️⃣! pic.twitter.com/iZfnkQBTO1

— Oklahoma Women's Gym (@OU_WGymnastics) February 7, 2021
Who is your idol in gymnastics and in life?
My idol in gymnastics is my older brother Matthew. He does gymnastics at Westpoint. We've done gym together my whole life and have grown up doing the sport side by side, so our relationship is very much of mutual respect. He works so hard and competes all around for Westpoint, which pushes me to compete all-around for OU. In life in general, my idol is my dad. He was so strong and embodied strength and determination. I know I can always look up and talk to him about everything going on, from gymnastics to school to life in general.
What is the biggest difference for you between college and club?
The overall energy. When I did club gymnastics, everything I did was for myself. That's how club works – you don't really do it for others. Now, in college, you're doing it for a team, a University, and yourself. It's a big difference, but a good difference. Everything I do is a representation of things way bigger than just me, and that is a big adjustment to make.
What is your first gymnastics memory?
I started gymnastics when I was really young. As with many gymnasts, my mom took me to mommy and me classes and I would beeline out into the gym and straight to the beam. I'd legit run back and forth on the high beam, having the best time while all of the other kids stared at me in terror. I was always moving and not caring.
What are three words you would use to describe you?
I would say that I'm very energetic and like to dance even though I'm not good at it at all. I love to make everything a good time and help others around me relax.
Outside of school/gymnastics, what do you like doing? What brings you joy and what are you passionate about?
I like to go to the beach and swim. Being outside as a whole is something that makes me really happy, but that's hard to do now when it's just a little too cold.
Speed round. Get to know Audrey Davis with this quick 10 questions session.
Favorite food: spaghetti or pizza
Favorite movie: The lion king. It's just so good. As kids, we used to watch it on repeat.
Funniest girl on your team: Ragan Smith
Favorite candy: Airhead extremes
Go-to coffee order: iced white mocha with sweet cream foam
Starbucks or Dunkin?: Dunkin was my go-to in high school but now it has to be Starbucks since there isn't a Dunkin nearby.
Dream job: Veterinarian
Dream vacation destination: Bora Bora
Favorite binge-able TV show: One Tree Hill
Favorite song right now: Wondering 'Bout The Wind by Morgan Wallen