2021 Metroplex Challenge
What To Watch For At 2021 Metroplex Challenge: Oklahoma, Iowa State, & More
What To Watch For At 2021 Metroplex Challenge: Oklahoma, Iowa State, & More
Oklahoma, Iowa State, TWU, Centenary women's gymnastics headline the 2021 Metroplex Challenge. Here's what you need to know.
Feb 1, 2021
by Kelly Feng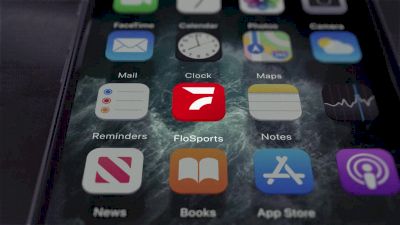 After a sudden end to the 2020 season, prolonged time out of the gym due to the COVID-19 pandemic, and ongoing meet schedule speculation, college gymnastics for the 2021 season is underway.
From Feb. 13-14, FloGymnastics is streaming the 2021 Metroplex Challenge, a premier event in women's artistic gymnastics. The collegiate challenge is held Saturday evening, featuring four NCAA teams. This year the event will showcase Oklahoma (5), Iowa State (17), Texas Woman's (43), and Centenary (La.).
The Sooners won this event each of the last two seasons and also took the title in 2016.
In the WCGA preseason coaches poll, Oklahoma was ranked No. 5, the seventh-straight season the team has landed in the top two to start off the year. After week three, the Sooners sit at No. 3.
They have competed in more meets than the other teams that will take the floor in Fort Worth, Texas, giving them the edge.
Keep an eye on freshman Audrey Davis. She brought her elite training and impeccable form to her routines, and as a freshman, she is already being trusted to lead off on vault, as well as anchor bars.
A freshman as the anchor? She's got this.

Audrey Davis with the CAREER HIGH 9.9 to wrap things up!

📺 ESPN2 | https://t.co/8gNRLgs0wc pic.twitter.com/Ru6eLUoRjc

— Oklahoma Women's Gym (@OU_WGymnastics) January 17, 2021
Davis has outstanding form everywhere, but especially on bars in her handstands. She also has a beautiful Onodi and perfect extension from her hands to her toes on beam.
Utah meet recap? ✅
Previewing West Virginia? ✅
Breaking down Audrey Davis' bar routine? ✅@Meg__McDonald and head coach KJ Kindler sit down to chat all that and more! ⤵️

🎥: https://t.co/aQr3fQmjYS pic.twitter.com/qdPi50u3E0

— Oklahoma Women's Gym (@OU_WGymnastics) January 20, 2021
In addition to the freshman newcomer, don't take your eyes off all-arounder Anastasia Webb. She played a critical role in all three wins this season, capturing and winning the all-around title against Arizona State and West Virginia. Often overlooked by more prominent names at Oklahoma, Webb's senior year will likely be a stand-out season you don't want to miss.
While the Sooners ended the meet against West Virginia on beam having to count a fall for a 48.625 total, sophomore Jenna Dunn was as steady as always, earning a 9.850 in the No. 3 spot. Smith and Webb rallied, each scoring 9.925 to bounce back from the rough start to the rotation.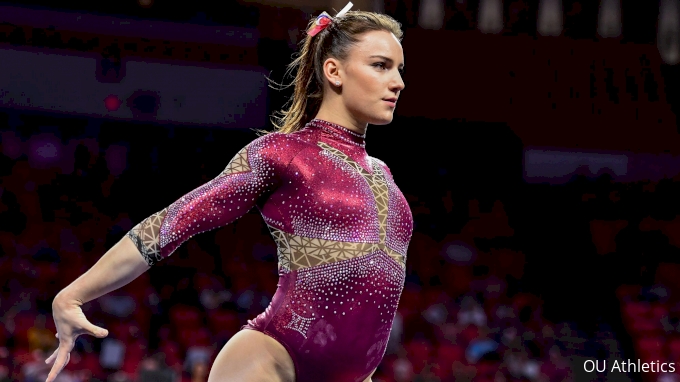 While the team has been successful to start the 2021 season, head coach KJ Kindler is still toying with lineups to find her ideal top six in time for postseason. Freshman Quinn Smith was added to the vault lineup and classmate Bell Johnson made her debut on floor. Since the first meet, five freshmen have competed in at least one meet this season.
Oklahoma Gymnasts To Watch:
Iowa State's only meet so far was on Jan. 15 against Denver in Ames, Iowa. While the visitors had the win with a 196.600, the Cyclones had a strong performance, showing great potential and posting a 195.500, their third-highest season-opening score in school history.
The 18th-ranked team is also a global one. There are 21 gymnasts on the roster, with representatives from Spain, Canada, Puerto Rico, Peru, England, and of course the United States.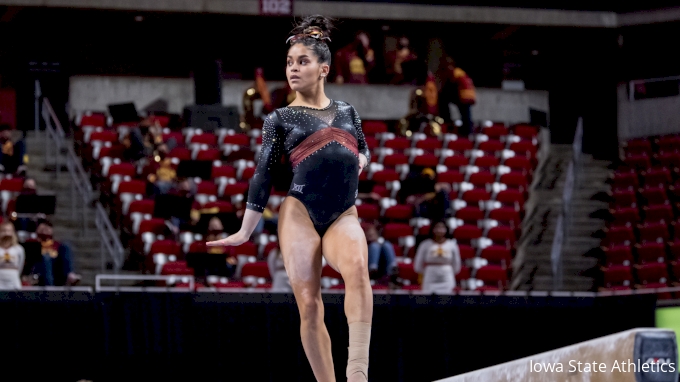 The Cyclones are led by senior Andrea Maldonado, who earned All-American honors last year on floor and had four 9.950s on the event in 2020, as well as Nebraska transfer and all arounder Addy De Jesus.
Fun Friday! YOU BE THE JUDGE!
This is Andrea's routine from last week. Watch it and send us your score! GO CYCLONES! pic.twitter.com/iinu9S7coe

— Cyclone Gymnastics (@CycloneGYM) January 22, 2021
Against Denver, the Cyclones were dominant on vault, with four scores at or above 9.825, tallying a total of 49.175, their highest season-opening vault score since 2005. They are now ranked No. 6 in the nation on the event.
We couldn't choose only one routine of the week🤩 Check out our 6th ranked vault team!! #BetterTogether pic.twitter.com/ri1PFPTOJ7

— Cyclone Gymnastics (@CycloneGYM) January 21, 2021
De Jesus led the scoring and won the event with a 9.900, followed by Sophia Steinmeyer, who posted a 9.850. Kelsey Boychuk both posted a 9.825, with Boychuk achieving a career-high. Kaia Parker started her Cyclone career by scoring a 9.775. The other events weren't quite as solid, but after two weeks off since their last competition, the Cyclones are poised for improvement across the board.
Iowa State Gymnasts to Watch:
Andrea Maldonado
On Jan. 9, Texas Woman's opened its 2021 season with a 193.625 in its final preseason intrasquad before taking the stage for real a week later for the 2021 season. The Pioneers hosted a tri-meet on Jan. 16, where they notched a 192.725 to place second to Lindenwood, ahead of SEMO.
Sophomore Maddie Griffith posted a career-high 9.850 to lead the way on bars. At the same time, senior Paige Stuyniskiscored 9.750 on beam for her own career-best and the top mark on the event for Texas Woman's. Isabel Goyco led floor with a 9.800, followed closely by Madeline Gose's 9.750.
ICYMI: @TWUGymnastics' Maddie Griffith (@_maddiegriffith) set a career-high 9.850 on bars on Saturday 👏#PioneerProud | #AiE pic.twitter.com/2sA19M7wda

— Texas Woman's Pioneers (@twupioneers) January 19, 2021
Griffith earned MIC Performance of the Week for her solid 9.85 bar routine.
Freshman Gosé earned MIC Newcomer of the Week for her collegiate debut.
The Pioneers did their best work of the meet on beam, posting a meet-best 48.750 with all five Pioneers tallying 9.700 or higher.
Keep an eye out for Alix Pierce. After Seattle Pacific folded its women's gymnastic program, Pierce transferred to Texas Woman's. She posted a 9.725 in the team's preseason intrasquad, as well as at the tri-meet. As it is early in the season, Pierce's beam will only get better.
Texas Woman's Gymnasts to Watch:
The Centenary Ladies had to quarantine on and off throughout the fall, delaying their preparation for the 2021 season. Because of this, the Ladies are kicking off their season a little later than originally planned. Disappointed, the Ladies have continued to work hard to compete for the first time this season at a tri-meet on Feb. 7 against Texas Woman's and Air Force, before taking on the Metroplex Challenge.
Ever resilient, the Ladies dealt with this setback with daily intrasquads coordinated by Head Coach Jackie Fain, who coached via Zoom while she quarantined.
Keep an eye out for junior Kendall Sanders. A three-time All-American, she has competed all-around in every meet except her first meet freshman year.
Centenary Gymnasts to Watch: