NCAA
Michigan Gymnast Annie Maxim: The Power Of Proving Yourself
Michigan Gymnast Annie Maxim: The Power Of Proving Yourself
Michigan gymnast Annie Maxim's story started in a rival town with major setbacks along the way but her perseverance landed her a key role on the team.
Dec 21, 2020
by Olivia Karas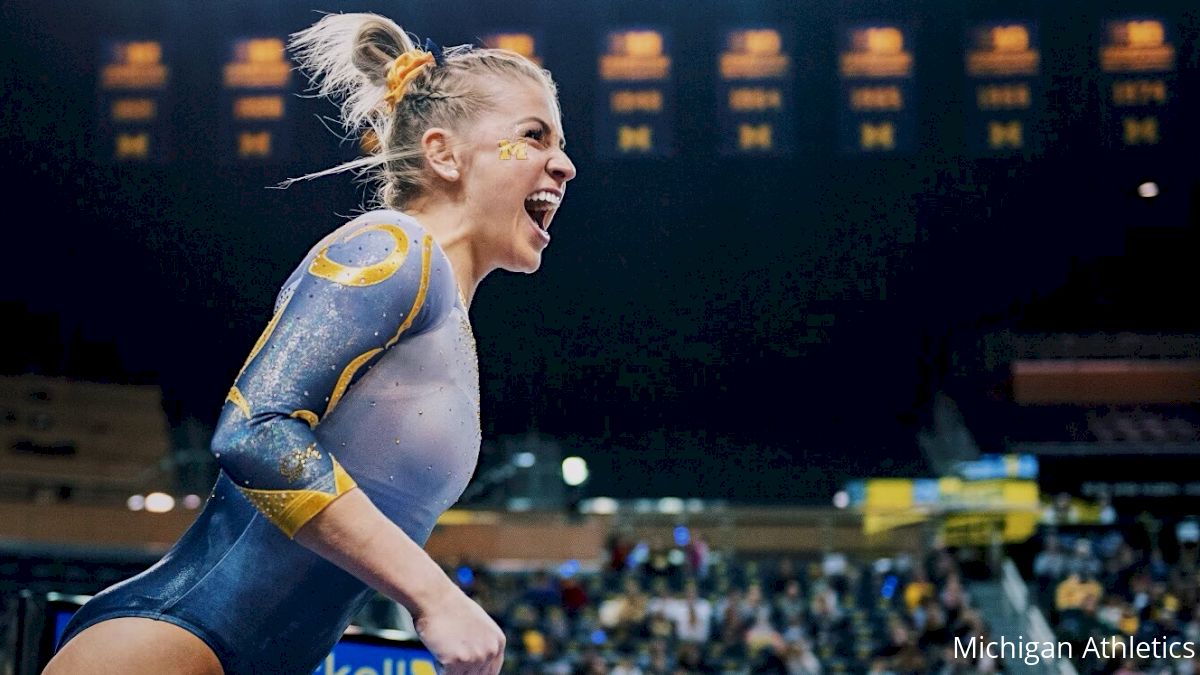 Senior Michigan gymnast Annie Maxim hasn't had the typical college experience. Her story of landing the senior captain role is relatively unknown but I was lucky enough to catch up with Annie on her time in college gymnastics, transferring, the University of Michigan, being a leader, and her monumental comeback.
---
Can you tell me a little bit about your college experience and what makes it unique?
I committed to Michigan State about two and a half years before I went to campus. But, when I got there, I didn't feel at home.
During my first meet in college, hurt my ankle badly on floor. I wasn't able to compete afterward for about a month. Finally, I felt well enough to compete bars and nailed my first routine back. It was an amazing feeling, but it led me to realize that there was way more I could do in the college gymnastics scene.
So, I started looking at other options. Immediately, my eyes went to Michigan. If I was going to transfer, I was going to go big. I knew it was the rival school of State, but we had a family legacy there with my dad and his family going there. Mid-January, I started filling out the application knowing the deadline was only a few weeks away. I stepped away from it a bit during season to bring my whole self to practices and meets, but I could tell I needed a change. I finally revisited the application three days before it was due and sprang into action. I hadn't told anyone about applying, even my parents in case I didn't get in, so I turned to my academic advisor at State who helped me get the whole thing together. He, my high school counselor and a random professor I had first semester wrote me a letter of rec. It was a total Hail Mary. But I turned it in on time.
Early February rolled around and I started competing more. I added vault back in and finally felt like I was contributing more, but my ankle still hurt a ton. Finally, the day came. At the beginning of March, an email popped up on my phone that read, "Congratulations Annie! You're in." I had been accepted to Michigan. I was elated but did not know what to do.
The rest of the year went on and I had a lot of thinking to do. I knew I was giving up a scholarship by leaving State, but I was okay with that. I felt as though someone else should have my spot; someone who truly wanted it. Season ends, we did not qualify to regional, and we finished our season at Big Tens. Now that we were done, my trainer was trying to get my ankle surgery scheduled.
In April, our coaches asked us to come into the office to talk about our summer training plans. I walked in and remember standing there in front of them and saying, "I would like your permission to transfer." This was before you could enter the portal and needed to get coach permission to look into other schools. They gave me permission and a few days later, my dad and I went on a campus tour of Michigan, still not 100% knowing if I was going.
I knew the campus pretty well from coming to camp years earlier and from visiting with my family. I had surgery right after our visit and a few days after my surgery, we were invited to visit the gym and meet the team. All I wanted was to hear head coach Bev Plocki say, "Yes, you can be on the team." I knew this was the place – I wanted to be challenged and work toward being a contender in Michigan's lineups. And when I told her that, she told me that I could come on the team as she felt this was the place for me. And boy, was she right.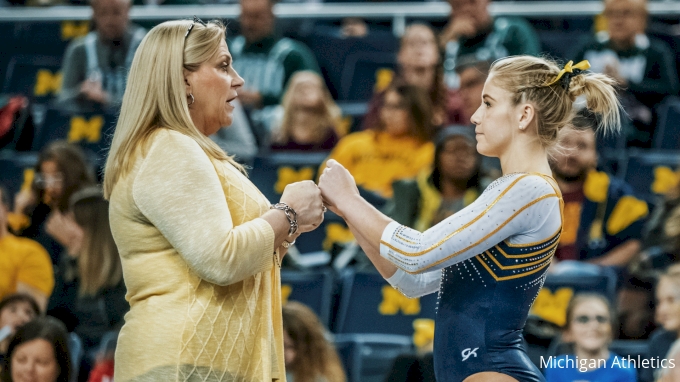 My first year at Michigan I approached every practice and opportunity to compete as a chance to prove myself. I would stand at the end of the vault runway in Crisler, salute the judge, and whisper to myself, "Prove yourself." Then, I'd run down the runway to vault.
And It worked. I started making lineups and being a contender on all four events. It was a magical experience. I ended up anchoring bars at Big Tens my sophomore year and helped my team to the national championships. I remember standing up on the podium on the practice day of nationals thinking, "Wow, the furthest you got last year was Big Tens. This year, you're not only here, but you have spots in the lineups."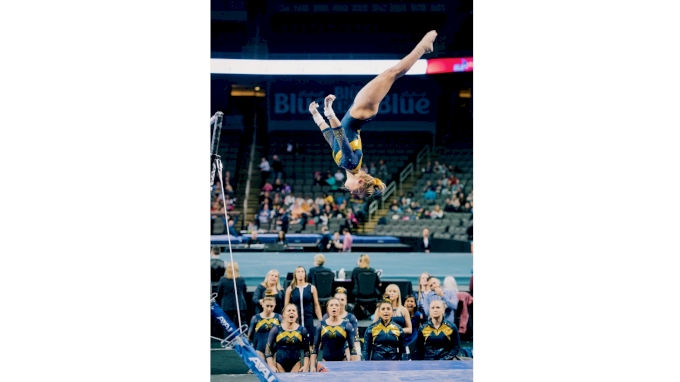 It was a total 180 from my freshman year. I was even offered a year scholarship after my sophomore year, which was such an amazing and rewarding experience. I was seeing all of my hard work paying off. I won't forget how hard it was to transfer and be on a whole new team, and it ended up being so much more than gaining lineup spots or earning a scholarship. I was finally truly happy.
What is your favorite memory in college?
Definitely, 2019 regionals in Crisler when we beat Alabama by half a tenth to qualify for nationals. That was the craziest day. I remember Bev coming around hugging us with the "we had a great season" hug. We left it all out on the floor and had a great year with so much to be proud of. When the score came up, I didn't even see it and all of a sudden, everyone around me started jumping and hugging. It was the most incredible experience I've ever had.
With COVID, how has it been leading a team and creating the culture you want to achieve at Michigan?
So difficult. We haven't been able to hang out (outside of practice) with all 15 girls in one room, which is where you get to know one another. Anna Dayton, Abby Brenner and I are the captains this year, and we planned a whole list of team activities to do every two weeks, to welcome the freshies and all get together. We only ended up getting to do two of them. We realized that practice was the only time we could truly all be together, and we had to start putting everything we have into practice, both gymnastics wise and team comradery wise. It was like getting two jobs done at once.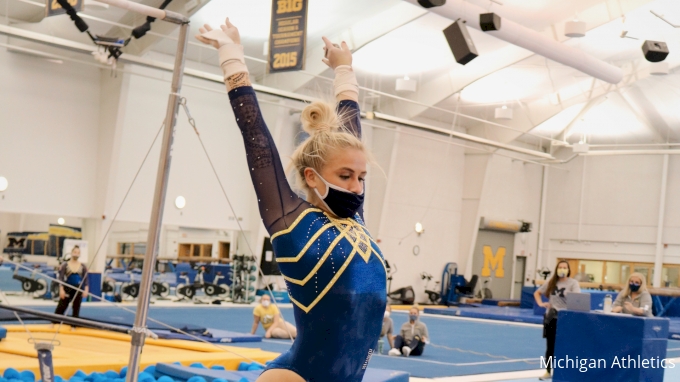 This year, I've been focusing on my role, a role I like to call the caregiver. I've gone through three years of college gymnastics and really know what each step/stage looks like. I wanted to be that person that people could lean on and ask questions. It's how I wanted to lead.
I was so sad to see that you got injured your junior year while you were hitting your stride.
Can you talk to me about that and your recovery?
The summer of 2019 was my first summer spent in Ann Arbor. I got so strong. Lew Porchiazzo, our strength coach, and I got really close as we spent a ton of time together in the weight room. After having a year at Michigan under my belt, I gained a lot of confidence in building relationships with our support staff. I was very quiet my first year at Michigan but it was because I was soaking it all in.
The first meet came in 2020 and I hurt my elbow while warming up on bars. When it happened, I was in denial. I remember thinking, "Okay, let's get my elbow put back into place, and get back at it for next week's meet." Come that Monday, I was told I needed surgery, which brought my spirits down in seconds, thinking, "there goes everything I worked for." It was a gut-wrenching feeling, but I knew I couldn't feel sorry for myself and not be there for my team. I had no control over this. I didn't dwell. Every day after that, I showed up into the gym in my arm brace standing at the end of the vault runway and I cheered as loud as I could for people. It was all about being present and involved. I no longer had my body, but I had my voice. I kept reminding myself, "You're not out of this. You're needed."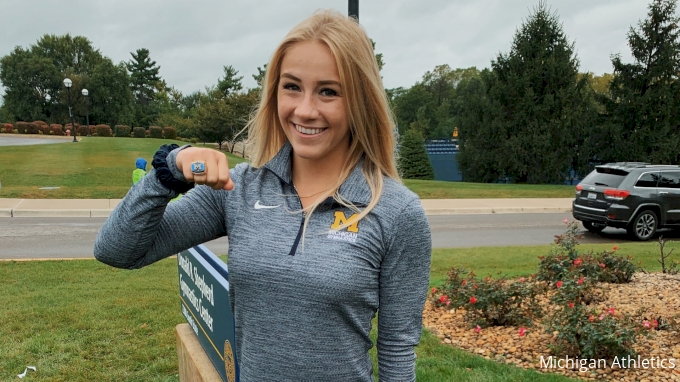 I thought I could come back for nationals in the spring, but then, of course, COVID happened. Season got canceled and we went home. But my efforts that season didn't go unnoticed. Bev noticed I amped it up and I ended up being named a captain this year. One day, the coaches asked me to their office and offered me another year scholarship for my senior year. Even with having been injured, I proved myself as a leader. A lot of the little things don't go unnoticed. The impact you have on a team goes way beyond a routine. And if you feel like you aren't being noticed, you will make it known.
What is next for the great Annie Maxim?
This year has been so nice. The mutual respect and the comfort level with all of the coaches and my teammates is amazing. I've gone through every struggle there is and I know other people are going to go through these things too. I want to be here and be a resource for everything.
I'm not saying this is my fairytale ending because it's not over. I've learned so much, but my last chapter is still happening. What I've gotten from transferring is the fact that I go to Michigan. I am going to get a Michigan degree which will help me on my journey to go to law school and be a lawyer. The move helped catapult me to work toward my goals as a gymnast, my after-college goals, and, most importantly, my happiness.