USA Gymnastics
USA Gymnastics Announces LGBTQ-Focused December 16 Panel On DEIB
USA Gymnastics Announces LGBTQ-Focused December 16 Panel On DEIB
USA Gymnastics announces the lineup for the LGBTQ-focused December 16 panel on diversity, equity, and inclusion in gymnastics.
Dec 12, 2020
by FloGymnastics Staff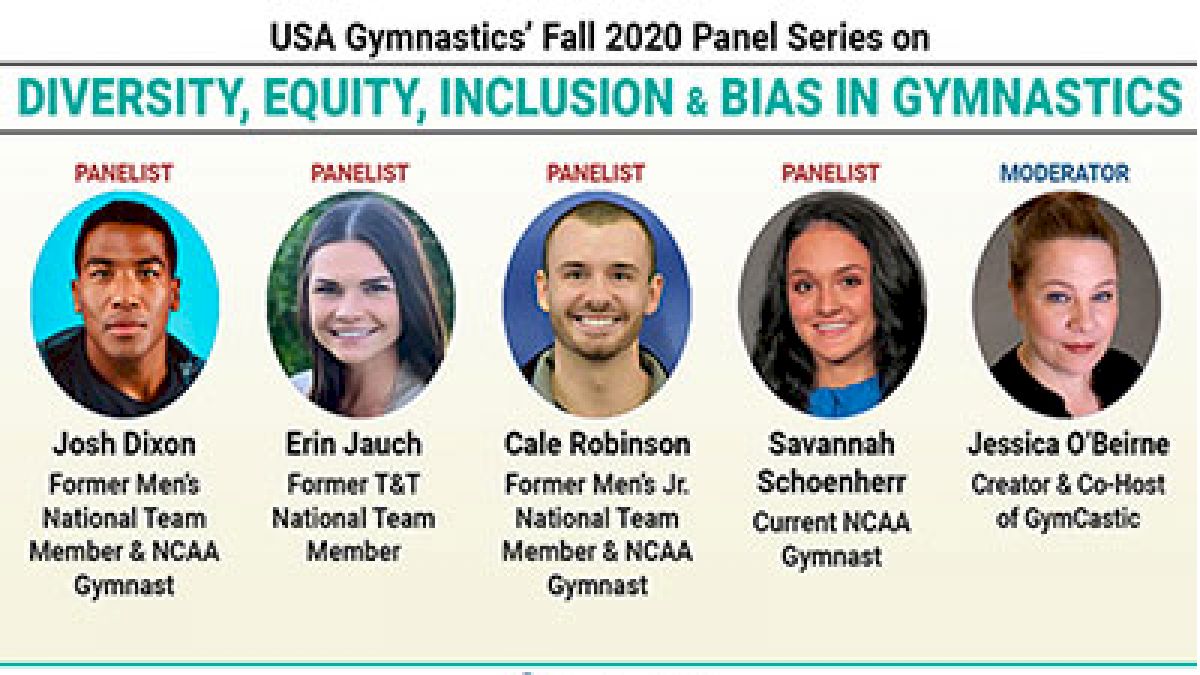 INDIANAPOLIS, December 12, 2020 – USA Gymnastics will conclude its three-part fall series on diversity, equity, and inclusion in gymnastics with an LGBTQ-focused panel on Wednesday, December 16, 2020. The hour-long virtual session will begin at 1 p.m. ET.
Panelists Josh Dixon, Erin Gauch, Cale Robinson, and Savannah Schoenherr will discuss their experiences and ways to make gymnastics more inclusive for LGBTQ participants. Jessica O'Beirne, creator and co-host of GymCastic: The Gymnastics Podcast, will moderate alongside USA Gymnastics' Chief Communications and Marketing Officer Carol Fabrizio.
Attendees must register to join, and live audience members will be able to submit questions throughout the conversation. As with the October and November panels, a recording will be available on USA Gymnastics' website and YouTube channel following the panel's conclusion.
Meet The Panelists:
Dixon is a former U.S. Men's National Team member and Olympic Training Center Team Resident hailing from San Jose, Calif. He attended Stanford University where he garnered multiple NCAA championships between 2007-2011. Post sports, Dixon severed on a United States Senate staff with current Senator Catherine Cortez Masto, and currently serves as a business consultant across multiple sectors. Diversity, equality, and inclusion are mainstay given Dixon's upbringing as an adopted child to a bi-racial family. As a member of the LGBTQ community, he feels a strong responsibility to utilize his platform for those who are unheard and in need of a supportive community construct. Dixon was the recipient of the Human Rights Campaign's visibility award and continues to give back to his local community with his college scholarship program. He currently resides in Newport Beach, Calif.
Erin Jauch
Originally from Illinois, Jauch trained under her mother and coach, Stacy Jauch, at Fox Valley Tumbling & Trampoline, starting at the age of 5. She is a three-time T&T World champion, earning two individual titles (2014 & 2015) and one team title (2013) in Double Mini. After winning back-to-back gold World championship medals, Jauch chose to retire to pursue her education and other opportunities. She holds a bachelor's degree in public relations from the University of Florida and has been active in CrossFit and Olympic Lifting. Jauch is currently a medical sales representative and also coordinates social media for a variety of small businesses in Fort Myers, Fla., where she lives with her girlfriend, Ally, and their golden retriever puppy, Milo.
Jessica O'Beirne (moderator)
Vanity Fair called O'Beirne, the most influential voice in gymnastics journalism. She is a former gymnast and coach and is the co-host of GymCastic: The Gymnastics Podcast. In 2013, GymCastic hosted the first-ever gymnast panel on LGBT issues in gymnastics.
Cale Robinson
Robinson is a former U.S. Men's National Team member from Knoxville, Tenn. He attended Stanford University where he won a team NCAA championship in 2011 and was a two-time team captain. Following his collegiate career, Robinson immediately began coaching. He has since coached many athletes to college scholarships in addition to two HOPEs All-Around Champions and two Junior Elite qualifiers. He resides in Seattle, Wash., with his partner, Owen Sun, and their son, Apollo.
Savannah Schoenherr
Schoenherr is a junior at the University of Florida where she competes for the Gators' women's gymnastics team. As a freshman, Schoenherr was an All-American on vault and a member of the All-SEC freshman team. Last season, she earned All-American and All-SEC honors on the uneven bars. She was named a Scholastic All-American both years. She plans to graduate in 2021 with a degree in sports management and a minor in business and hopes to earn a master's degree with her fourth year of eligibility.