2021 GK US Classic & Hopes Championship
15 TikTok Videos From Some Of Our Favorite Gymnasts
15 TikTok Videos From Some Of Our Favorite Gymnasts
Whether they're showing off skills in the gym or practicing their favorite viral dances, we love to watch our favorite gymnasts on TikTok.
Dec 3, 2020
by Miranda Martin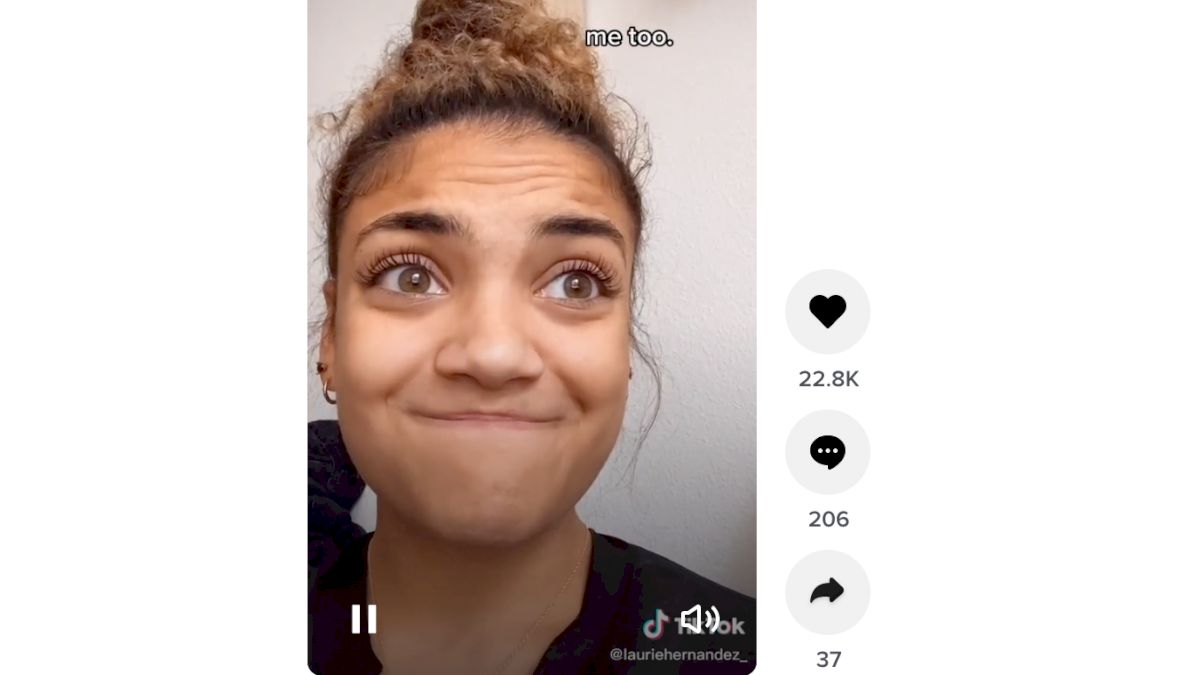 Whether they're attempting new trends, showing off skills in the gym, or practicing their favorite viral dances, we love to watch our favorite gymnasts on TikTok. Let us know who we missed and still need to follow!
1. @lauriehernandez_
Laurie Hernandez is the queen of mental health TikTok, sharing tips on relieving anxiety, self-care, and how to be your authentic self on social media.
2. @charlotte_drury
Tumbling and Trampoline lends itself to some pretty cool videos, and luckily for us, Charlotte Drury shares a bunch of training and competition videos on her account. We love all her gymnastics content, but this video from her point of view is especially interesting.
3. @morgannhhurd
Before the pandemic, Morgan Hurd's TikTok was a place to see inside the national team gymnasts' friendships and personalities as she shared goofy videos of them having fun together, but her videos haven't stopped mid-pandemic, and we love this one of her encouraging everyone to wear a mask WHILE DOING A TUCK FULL ON BEAM.
4. @Dashkoy83
Russian gymnast Daria Spiridonova and her husband, Russian gymnast Nikita Nagornyy, spent most of the early quarantine days perfecting TikTok trends, and it paid off. They have too many hilarious videos to choose from, but here's one of our favorites.
5. @chellsiememmel
Chellsie Memmel shares many unique training videos and fun camera angles of skills, but no matter how many high-level skills she shares, this TikTok is probably going to stay our favorite.
6. @sav.fs
Savannah Schoenherr is best-known on TikTok for her content showing off her #relationshipgoals, but our favorite video to date has to be this relatable content.
7. @aleahfinn
Speaking of relatable content, Aleah Finnegan frequently posts bar vlogs that feature her working on new skills, starring her coach Alex as her "personal mat mover." Her recent bar vlog made followers actually LOL when she tried kip changes and asked Alex, "was that by myself?" only to hear him reply, "no." Every gymnast has been there.
8. @shawnjohnson
Shawn Johnson pulled off the "wipe it down" trend in a big way when she teamed up with Nastia Liukin to do a quick change from everyday outfits into a leotard, but the video gets even funnier in their surprise ending.
9. @sampeszek
Liukin guest-starred in another video, this time on former Olympic teammate Sam Peszek's account! The two go back and forth sharing who is most likely to do certain things in the gym, pointing to either themselves or the other depending on what the audio says.
10. @margzettaaa
Margzetta Frazier does hilarious "inside my mind" videos where she shares what she's thinking during her past gymnastics performances. She plays clips of her doing her routines, narrating what she was thinking at that moment.
11. @nilewilsonator
British gymnast Nile Wilson brings to TikTok what he's always brought to YouTube: a goal of showing onlookers how incredible the sport of gymnastics is. He does that through showing off his routines, but also just crazy things he does in the gym!
12. @Elena_shinohara
Rhythmic gymnast Elena Shinohara shares lots of training videos having fun with trendy music and showing off her incredible flexibility. It's easy to see why she has so many followers when you check out her fun videos!
13. @gabbydouglas
Gabby Douglas is all about the handstand challenges on TikTok, and while all of them are impressive, our favorite video is this one that has nothing to do with gymnastics, because watching her impersonate a spider wearing three pairs of sunglasses is too funny to pass up.
14. @lataliabevan26
Welsh gymnast Latalia Bevan absolutely crushed the gymnast version of this trend! She also posts gymnastics videos, TikTok dances, and beautiful scenery around Wales.
15. @jadeacarey
Last but not least, our favorite TikTok from Jade Carey has to be this adorable clip of her showing her gymnastics glow up - and she has more gymnastics compilations where that came from.