2020 Bubbleville
Florida Has A Need For Speed After Sluggish Season
Florida Has A Need For Speed After Sluggish Season
The Florida men ran one of the slowest offenses in the NCAA last season. That's going to change in a big way this year.
Nov 19, 2020
by Lincoln Shryack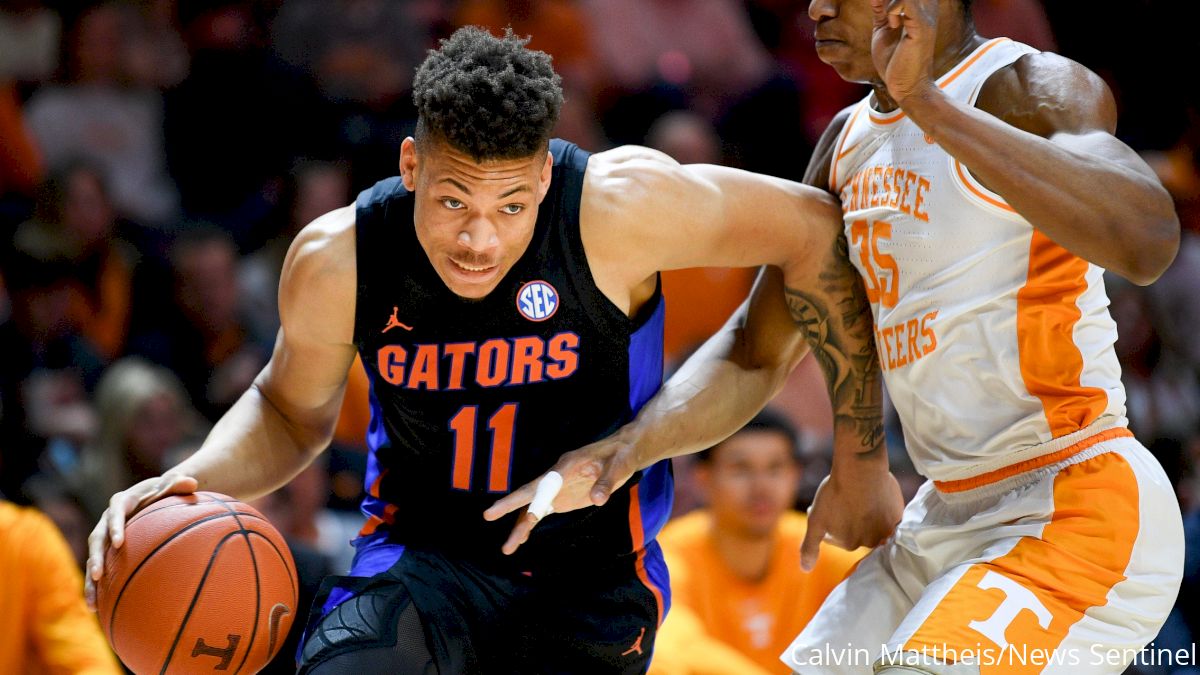 Coming off a disappointing 19-12 campaign, the Florida Gators are committed to speeding up an offense that was among the slowest in college basketball a year ago.
Sophomore point guard Andrew Nembhard led a unit that ranked 326th out of 359 Division I teams in pace of play last season according to the Tampa Bay Times, a glacial tempo that left the Gators just 250th in the NCAA in shots attempted per game. But Nembhard, who led Mike White's team in minutes and assists last year, has since transferred to Gonzaga, which has opened the door for Florida to be more effective in transition.
Watch the Gators LIVE on FloHoops during the 2020 Bubblesville
"Probably our biggest area of improvement as of late is taking a little bit better care of the basketball, making a little bit better decisions as we're playing a little bit more up-tempo," White told Gatorsports.com this week.
White will hand the reins to the new-look offense over to sophomore Tre Mann, a 6'5 point guard who has the speed and length to be an effective player in the open court. Mann isn't a shooter at this point in his career, but his primary job will be getting open looks for All-SEC forward Keyontae Johnson-- the team's leading scorer (14.0 pts)-- and sophomore wing Scottie Lewis, a potential star who could end up being Florida's best player on both ends of the court.
Scottie Lewis with the LeBron-like chase down!

pic.twitter.com/l08qx6649U

— CollegeBB News (@CollegeBBNCAA) November 30, 2019
"I think he knows he has an opportunity to have a breakout sophomore year," said White of Lewis to Gatorsports.com. "He's really worked. His maturity level in practice has increased immensely from 12 months ago. He's playing like a sophomore and not a freshman, especially offensively."
Of course, it's not a guarantee that the Gators will take to their new offensive identity right away, especially with a young guard leading the show coming off a challenging offseason due to the pandemic. According to White, his team is still working through the kinks of its new style every day in practice.
"We've had more turnovers in the past five days than I think we had last season," White told the Tampa Bay Times. "If you're going to play fast, you've got to slow down mentally. We've got to value the ball at a higher level."
Although the Gators still may be tinkering with such a drastic change as they approach their season opener on Nov. 25 against UMass Lowell (4:30 PM on FloHoops), there's no doubt that they have a bevy of playmakers who are best optimized by more opportunities to run.
Along with Johnson and Lewis, White can expect fast-break contributions from Louisiana Tech transfer Anthony Duruji, a 6'7 forward who plays with high energy on both ends of the floor. Duruji was the Conference USA Freshman of the Year two seasons ago and should see his potential as an above the rim finisher and solid three-point shooter fully optimized in an up-tempo offense.
"My game is high-energy, being able to defend, causing turnovers and transition is my bread and butter — just run the lanes and get easy dunks," said Duruji to the Tampa Bay Times.
Transition and easy dunks were two things sorely missing from a talented Gators team a year ago, but this strong cast of playmakers should find many more opportunities for high percentage scoring by fully capitalizing on their athleticism.