2020 Elevate the Stage Toledo
Big Ten Weekly Notebook: A Big Week On And Off The Competition Floor
Big Ten Weekly Notebook: A Big Week On And Off The Competition Floor
Week 8 of the gymnastics season featured the Big Fives meets for women's gymnastics teams in the Big Ten.
Feb 26, 2020
by Olivia Karas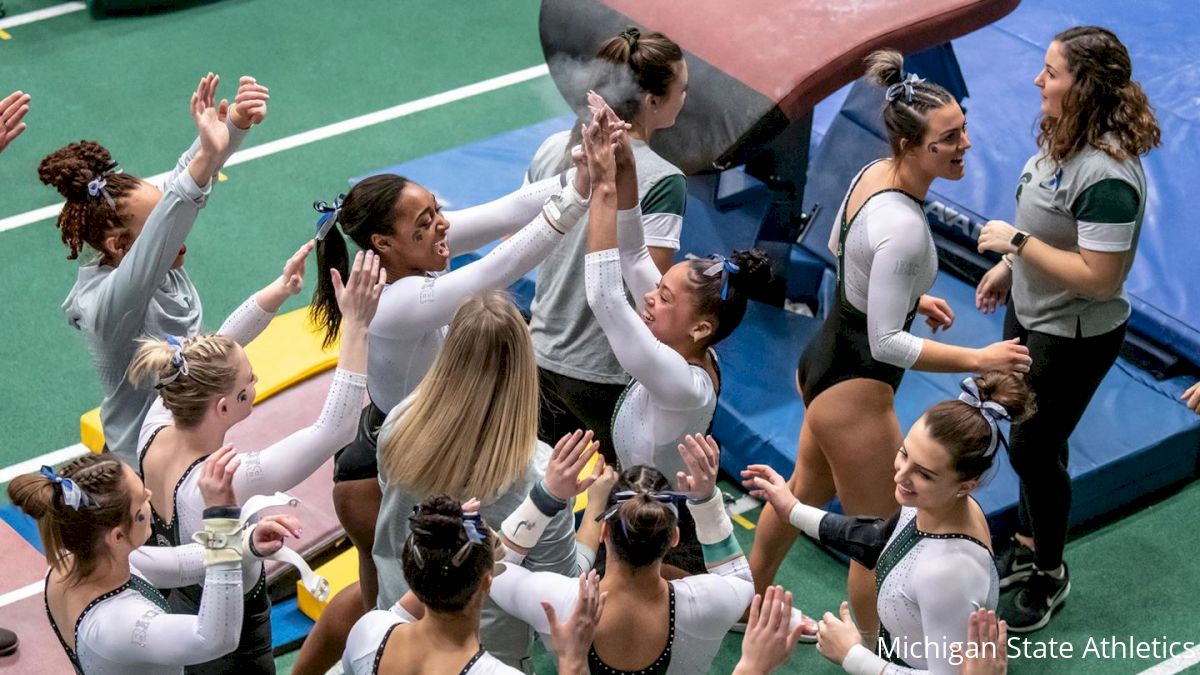 Week 8 of the gymnastics season featured the Big Fives meets for women's gymnastics teams in the Big Ten. Let's check out the highlights from the weekend both gymnastically and what some programs have been up to behind the scenes.
Michigan breaks a program record
It is impossible to talk about the Big Five meets without talking about Michigan lighting the world on fire Saturday night. The team totaled a 197.95, just a half tenth away from cracking 198. Just for some context, achieving a 198 team score means the team averaged a 9.9 on every routine competed. A 197.95 is a huge score, obviously, but also an exciting confidence booster for the Wolverines going into the remainder of their season.
Natalie Wojcik elevates her stage
The team performance wasn't the only notable tidbit from Michigan's Big Fives showing. Sophomore Natalie Wojcik bested her previous career-high all-around score, tallying a 39.775 and a 9.975 on beam. And even better, she achieved her previous career-high all-around at last year's Elevate the Stage meet. Must be something about that arena…
The Nittany Lions promote THON for the fight against pediatric cancer
The Penn State women's gymnastics team couldn't participate in PSU's Dance MaraTHON to raise money for pediatric cancer research this year. Instead, they promoted the event all over social media where fans and supporters could donate and help raise awareness as well. Nice work, ladies!
While we can't dance in THON this year due to our travel schedule, we still support the fight against pediatric cancer! Help us by donating through the link!

➡️https://t.co/FxpDgjKJvd#WeAre #FTK pic.twitter.com/2O3xnEx0Fj

— Penn State Women's Gymnastics (@PennStateWGYM) February 21, 2020
Although the women were missing from the lineup, the Penn State men's gymnastics squad put on an impressive performance during THON and won the charity competition.
"It's the greatest thing you can do @penn_state, be a part of @THON."#WeAre pic.twitter.com/79CGkM57Q5

— Penn State Men's Gymnastics (@PennStateMGYM) February 23, 2020
The Huskers are finally home
Check out the new home of the Nebraska Cornhuskers. The team finally moved into its new facility and it is drop dead gorgeous. The girls loved it and even claimed they would be "doing the Simone Biles" by the time they have trained in the high-tech facility for a few weeks. It is always nice seeing programs competing well for their school to be rewarded with new facilities. Check it out here.
What. A. Day.

Officially moved into our E M P I R E. ??#AGNB #GBR pic.twitter.com/q20LSjyE9o

— Nebraska Women's Gym (@HuskersWGym) February 20, 2020
Michigan State sneaks into the night session
This year is the first year at the Big Ten Championships that the afternoon session will include six teams and the evening session will include four. In the past, six teams competed in the evening, meaning the session was longer and included two bye rotations, one after vault and one after beam. Due to the recent NCAA format changes having four teams on the floor at the final competition day of the season, the Big Ten followed suit. It was a big accomplishment in itself to sneak into that evening session when there were six teams, but now with only four, it is even harder. What an exciting accomplishment for this talented Spartan team!
Jenny Hansen awards Ali Sonier a scholarship
The Minnesota team has had a fantastic year so far, and the big names we know and love like Lexy Ramler, Ona Loper, Ivy Lu, and Paige Williams aren't the only ones helping the team to success. Sophomore Ali Sonier was awarded a with a scholarship for next year following the Gophers' big win against Nebraska the weekend before the Big Five meet. A well-deserved honor for Sonier, who has contributed this season on vault, beam, and floor.
A big congratulations to @alisonier for earning a scholarship next year! Ali has been a key contributor to the team's success and is always working hard, both in and out if the gym! 〽️

Fitting that she is also last week's winner for Love the Battle! pic.twitter.com/lIVzJv39Y7

— Minnesota Women's Gym (@GopherWGym) February 18, 2020
Rutgers vaults to a new record
The Rutgers vault squad dazzled this weekend by achieving a new program-record score of 49.225 on vault, led by two beautiful 9.875 vaults and no counting score below a 9.8.
Known for her beautiful lines and absolutely stunning vault, Taylor Houchin has expressed not only excellence in execution, but superb technique on all four apparatus. Frequent FloGymnastics contributor Katie Norris looks at Houchin's technique on all four events and how her technique should be admired and celebrated.
Want more Big Ten action? You've got it! Check out this weekend's Big Ten meets streaming on Flo.
Upcoming meets streamed on FloGymnastics
Friday, February 28
New Hampshire at Michigan (Women's) 6:30 EST
Saturday, February 29
Navy vs Ohio State (Men's) 2 EST
Penn State Quad Meet (Women's) 4 EST
Sunday, March 1
Terrapin Invitational (Women's) 1 EST
Illinois vs Iowa (Men's) 2 EST