2020 Elevate the Stage Toledo
Michigan Wins Regular Season Big Ten Title At Elevate The Stage
Michigan Wins Regular Season Big Ten Title At Elevate The Stage
Michigan won Elevate the Stage, meaning the Wolverines are the 2020 Big Ten regular season champs.
Feb 24, 2020
by Olivia Karas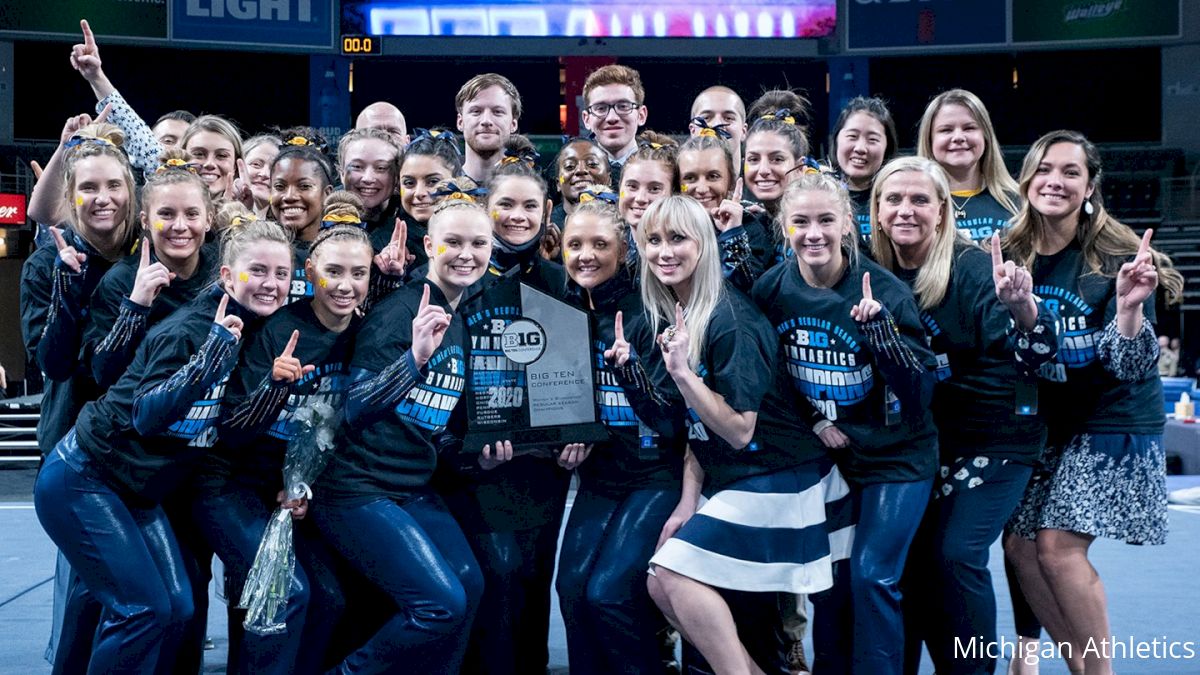 It was an electric weekend in Toledo as the Big Ten regular-season champion was crowned, career highs were set, and teams got to experience podium equipment, some for the first time this season.
The regular season conference trophy headed home to Ann Arbor as the Michigan Wolverines stole the show, remaining undefeated this season. The team also notched a new program-best team score of 197.95 to add to the excitement, with numerous athletes collecting career-bests. But before we talk about Michigan, lets recap the Friday night session and then the Saturday night session of this year's Big Five competition.
Friday night's session included Nebraska, Illinois, Ohio State, Rutgers, and Iowa. The Huskers came out with the win in this session, totaling a 196.75. They started strong in their second rotation of the night after beginning the meet on the lone bye rotation. Their 49.2 floor score, led by senior Sierra Hassle's 9.9, was a great beginning to their evening. Vault continued to be a positive event for the team, and sophomore Addy de Jesus and senior Taylor Houchin stole the show, scoring a 9.9 and 9.95 respectively. Bars was steady for the team, where it dropped Kylie Piringer's 9.725 to count no score lower than a 9.825. Finally, the team remained solid on beam, nailing all five routines and finishing its meet with a very respectable away score and team effort.
Right behind Nebraska was Illinois, totaling 196.55. Shayla Scott was outstanding, knocking off her former career-high on vault with a new one of a 9.9. Karen Howell also dazzled with a 9.925 on bars to tie her career-high on the event.
Just barely behind Illinois were the Ohio State Buckeyes, finishing their night with a 196.475. All events were pretty even-keeled for the team, but they had some outstanding team highlights. Freshman Ella Hodges nailed her beam routine for a career-high 9.925. Also noteworthy is Glaire Gagliardi's 9.9 floor routine to win the event that night — she hasn't scored below a 9.875 all season! The team finished with its vault and bars rotations, both well executed and solid, to leave it just slightly behind Nebraska.
The Iowa Hawkeyes ended their Big Ten regular season with a 195.725 team score. They were led by a beautiful floor rotation in which no athlete scored below a 9.8. The team was anchored by Lauren Guerin, stunning as always, notching a 9.875 on the event. The team also set a new season-high of 49.275 on the event. Most notable was Bridget Killian's career-high 9.875 on vault for her beautiful FTY.
Rounding up the five teams in the Friday session was Rutgers, finishing with a 193.625. Although not its best performance, the team had a few really great routines and set a new program record on vault with a 49.225. Kaitlyn Hall matched her career-high vault score for the second consecutive week with a 9.875 and junior Toni Williams also nailed her vault for a 9.875 and a career-high. Freshman Hannah Joyner continues her beam 9.9 streak, nailing another clutch routine for the Scarlet Knights this weekend.
Saturday night's session included Michigan, Minnesota, Penn State, Maryland, and Michigan State.
Michigan was electric on all four events, specifically on vault where it nailed a 49.6 event total and on floor where it notched a 49.525. Sophomore Natalie Wojcik bested her previous career-high all-around score with a 39.775 and a 9.975 on beam. Sophomore Abby Heiskell was also stellar, finishing with a 9.925 on both vault and beam, both career-bests. Freshman Nicoletta Koulos received a career-high 9.9 on both floor and vault. Not to mention Maggie O'Hara's gorgeous bar routine for a 9.875 and another career best.
Minnesota was the team to push Michigan the hardest. Junior Lexy Ramler was solid as always, tying for the beam title with a 9.975 with Wojcik. Tiarre Sales also had quite a night, finishing with a 39.325 in the all-around. Maddie Quarles had a great night on vault, landing a 9.9 on the event.
Penn State came in third with a 196.125 and a lot to be proud of. Freshman Cassidy Rushlow also garnered a career-high all-around score of 39.3, led by a career-high 9.9 vault performance. Alissa Bonsall also vaulted to a 9.9, helping to lead the team to a season-high 49.3 vault score. Lauren Bridgens was wonderful once again, nailing a 9.925 bar routine and a 9.9 floor routine.
The Spartans of Michigan State came in fourth Saturday night, finishing with a 195.975 team score. Jori Jackard soared once again on bars, receiving a 9.875 on the event. Ella Douglas brought the heat on floor with a 9.9, and, finally breaking free of the 9.8 range, Lea Mitchell bumped her career high vault score up to a 9.9. The team hit all 24 routines without a fall, an accomplishment in itself.
Finally, the Maryland Terrapins ended their regular-season Big Ten year with a 195.325. The biggest highlight for this Maryland team was a career-high 9.925 bar routine for Tiarra Wright. Freshman Reese McClure was also fantastic, scoring a 9.9 on both floor and vault. A rough opening beam rotation made it hard for the team to come back, but the numerous career-highs and high flying gymnastics was still really important for the team's confidence moving forward.
That wraps up all Big Ten Conference matchups until we hit the postseason for the Big Ten Championship in Columbus, Ohio, on March 21.