2020 GymQuarters Invitational
LSU Tigers Climb the Mountain at GymQuarters Invitational
LSU Tigers Climb the Mountain at GymQuarters Invitational
Despite struggling with injuries LSU has big goals for 2020, starting with the GymQuarters Invitational.
Feb 13, 2020
by Kelly Feng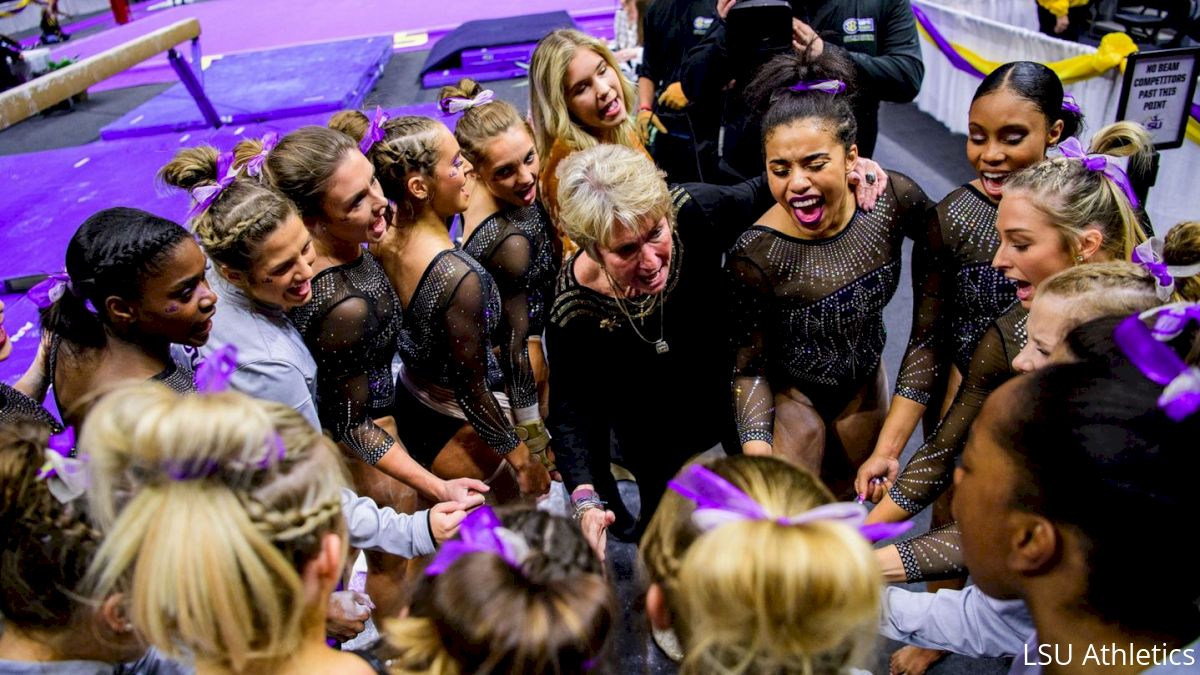 St. Charles, Missouri, is mostly flat prairie with fertile soil, rivers, and streams, but you wouldn't know that by the attitude of the LSU Tigers, treating the terrain as a mountain to climb. The Show Me State is the location of the GymQuarters Invitational, a meet that includes seven NCAA teams, in two different sessions. The event is coming up this weekend and will be streamed live on FloGymnastics.
If the Corvallis Tri Meet last weekend, where the ninth-ranked LSU gymnastics team defeated No. 22 Oregon State and Arizona State, was any indication, the Tigers remain determined to keep pouncing despite injuries and limited participation of two of their star athletes, senior Kennedi Edney and junior Sarah Edwards, both all-arounders.
At the GymQuarters Invitational, LSU will compete against Missouri, Iowa State, and Lindenwood, with the other collegiate session featuring Seattle Pacific, Southeast Missouri State, and Centenary. LSU will then return home on Sunday to take on Kentucky in the Maravich Center. That's two meets in one weekend!
It's challenging to see injuries any time, but especially with two star athletes so early in the season, and yet LSU co-head coach D.D. Breaux can see the positive side of her team's current situation.
"The injuries so far this season have given us an opportunity to work on our depth. We have four freshmen currently in our vault lineup. It is an opportunity for them to get experience and not push some of the upperclassmen who are dealing with injuries," Breaux said. "We really believe that once we get through this that we will be putting up scores that we expect. The season is not defined in January. We know we need to get some healthy bodies back."
After back-to-back SEC losses to Florida and Alabama, the victory in Corvallis reinvigorated the Tigers, confirming that their team can overcome adversity, and they returned to Baton Rouge with much to celebrate, including Kiya Johnson being named SEC Freshman of the Week for the third time.
Johnson picked up three more wins in Corvallis. The Dallas, Texas, native hit the ground running in the NCAA, quite literally, as she is currently second in vault and floor and sixth in the all-around in the nation.
"(Kiya's) personality is the first thing we noticed," LSU co-head coach Jay Clark said. "Her competitive personality was consistent. She doesn't get too high or low. She doesn't get too excited or down. She gets compared to Sarah Finnegan a lot, which is a personality trait I see. The gymnastics are very different though."
Johnson fits perfect into the LSU recruiting philosophy, as explained by Clark.
"You always look for the best all-arounder that you can find," he said. "Consistency is also a priority. Beyond that, you find personality makeup and gym backgrounds that are consistent with what we want our culture to be. There are certain gyms that we know the type of person and gymnast we are getting and trust the coaching."
Another highlight of the Corvallis meet for the Tigers was Christina Desiderio's meet-opening 9.85 on beam. For the first time in a while, Desiderio competed without a heavy leg wrap she had been wearing because of a hip injury.
No Mummy Today@ChristinaDesid1 opens on beam with a 9.85! pic.twitter.com/CyWeq73Y56

— LSU Gymnastics (@LSUgym) February 8, 2020
Desiderio is not only a consistent beam and floor worker, she is also the youngest student-athlete in the history of LSU, beginning college when she was just 16.
"Maturity is one of the biggest things we like from Christina," Clark said. "She is a consistent performer and competitor. She is a disciplined person and she is always on an even keel. Christina is the perfect person to start a lineup, whether it's on beam or floor. It's her unflappable emotional makeup that makes her the perfect person to start with on events."
The momentum of winning in Corvallis and excellent performances from Johnson and Desiderio, among others, will carry LSU into the GymQuarters Invitational on a high.
"This is a really good opportunity for our team to compete at about the midpoint of the regular season," Breaux said. "It always works out where we compete on Friday in St. Louis and then return home Sunday for a meet inside the PMAC. ... It is also our only chance to compete on a podium before SEC Championships. We travel to St. Louis and get our podium training in and then compete Friday."
"(The podium) is a little more giving, it's not right on the floor," Desiderio said. "I think that is one of the things that stands out about the (GymQuarters) meet."
Whenever a NCAA gymnast performs, they often exude immense team spirit. LSU, however, has its own patented version of exhilarating camaraderie and support. The squad always seem happy and dialed in, rallying around each other.
"We have eight new freshmen so that's a lot coming in and then you never know with girls if we're all going to get along, but we honestly all get along like sisters — like a family," Desiderio said. "We don't really do anything, we just click, so we're really blessed like that. We just had this really long trip. It was like four days long with 10-hour travel days — we had the best time because we were all together."
That sisterly connection doesn't go unnoticed by the coaching staff.
"I like this team's quiet demeanor," Clark said. "They are invested in one another, which is what our culture is. There is no internal drama with this team, which is consistent with our teams. This group is more quiet and business-like. It's a cool group of kids that are learning and coming (into) their own identity.
"We've had some strong personalities over the years and this team is adjusting to not having that. If we can get our team clicking on all cylinders health-wise, then the sky is the limit. What they lack in depth, they make up for in talent. Alyona Shchennikova and Kai Rivers are all-arounders. That gives us more depth. We will be in a better place when everyone is healthy."
Since LSU was last year's runner-up at NCAAs, the forthcoming SEC Championships, NCAA regionals, and nationals are always on their mind. Already struggling with injuries, the Tigers have to train smart throughout the season to be ready for the big postseason competitions where they hope to excel.
"We have been presented this year with a unique challenge from an injury perspective," Clark said. "We have eight freshmen and are only getting work from two. We have not had the luxury of being able to roll people in and rest people so far. Pacing is very important but right now it is different from when we are healthy.
"Pacing means limiting our training numbers, but in a perfect world it means counting numbers and making sure that you are where you would like to be from a performance standpoint. Right now we have to take what we have and perform at the best of our ability," Clark continued. "We cannot get overly concerned about it because we have to preserve their bodies in practice. Less is more for us right now. It's a different year for us. It could be a silver lining though. We hope they will have fresher legs when we get to April."
Now in her third year with the Tigers, Desiderio has a philosophical outlook on the season.
"We're excited to continue the season to learn and to grow as we go and to keep climbing this mountain nationals are on top of that so that's our goal," Desiderio said. "We keep climbing the mountain each and every event and try to get better each and every meet. We treat it as another meet. Because if we say, 'Oh, it's nationals,' we are putting too much pressure on ourselves and that's normally not a good thing. So we try to treat it like any other meet."
Despite the setbacks in January, the team and the coaches all seem to be melding, determined to climb the NCAA mountain. Breaux is particularly proud of the coaches' rapport.
"This staff is incredible, and we all work together so well," Breaux said. "Jay (Clark) and Bob (Moore) have so much experience and bring so much to this program. You add in Ashleigh Clare-Kearney Thigpen, who is a phenomenal choreographer, and you have an all-star group. It takes a village, and they are a large part of the success we have had."
With this much confidence and that "climb the mountain" attitude, we'll likely see LSU back on the awards podium. When the team flies back to Louisiana, maybe the Tigers will see that Missouri is mostly flat plains.