2020 Big Ten Gymnastics
Big Ten Weekly Notebook: It Came Down To The Final Routines
Big Ten Weekly Notebook: It Came Down To The Final Routines
Every Big Ten team competed against a fellow league team, giving us five fantastic meets of B1G action.
Feb 5, 2020
by Olivia Karas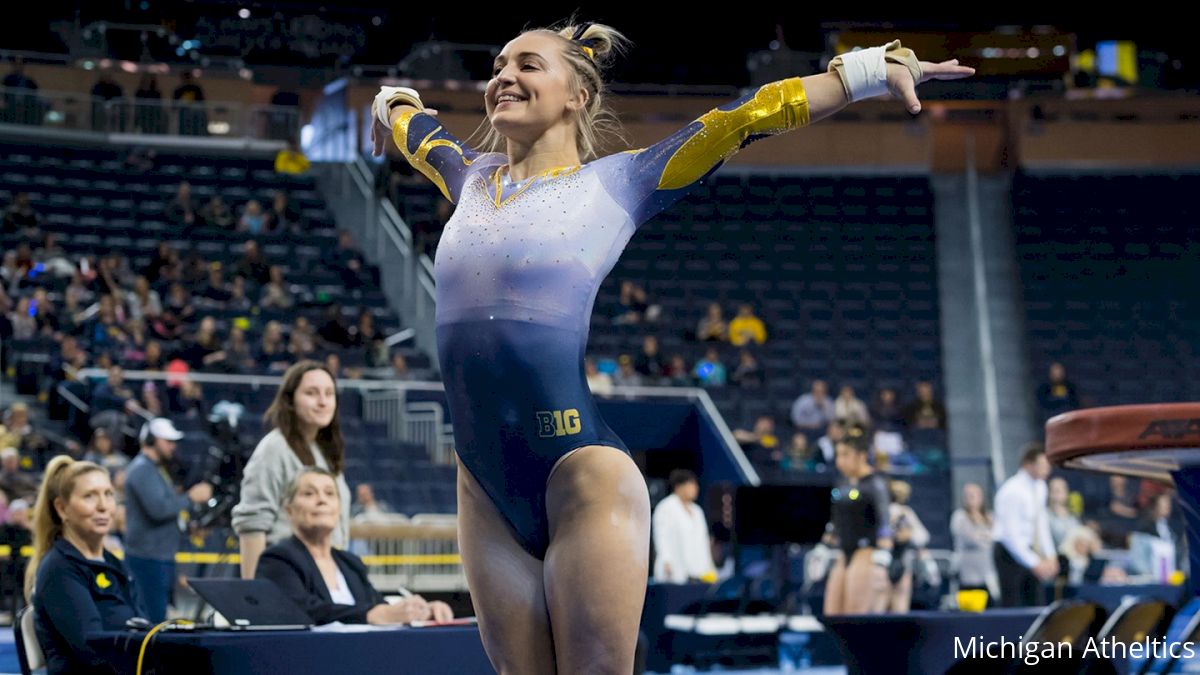 Week 5 in Big Ten gymnastics was exactly what we wanted — exciting. Every Big Ten team competed against a fellow league team, giving us five fantastic meets of B1G action.
There were two matchups this weekend that came down to the final routines, and those meets were between Michigan and Nebraska and Michigan State and Iowa.
Michigan vs. Nebraska: Thursday night thriller
Nebraska and Michigan are arguably the biggest rivals in the Big Ten, and Nebraska hosted the Wolverines on Thursday evening in a meet that came down to the final rotation and final routines.
Right at the end, Michigan edged out Nebraska, finishing with a 197.075 to Nebraska's 196.975. This meet was led by Michigan sophomore Abby Brenner's career high 9.95 on vault with her STUCK Yurchenko 1.5. Check it out below.
The must see routine of the week!! Abby Brenner wins vault with a career-high 9.950! #GoBlue pic.twitter.com/jE925GDYA6

— Michigan Women's Gymnastics (@UMichWGym) February 1, 2020
Michigan also had an extremely impressive beam rotation, led off by a gorgeous 9.875 from junior Laureen Farley. I'm just going to say it — this should have scored higher than a 9.875!
The Cornhuskers also had a great meet, falling to Michigan by just one tenth of a point. They were led by the final three competitors of the night on floor: Sierra Hassle, Taylor Houchin, and Kylie Piringer all score 9.9 or higher in the last three routines, giving Nebraska a very respectable 49.425 to finish its meet.
Michigan State vs. Iowa: Down to the last routines
Although falling to Iowa by only a tenth and a half, the Spartans notched a season-high 49.0 on vault in Iowa's home arena. Junior Spartan Lea Mitchell won her third all-around title with a 39.175. Teammate Ella Douglas also dazzled on beam with a 9.85 to lead the Spartans on the event. Check out Douglas' beam below, as it was a stunner.
Ella Douglas earns a share of the beam title, her fourth of the season, with a 9.850!#GoGreen ? pic.twitter.com/9SKWEXu3tc

— MSU Gymnastics (@MSUgymnastics) February 2, 2020
If you're sick of hearing about Iowa's stellar sophomore, Lauren Guerin, then sorry, but you're about to hear more. Besides a casual 9.875 floor routine, Guerin posted a 9.9 on vault for a STUCK FTY.
Dressed to the 9s but we're always going for 10s??✨#TuxedoLeo #B1GWin #Hawkeyes pic.twitter.com/UaB8H2Hcz2

— Iowa Gymnastics (@IowaGymnastics) February 2, 2020
Ohio State vs. Minnesota: Beam and bars
The Golden Gophers topped the Big Ten this weekend, posting a massive 197.4 away score in Columbus. Although an overall outstanding meet for the Gophers, their final rotation on beam was phenomenal. Minnesota is currently the No. 1 ranked beam team in the country!
The Buckeyes fell to Minnesota, but put up an absolutely stunning bars rotation this weekend, posting a 49.3 on the event, and showcasing a plethora of stuck dismounts. This one by senior Olivia Aepli is a personal favorite of mine.
Olivia Aepli with a 9.925 on bars!#TogetherWeRise #GoBucks pic.twitter.com/uAmfP3d6pR

— Ohio State WGY❌ (@OhioStateWGYM) February 2, 2020
Illinois vs. Maryland: Slow and steady wins the race
Due to an academic issue, Maryland all-around star Audrey Barber was out of competition during the meet against Illinois over the weekend. Knowing they needed to bring their A-game, the Terps stepped up, specifically led by three fantastic freshmen — Reese McClure, Aleka Tsiknias and Emma Silberman — and scored a victory over the Illini. In addition to those freshmen, senior Tiara Wright was a queen on the beam. Check it out below.
Super. Sunday. Stick.

Tiara Wright IS the ???? ????? ?#SCTop10 | @Tiaraanyae pic.twitter.com/l3x5z4uQiP

— Maryland Gymnastics (@TerpsGymnastics) February 3, 2020
Silberman stepped into the all-around in Barber's absence, making her career debut on beam and incredibly winning her first career all-around title with a personal-best 39.150.
Illinois struggled a bit in College Park this weekend, specifically on beam, usually a strong event for the team. However, despite some uncharacteristic falls, Shayla Scott dazzled on beam in the fifth spot, winning the event with a 9.9. The other Illini event title went to freshman Mia Takekawa for her stellar 9.875 on bars.
Rutgers vs. Penn State: "Don't count us out"
The name of the game for the Nittany Lions this weekend was back-to-back weeks of 9.9 beam routines for freshman Cassidy Rushlow. Here is her stunning beam routine.
Back-to-Back meets with a 9.900 on beam for Cassidy Rushlow! #WeAre #ForTheRoar pic.twitter.com/AsbwkB38Y8

— Penn State Women's Gymnastics (@PennStateWGYM) February 1, 2020
Rushlow wasn't the only high-scoring Nittany Lion this weekend. The team ended up with six new or matched career-highs! On top of that, Lauren Bridgens came out on top once again with a 39.4 all-around score, also tying her season-high all-around score.
Rutgers posted a great away score of 195.7, their second-highest road score in program history! If I could pick one program in the Big Ten showing the most progress so far, it has got to be this Rutgers team. Specifically notable is Hannah Joyner's 9.925 on beam, marking four 9.9 or higher beam scores this season, and there have only been five meets. Wow!
Next time you want to keep track of a Rutgers meet, follow their Twitter as it is loaded with great gifs. Trust me, you won't regret it.
Upcoming Big Ten action, live on FloGymnastics
Friday, February 7
Washington vs. Minnesota (Mens) 8pm EST
Penn State vs. Illinois (Women's) 8pm EST
Saturday, February 8
Iowa vs. Minnesota (Women's) 7pm EST
Maryland vs. Nebraska (Women's) 8pm EST
Sunday, February 9