Simone Biles Unveils Jaw-Dropping New Vault
Simone Biles Unveils Jaw-Dropping New Vault
Simone Biles stunned the world yesterday when she posted a clip on Twitter of her training a Yurchenko double pike on vault.
Feb 4, 2020
by Katie Norris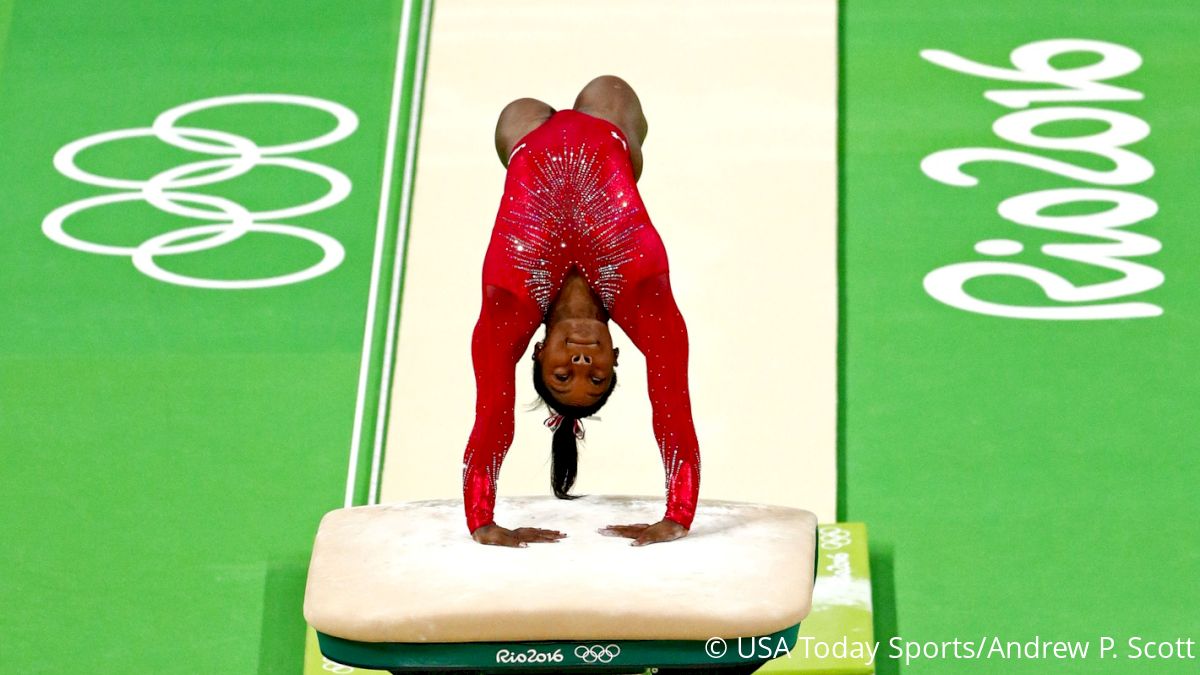 Simone Biles stunned the world yesterday when she posted a clip on Twitter of her training a Yurchenko double pike on vault — a skill that no woman has ever attempted in competition.
The video, captioned "2020?" next to a series of eye emojis, has now been viewed close to 2 million times.
Although it seems that Biles is just training it in the pit for now, fans and commentators have remarked on how dynamic it already looks.
Simone Biles is working a Yurchenko double pike vault -- and one that looks ready for the hard landing surface. No woman has ever attempted a Yurchenko double flipping vault in international competition. Wow. https://t.co/zXqOrxalRb

— Blythe Lawrence (@rockergymnastix) February 3, 2020
Holy cow, @Simone_Biles! You're going to have to kick out of that or go for three! ??? https://t.co/Kb7iPsdY6E

— Kathy Johnson Clarke, OLY (@kathyjohnsongym) February 4, 2020
Right now, there isn't any kind of double flipping Yurchenko or Tsukahara in the International Gymnastics Federation (FIG) Code of Points, so Biles would get the skill named after her if performed successfully in international competition.
Because she already has an eponymous skill on vault — the Biles I, a roundoff half-on with two front twists off —this one would be classified as the Biles II.
Some Twitter users have expressed concern at the value FIG would assign to this incredibly difficult new vault, since the organization undervalued her eponymous beam dismount at the 2019 World Championships over concern for athlete safety.
FIG: This vault is valued at 2.4 https://t.co/gjn84kZktD

— BalanceBeamSituation (@TheBBSituation) February 3, 2020
Regardless of the rating the vault may receive, Biles continues to shatter expectations and elevate women's artistic gymnastics to new heights. This vault is similar to one of her more recent eponymous skills — the triple double on floor — in the fact that it's a skill only ever previously competed by male gymnasts.
And speaking of her triple double, fans will remember that Biles posted a clip of her training the skill on a soft landing with a similar caption just months before performing it in competition.
video 2 ? pic.twitter.com/ceKNUn7ypK

— Simone Biles (@Simone_Biles) May 28, 2019
If this vault follows the same pattern, we may be blessed with another gravity-defining stunt from the Olympic gold medalist this year. Keep an eye out for more Olympic coverage this year by FloGymnastics!