2020 Minnesota and UIC at Iowa | Big Ten Men's Gymnastics
Shane Wiskus Seamlessly Transitions From Minnesota To Team USA And Back
Shane Wiskus Seamlessly Transitions From Minnesota To Team USA And Back
It might be unseasonably mild in Minneapolis this weekend, but that won't stop Shane Wiskus from storming into his first home meet of the season.
Jan 24, 2020
by Kelly Feng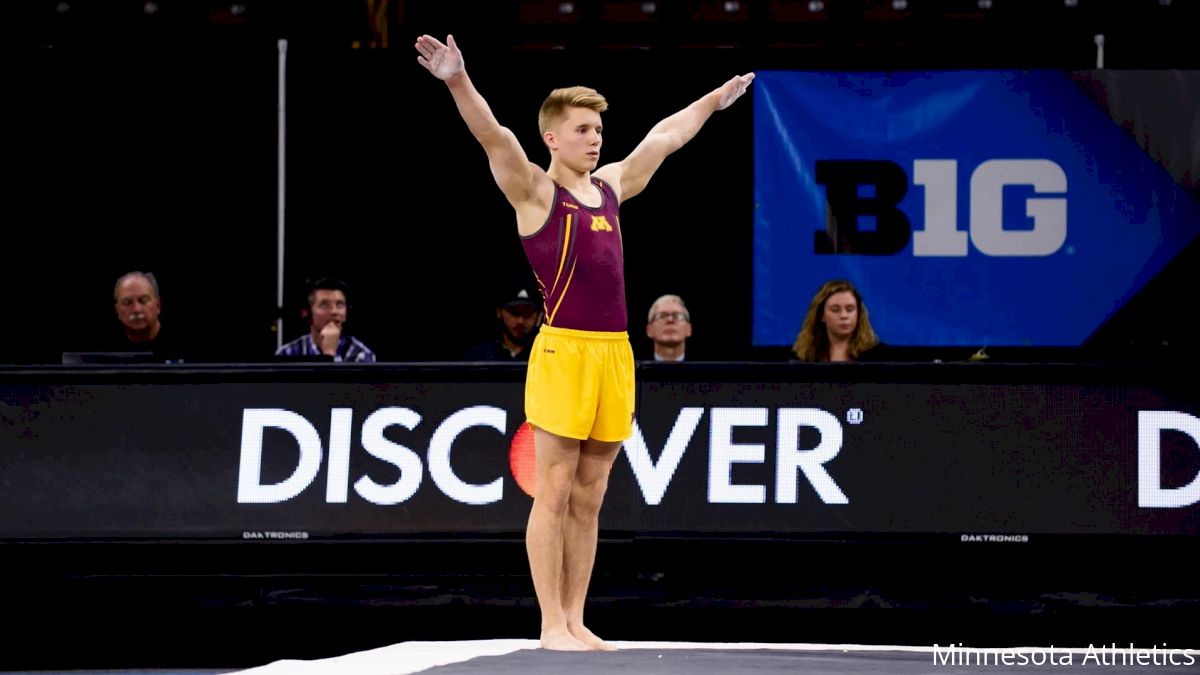 It might be unseasonably mild in Minneapolis this weekend (balmy low 30s and cloudy), but that won't stop Shane Wiskus from storming into his first home meet of the season. The 2019 NCAA all-around runner-up, parallel bars champ, and co-Big Ten Gymnast of the Year returns to Maturi Pavilion to lead the Gophers in a home meet against Illinois.
Wiskus' milestones from the 2019 NCAA season were briefly upstaged by the Minnesota gymnast's performance on the high bars at the 2019 U.S. Gymnastics Championships, when he executed an unplanned but now famous one-arm catch that went viral.
Miss a hand? Not a problem for Shane Wiskus ? #USGymChamps pic.twitter.com/Rv9jT4qVPa

— FloGymnastics (@FloGymnastics) August 11, 2019
If you're one of the hundreds of thousands of viewers who've been enthralled with this clip, don't stop there. Wiskus' one-arm catch is just a short sound bite from a large library of captivating routines, which not only display Wiskus' high-difficulty but also impeccable form that earned him a spot on the USA's 2019 World Championships team.
During the World Championships qualifying round, Wiskus, the youngest athlete on the U.S. team, performed a textbook high bar routine, sticking it and scoring 14.166—the second-highest score for the USA on the event, trailing only two-time Olympian Sam Mikulak. Wiskus finished the round in ninth overall, nearly making the event final.
That worlds high bar routine is a good example of Wiskus' well-detailed execution. His lines, extension, and pointed toes allow him to fly through each skill with complete control.
Reminded he received an 8.466 in execution for his high bar routine at worlds qualifications, one of the highest execution scores, Wiskus credited a good mix of coaches.
Minnesota assistant Konstantin Kolesnikov, aka Kostya, has helped him hone his high execution, building in hard routines. Having Doug Price and Dale Bullivant coach him at the club level, and Kostya at Minnesota has created a great balance. It has allowed Wiskus an opportunity to have coaches be at his side, supporting him in what he wanted to do, along with a coach that kept him accountable.
"It's actually funny because I was never that gymnast … I remember being at the junior national team camp. I was always the guy that couldn't do the walk-on giant on rings. I had this weird handstand with my head super far out and an arched back, and it was something that took a lot of work to hone these skills," the 21-year-old Wiskus admitted. "I wasn't the cleanest gymnast. I wasn't the best at execution. My technique/style was a little off. It's funny that people say that now, but I remember I wasn't at all the best at that, so now it's cool."
Although he was considered the top college recruit in his high school class, Wiskus didn't take anything for granted. Visiting colleges, he longed for a program that was an extension of his family.
Growing up in Spring Park, Minnesota, and attending a public high school, Wiskus had a lot of friends, but most of his friends played hockey, baseball, or football. Wiskus saw a gap. He wanted friendships that went beyond hanging out and come from the competition floor. These guys might be his competitors, but they're also his friends.
"When I was taking my trips, I was trying to find a school or a program that I fit into best. I really found my family in the sport of gymnastics," Wiskus recalled. "I had known a lot of the Minnesota gymnasts coming into college — like Michael Harris and Shaun Herzog and others that have since graduated — I'd known them from Region Four camps, clinics, and meets. When I took my trips, they were like a breath of fresh air. They really felt like a family."
The ongoing support from family, friends, and the Minnesota gymnastic community is how Wiskus draws his energy as a gymnast. He believes that no matter where a gymnast goes in the NCAA world, they're going to get a good education and get better gymnastics.
Wiskus' junior season has taken off as expected, with the exception of the Rocky Mountain Open during which he had the flu. This week, Wiskus was named Big Ten Gymnast of the Week after posting top-three finishes in five events at the Windy City Invitational, where Minnesota finished second.
"I'm beginning to realize the inevitable end of college gymnastics," Wiskus said. "So now I am going into my third year, and what I'm looking forward to the most is to take a step back and enjoy NCAA while it is still around for me.
"I want to enjoy my last couple of seasons as a (college) gymnast. To take it for what it is really is — try to have fun and not make it too stressful. This college season is to enjoy this journey, and this chapter of my life before it is over."
This season, Wiskus was named co-captain, a position, he noted, that requires plenty of responsibility. "How can I set the best example for my team? How can I be someone they can look up to? How can I set the tone for everyone else on the team?" Wiskus asked himself.
"It made me more responsible, more accountable for myself and for others," he said. "Being a team captain made me more calm at the gym, be more responsible outside the gym, hopefully, be the person that they can look up to. I also hope it helps my team progress their gymnastics."
Wiskus shares his co-captain responsibilities with Gophers Timmy Kutyla. Now in his senior year, Timmy knows how the home stretch of college gymnastics feels.
"I feel both Shane and I have a special dynamic because we both have high energy during a meet, cheering on our athletes and bringing the energy to our team," Kutyla said. "Shane is cheering for every single one of the teammates, and he is always trying to bring the same energy into the group and into the practice.
"Shane's defining trait is that he's a teammate, and that means a lot. He's there for people. Anyone. He goes out for lunch with people to see how they're doing. He's very caring ⸺ not only for his own gymnastics but for his teammates' gymnastics."
Kutyla also admires his co-captain's worth ethic and ability to make it through challenging times. In particular, Kutyla remembered the NCAA Championship in 2018, Wiskus' freshman year when the Gophers finished runner-up.
"Day one ... Shane was so sick and so drained it was almost as if he had the flu. I couldn't imagine pushing through that, but he did and he actually ended up bringing us that title for second place," Kutyla recollected. "That was something really exciting to see from him. Shane's mindset was not on how you feel but the work that you want to do, and it's something he's good at."
Pushing through seems to be an innate ability for Wiskus, which makes us rewind to last year's famous clip and then fast-forward to the summer. In June, Wiskus will be adjusting his routines to move from NCAA to U.S. Championships to the Olympic Trials at the end of the month.
"For this season, I am trying to peak at the right time and make sure my routines are smart for when I need to be on," Wiskus said.
"I'm trying to strategically compete when I need to compete. Last year I did all-around every single weekend, and it really took its toll during the season. After the season, I was dead, and my body hurt and I was mentally kind of drained. I had to take a week off with everything and get my head back in the game."
The transition between NCAA gymnastics and elite is challenging, and yet Wiskus made the transition seamlessly last summer.
"This season is important to be smart as to when I do all-around for when I compete or not compete, and after the season June is championships. I have two months to come off of the high of NCAAs and build my way up to championships, be smart and not burn myself out and really pick and choose when I go hard for these competitions."
Minnesota head coach Mike Burns, in his 15th season with the Gophers, has seen this determination from Wiskus and his leveled-up responsibility.
When Wiskus first came to the team, Burns said, he showed some resistance to taking advice, which in many ways Burns admired because it showed that Wiskus was willing to take a problem and solve it. Wiskus has since evolved, with much of his growth manifesting in being named co-captain.
"Shane's mental maturity has caught up with his physical maturity. It is all in sync. He really took things seriously," Burns said. "Shane was also elected a team captain this year. That helped accelerate his maturity level as well. That's not to say he was immature, because that's not the point. But he evolved into a better person with the added responsibility. That's been a cool process to see."
Burns likened Wiskus' evolution to a scene from the film A Beautiful Mind. In the film, the U.S. military contacts Russell Crowe's character for mathematical help because authorities cannot solve critical equations. There's a scene where Crowe comes into the room and takes in a blackboard filled with numbers. The numbers jump up and move around in his mind until he suddenly cracks the code.
Burns compared that scene to the many factors falling into place for Wiskus. "Shane's mind/body interface has gotten into sync. And that's a lot of power."
With the NCAA gymnastics season in full swing, upcoming Big Ten Championships, upgraded routines, and, ultimately, Olympic Trials, we can't wait to see what Wiskus has in store for us. With so many inspiring possibilities, the odds are in his favor.
That's one mathematical equation that's easy to solve.