2020 Big Ten Gymnastics
Go Blue: A Former Michigan Gymnast's Read On The 2020 Squad
Go Blue: A Former Michigan Gymnast's Read On The 2020 Squad
Former Michigan gymnast Olivia Karas gives an insider's look at the 2020 Michigan women's gymnastics team.
Jan 22, 2020
by Olivia Karas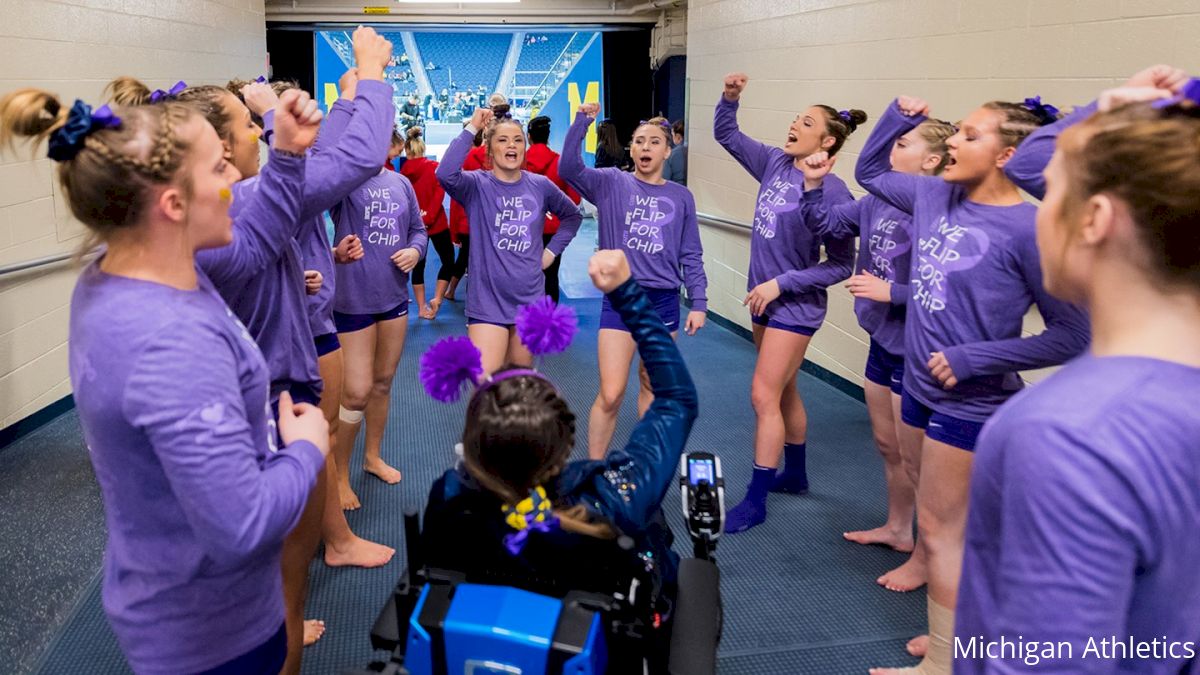 The 44th team in Michigan history began its season at home with a win against Texas Woman's University and Washington and followed that up with a victory over Illinois on Saturday. As a recent graduate from this program, I feel very tied to this team and its current season. It is wonderful to be a part of a program and a group of women who make leaving so hard, another reason why my investment in this season hits closer to home than just gymnastics. It's about watching my best friends succeed.
It hasn't necessarily been easy to transition to a different perspective, though. Going from holding the athlete/teammate/friend role to pursuing the press/interviewer role has been an odd, but surprisingly fun and invigorating change. I talk to many of the members of Team 44 frequently, as I know many on the team very well and find myself engaging in quick exchanges with coaches and support staff as well. Again, it's hard to just rip the bandage off and not stay in contact with your family away from home, but the thing I love about Michigan is the constant camaraderie between everyone, even after leaving the campus.
But enough about me. This piece will highlight Team 44 and the tradition that Michigan gymnastics holds near and dear.
The hotel "Hail" is one of our favorite parts of road meet days! #GoBlue pic.twitter.com/RVVz1cAkOK

— Michigan Women's Gymnastics (@UMichWGym) January 18, 2020
Team 44 welcomes back a stacked roster of athletes, two inspiring student-athletes in coaching roles, a newly configured coaching staff, and the always amazing and intelligent support staff. Michigan also welcomes four outstanding young freshmen who are sure to bring some new flavor and talent to the program. Watching these four women step onto the Michigan gymnastics scene has been nostalgic for me, as I remember the day I arrived on campus like it was yesterday.
Big Ten Freshman of the Year and reigning NCAA beam champion Natalie Wojcik returns, looking to build on her stellar freshman season. Natalie is outstanding on all four events, recording no lower than a 9.95 on any one, and that was just her freshman year! She will look to mature into her sophomore role and continue bringing her masterful artistry and knack for clean execution to the team.
@wojcik_natalie has won at least one event in 15 of her 16 collegiate meets. Here is her floor win from last week. #GoBlue pic.twitter.com/rvZsbQfReD

— Michigan Women's Gymnastics (@UMichWGym) January 15, 2020
Natalie's classmates Abby Brenner, Abby Heiskell, and Maddie Mariani are also hugely important contributors. All three competed for the squad as freshmen last season, sometimes all competing in one of the lineups. It's something really remarkable when your bars lineup at one of the biggest competitions of the year, the regional championship, is made up of four freshmen. Michigan will look at these ladies for another year of clean routines and big numbers.
Sophomore @AbbyHeiskell earned her first collegiate event title with this 9.875 on bars at Illinois. #GoBlue pic.twitter.com/D3kkDeN1oV

— Michigan Women's Gymnastics (@UMichWGym) January 20, 2020
"Team 44 emulates the culture and tradition of Michigan gymnastics by having the coaching staff and athletes on the same page at all times," Maddie told me recently. "The consistency in the program in my two years here has to do with tradition. Both Team 43 and Team 44 have such a genuine bond. We are all close like sisters, making practice and competition so much fun."Last year's superb beam leadoff Lauren Farley headlines this year's junior class. She also contributed on bars and floor during the 2019 season, but really shined in her presentation and precision on balance beam. Lauren has immensely grown in her time at Michigan, getting comfortable in her skin as a performer. I cannot wait to continue watching her sparkle and dazzle us all with her sass. The team also welcomes back Anna Dayton and Sam Javanbakht, two women who bring passion, love, and support to the energy within the team. Keep an eye out for these talented women who will look to bring depth to the roster.
The seniors. I have known this class the longest of all, and I am excited to see them shine in their final few months as Wolverines. I know that getting to this point has not been easy, but they have all battled through every obstacle to continue pushing through and competing in the Maize and Blue. The three seniors still in leotards competing for Michigan—Lexi Funk, Maggie O'Hara, and Maddy Osman—collectively had four surgeries in the past year, making for a season and summer of recovery. Talk about determination.
Senior @ohara_mags matched her career best with a 9.825 on bars in the season opener. #GoBlue pic.twitter.com/08WtzFeHWA

— Michigan Women's Gymnastics (@UMichWGym) January 15, 2020
"One of Michigan's mottos is 'leaders and best,' and I think our team really emulates that," Lexi said. "In our sport, there is only one person up on the apparatus at a time, so it appears to be very individual, but in reality there is a huge amount of support rooting for us in everything we do. It's really amazing to know that not only my team has my back, but the many different support systems and resources as well.
"It makes me really proud to reflect on myself as an individual and realize how much I have grown over the years that I have been at Michigan," she continued. "I will forever be proud to call myself a Michigan Wolverine."
Those aren't the only seniors, though.
Michigan brings back Polina Shchennikova and Sam Roy as student assistant coaches. Both women ended their competing journeys early, yet both have remained focused on the team and the success of the program. They bring an entirely new perspective to coaching, where they have learned to coach their friends in the most influential and positive way. It's not easy to hang up the leotard before you thought you would, but both women fought through their obstacles and proved to be priceless assets to Michigan's program.
Here is your #MustReadMonday article. Athletic retirement is so difficult on your mental health. These courageous women share their journeys and how they've accepted new roles with their team. #GoBlue | #AthletesConnected | #MondayMotivation https://t.co/1QGMQ6Ezdx

— Athletes Connected 〽️? (@Aths_Connected) January 13, 2020
Finally, the freshmen. I don't personally know these women as well, but I have had the pleasure of coaching them over the years during our summer camp. All four women bring new and exciting perspective and energy to the scene. The big names, Sierra Brooks and Gabby Wilson, look to be Michigan's one and two punch as freshmen. Their power, artistry, and enthusiasm is refreshing for Michigan and the Big Ten. Plus, these ladies can tumble! If you want to see some power, precision, and beauty, watch these two hit the floor.
On her way to her first Big Ten honor, @sierrabbrooks_ won the all-around, beam and floor last weekend at Illinois. #GoBlue pic.twitter.com/uXaQgukPHZ

— Michigan Women's Gymnastics (@UMichWGym) January 21, 2020
But, they're not the only newbies. Nicoletta Koulos and Abbie Gaies are here to play as well. The best part about these four freshmen, however, isn't their skills or scores, but their passion and love for all things Michigan. You can't teach that, but you can teach skills and execution. They have the unteachable. That in itself is remarkable.
The coaches. Bev Plocki is continuing her reign as head coach of the Wolverines, now in her 31st season. Plocki has built Michigan gymnastics into a force to be reckoned with both in the Big Ten and on the national stage. In my opinion, Bev is the coach you want on your side. I mean, come on, there is a reason she's been there for 31 years. She is really good at her job.
In his 24th season with the Wolverines, Scott Sherman, the "bars guru," earned a promotion to associate head coach, and Oklahoma gymnastics standout Maile Hermelyn also returns, having been newly promoted from volunteer coach to assistant coach. Finally, the Wolverines added Penn State gymnast Quest Hayden to the coaching roster.
I never got the pleasure of working with Quest, as he joined the squad after I graduated, but I was really interested to know why he felt a close connection to the program.
"After meeting with Bev a few times and talking with her," he said, "it became clear to me that with the culture of success Michigan has had in the past, along with what I could bring to the team, made Michigan the place to be."
Let the season begin‼️

Michigan wins their first meet of the season over Washington and Texas Woman's University.@UMichWGym Head Coach Bev Plocki is excited for the upcoming season with the Wolverine's young team. pic.twitter.com/DCqY5GLI52

— Michigan On BTN (@MichiganOnBTN) January 11, 2020
After hearing this, I felt extremely grateful and excited that the tradition and genuine love for Michigan shone through our team cohesion that Bev shared with Quest.
"Michigan was not at the top of my list for just the success they've had in the past, but because looking from the outside in I noticed a confidence and an elite presence from them on the floor, while still having fun competing and supporting their teammates," he added.
I don't know about you guys, but I am stoked to watch this Michigan team shine throughout their season. From the perspective of an alumna, I am proud to watch the same tradition, love, and passion that I remember continue exude from the coaching staff and the women on the team.
Speaking of tradition, my final excitement for Team 44 stems from something that my first team I was on, Team 40, began. Next weekend will be the fifth-annual Flip for Chip Meet bringing awareness to pancreatic cancer and families who have lost loved ones to this terrible sickness.
I didn't know much about pancreatic cancer until I came to Michigan and met the Cailee Hills, then a sophomore on the team, and her family. Cailee's father Chip passed away from pancreatic cancer in October of that year, and our team decided to honor Mr. Hills and his love and passion for Michigan on the floor of a meet. This tradition lives on next weekend as Michigan hosts Rutgers for its purple meet. If you are around the area next week, consider stopping by for a cause that means the world to our Michigan family.
We are on the road this week but don't forget we have another home meet next Friday, Jan. 24 against Rutgers when we Flip for Chip!

? - https://t.co/HXTtALc2ub pic.twitter.com/q2fUrp8d4Z

— Michigan Women's Gymnastics (@UMichWGym) January 16, 2020
I am proud to cheer for my alma mater and my best friends during the 2020 season. It is really different being on the other side of things, but it allows for continued love and passion for all things Michigan gymnastics, just not in a leotard. I can't wait for everyone to watch the magic of Team 44 and Michigan gymnastics this season and in all of the years to come.
Forever and always, go Blue.