2020 Metroplex Challenge
Metroplex Challenge The Next Big Test For No. 1 Oklahoma
Metroplex Challenge The Next Big Test For No. 1 Oklahoma
Senior Maggie Nichols leads Oklahoma gymnastics into its next big meet: The Metroplex Challenge in Fort Worth, Texas.
Jan 16, 2020
by Michael Kinney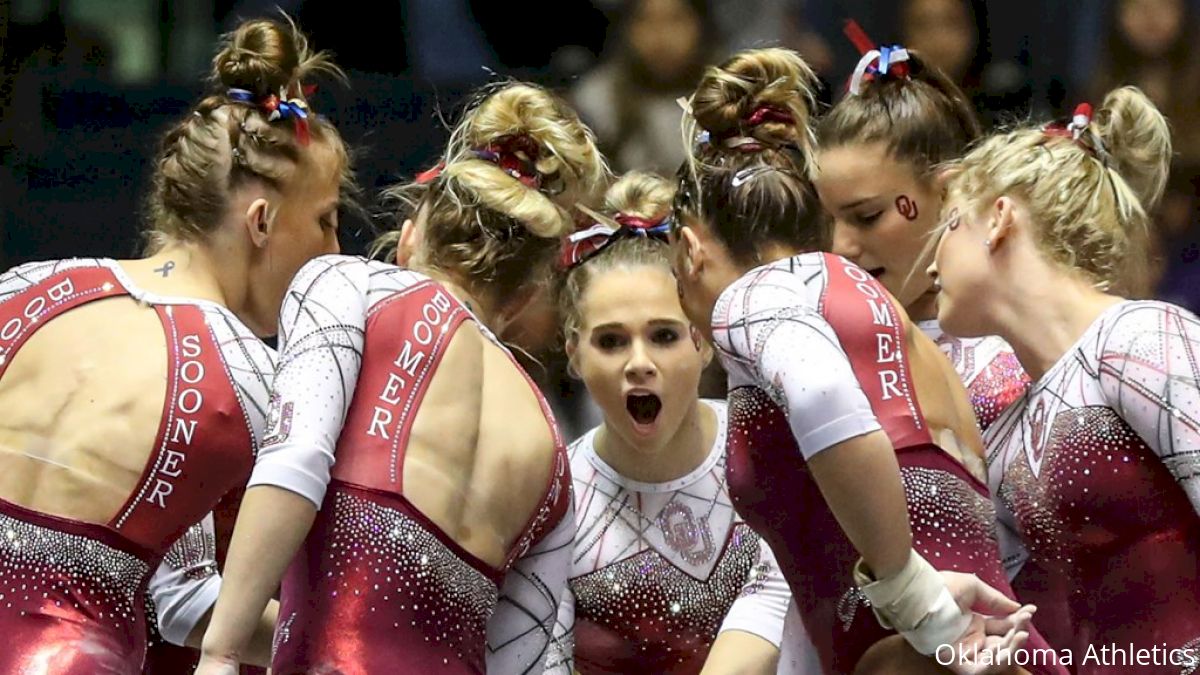 Oklahoma's 2020 campaign can almost be seen as a farewell tour of sorts. It will be the final go-around for senior Maggie Nichols as she completes what has already been an amazing career.
As she makes her way around the country to different meets, Nichols wants to make sure gymnastics fans see her at her best.
"I just want to show everyone I have been working very hard," Nichols said. "That I am stronger this year, Mentally, physically. Healthy. I just want to go out in my last year, have a lot of fun, take every moment in, and just hit my routines the best I can for my team and for myself — just to have fun with it."
That includes the upcoming Metroplex Challenge in Fort Worth, Texas. It will not only be a chance for fans to see Nichols in her final trip to the annual event, but also an opportunity to check out the defending national champions as the Sooners take on some stiff competition.
"We are the best in the country, so why not come," Nichols said. "But we just try to get it out there that it is so much fun to come and watch. Gymnastics is such a unique sport. So much different than basketball, football, and all those kinds of sports. Everyone's routines are so much different, so much more unique. A lot of people can't do the skills that we do. Just try to really put that out there and tell people to come. They will have a lot of fun."
The Metroplex Challenge will feature not only No. 1 Oklahoma, but also No. 3 Denver, No. 9 Alabama, and No. 17 Georgia. The event will be live-streamed on FloSports.com Jan. 25.
OU coach K.J. Kindler sees the competition as almost a preview of the postseason and a great spectator event for fans.
"It's against some of the best teams in the country. You can't find an arena full of this much talent," Kindler said. "You've got Georgia, Alabama, and Denver, and Oklahoma. I mean, that is a great slate. You're looking at an obviously great event to watch. And they make it really exciting, and fun, and it's on podium, which is a great opportunity for our athletes getting prepared for the postseason."
road warriors. pic.twitter.com/NciqEaNjtc

— Oklahoma Women's Gym (@OU_WGymnastics) January 12, 2020
This will be the first of two matchups against Denver for OU this season. The two teams faced off in the national championships last year as well.
Led by sophomore Alexis Vasquez and senior Maddie Karr, the Pioneers have been strong in every facet of competition. Through their first two meets they ranked No. 3 on the beam, No. 5 on the bars, No. 10 on the floor, and No. 19 on the vault.
"We're ahead of where we were this time last year," Denver coach Melissa Kutcher-Rinehart said. "We'll continue to build confidence from that."
For the Gymdogs, the start to 2020 was not as kind. After taking first at the Critique Classic, Georgia faced off with No. 2 LSU and fell 196-750-196-150. They dropped from No. 8 down to No. 17 afterwards.
However, even in the defeat, Georgia coach Courtney Kupets saw things her team can build upon.
"The team stayed together, and that's what's going to get us further than anything, even further than the gymnastics itself," Kupets said. "It's just the energy and how the chemistry of the team is built together. They trust each other, and they're confident and just have a little bit more work to do. It's just exciting to see that they want it so much."
Ain't nothin' finer in the land...than 10,000 cheering GymDog fans! ?⚫️??#GloryGlory | #GoDawgs pic.twitter.com/r4CPvSLGu3

— Georgia Gymnastics (@UGAGymnastics) January 14, 2020
Alabama also had a rough open to the season when it dropped a tight contest to Auburn, 196.626-196.025.
It doesn't get any easier for the Crimson Tide as they host Oklahoma on Jan. 17 before heading to Texas for the Metroplex Challenge.
Tide coach Dana Duckworth is relying on senior Maddie Desch and Lexi Graber to set the tone for the young team. But she is also looking for freshmen Makarri Doggette, Luisa Blanco, and Ella Burgess to provide valuable points.
A top-10 match-up in Coleman Coliseum this Friday at 7:45 p.m. You don't want to miss it!

?️https://t.co/QNitZRugTV#TAT2020 #RollTide pic.twitter.com/Hc1A5SBXPH

— Alabama Gymnastics (@BamaGymnastics) January 15, 2020
For Oklahoma, the Metroplex Challenge will be the team's second time on the podium this season. They started the year off by winning the Collegiate Challenge in Anaheim, Calf., which also took place on the podium.
"It kind of felt like it was a bigger meet since it was on podium. It was really exciting to go out there and show everyone our hard work through the preseason," Nichols said. "I felt everyone did pretty good. We had 24 for 24 routines, which is amazing. But I definitely think we have a lot of room to improve and grow."
This early in the season, Kindler is excited about her team getting multiple opportunities to experience competition on the podium.
"It helps tremendously. We have the California Challenge, the Metroplex Challenge. We have the Bart Conner-Perfect 10 Challenge on podium," Kinder said. "Now, with the Big 12, we have a contract for a podium for the next five years. And we were the only conference not on podium last year. So, that's huge for our conference. And to be on podium four times leading up to the national championship just allows you to prepare better and prepare your athletes better."
It's not just the gymnasts from the four colleges who will be at the Metroplex Challenge. The entire event lasts from Jan. 23-26 and will feature a variety of different levels of women's gymnastics.
OKAY ALLIE!!!!

What a gorgeous 1.5 from @alliekstern in the No. 2 spot for a CAREER-HIGH 9.9! pic.twitter.com/BBJCaLpXEj

— Oklahoma Women's Gym (@OU_WGymnastics) January 11, 2020
"It's an absolute electric environment," Kindler said. "The place is always packed with families and young gymnasts who obviously attend the Metroplex Challenge, which has over 5,500 youth in it this year. That is a huge number. I guarantee those youth and their parents are going to be headed to this collegiate challenge."
Coming off winning the program's fourth national title, the Sooners knew the start to the season was going to be a challenge. But the numbers Oklahoma is putting up in the early going have showed they are not suffering from any letdown.
OU holds the No. 1 spot on bars (49.475 average), the No. 2 ranking on vault (49.275) and beam (49.388), and comes in at No. 3 on floor (49.375).
Through the first two weeks, the Sooners are averaging a 197.513. Denver is third at 196.725.
But one look at their roster should have been a clue that the Sooners have the type of team that can handle the pressure of being a defending champion. It includes 11 returners from last season's title team, including Nichols, Jade Degouveia, Karrie Thomas, Anastasia Webb, Carly Woodard, and Olivia Trautman, who all combined for 11 All-America honors in 2019.
Tentative lineups for tonight's meet at Arizona State!

The first routine is coming up in just 15 minutes on ESPN2!

?https://t.co/SO1TnGYmUA
? https://t.co/HbSvSY5Vfo pic.twitter.com/uE3nQ52yR5

— Oklahoma Women's Gym (@OU_WGymnastics) January 11, 2020
"I think that we had 12 people contribute," Kindler said. "That's a really big number. Normally, you'll see most teams around nine people. And so, you're seeing more contributors from every single class. I think that makes us a little bit different. We're asking for many, many people to participate and step up."
Webb is ranked No. 9 in the all-around with a 39.488 average and ranked 13th on both bars (9.875) and floor (9.900).
The Sooners have also gotten a boost from freshman Ragan Smith who is tied with Nichols on the bars with a 9.937 average and ranks 18th in the all-around.
Such a firecracker on floor, @raganesmimth2000 posts a career-high 9.9!!! pic.twitter.com/OhYrMOwlQF

— Oklahoma Women's Gym (@OU_WGymnastics) January 12, 2020
But it is Nichols who sets the tone for OU. The Minnesota native has won NCAA all-around title in back to back seasons, is No. 3 in the all-around (39.688), tied for second on vault (9.912) and tied for third on bars (9.938). Nichols is also seventh on floor (9.925) and 11th on beam (9.913).
"The most exciting thing about Maggie is how much she's trusting herself and how much her team and her coaches trust her," Kindler said. "Every time she steps out on the floor you just have so much faith. I think that she has shown and grown to have that faith in herself. I do think she's incredible happy and savoring every last minute of every single meet."
.@MagsGotSwag12 wraps this up with NEAR PERFECTION and a 9.975!

She puts up a nation-best 39.750 in the all-around! pic.twitter.com/Gq632NoWMN

— Oklahoma Women's Gym (@OU_WGymnastics) January 12, 2020
Nichols has her eyes on the grand prize, which is earning another championship for the Sooners' trophy room. In order to do that, she says they just have perform up to their potential each time out.
"Consistency is a big thing coming off of a national championship," Nichols said. "You want to keep that consistency at the same level or even better. Just to be the strongest team out there physically, mentally and have the best routines. Be the most consistent on everything."