2020 Big Ten Gymnastics
20 Standout Big Ten Gymnasts Competing in 2020
20 Standout Big Ten Gymnasts Competing in 2020
Who are the top 20 gymnasts in the Big 10 this year? The list includes Minnesota's Lexy Ramler, Illinois' Rae Balthazor, and Michigan's Natalie Wojick.
Jan 10, 2020
by McKenna Kelley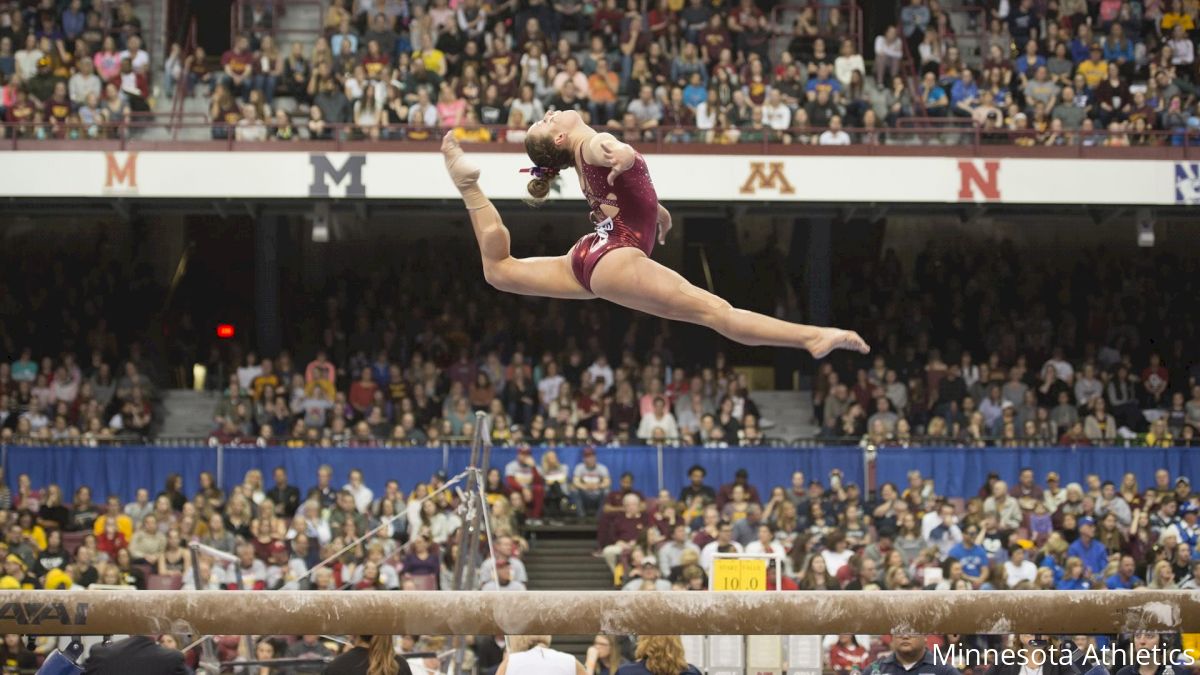 A new year means a new season. Gym season that is! As we've rung in the new year, teams all across the country have geared up for the 2020 competitive season. From the SEC to the Pac 12, you can expect to see each team bring their A-game—but today, we're talking Big Ten.
We've broken down our top 20 gymnasts in the Big Ten to keep tabs on this year. And remember, FloGymnastics has a ton of Big Ten gymnastics meets on deck this season, including Elevate the Stage Toledo, featuring all 10 Big Ten squads competing in two sessions, Feb. 21-22. Check our events page for the complete up-to-date schedule.
Illinois
Rae Balthazor, Senior
Coming off a stellar junior season, senior Rae Balthazor aims to close out her gymnastics career for Illinois on top. Last year, Balthazor tied for the 10th-highest bar score in program history with a 9.925, and earned her first vault title with a 9.800
Kasey Meeks, Junior
Toward the end of her sophomore season, Kasey Meeks proved to be a clutch performer for the Fighting Illini. During the NCAA Ann Arbor Regional, she made her debut on floor with a 9.825 and finished fifth on vault with a 9.90.
Maryland
Audrey Barber, Junior
In 2019, Barber led Maryland to its second appearance at an NCAA regional. She was named Second Team All-Big Ten and scored a huge 39.425, in only her sophomore year.
Sanya Glauber, Sophomore
Now a sophomore, Sanya Glauber competed in nine meets on bars in her freshman season. Glauber posted consistent scores on bars of 9.825 or higher and looks to remain a mainstay in the lineup.
Iowa
Ariana Agrapides, Freshman
A superstar from the elite scene, Ariana Agrapides is a huge name to watch out for in 2020. She is a two-time P&G National Championship qualifier, winning the vault title in 2013. Agrapides rounded out her pre-collegiate career in level 10 as the state vault, floor, and all-around champion.
Lauren Guerin, Sophomore
After being named Second Team All-Big Ten her freshman year, Lauren Geurin is looking to continue her success for the Hawkeyes. She recorded season-highs of 9.875 on vault and a rocking 9.9 on floor at the Corvallis Regional.
Michigan
Sierra Brooks, Freshman
A freshman from Plainfield, Illinois, Sierra Brooks brings her A-game to the Michigan Wolverines. A six-time J.O. National Qualifier and four-time J.O. National team member with multiple national titles to her name, it's safe to say Brooks will be one to keep your eye on in her debut collegiate season.
Natalie Wojick, Sophomore
After an absolute knock-out freshman season, Natalie Wojick's grace and difficulty will continue to be a crowd-pleaser in 2020. Wojick scored a perfect 10.0 on vault and won the beam title at the national championship with a 9.95. To only name a few of her many accolades, Wojick is a two-time All-American and was the 2019 Big Ten Freshman of the Year. Even though she's still an underclassman, Natalie Wojick is one to watch out for.
Michigan State
Lea Mitchell, Junior
A regional qualifier, Lea Mitchell has been a star performer for Michigan State. Named to All-Big Ten Second Team and Big Ten All-Championships team, Mitchell's performance has consistently produced 39+ AA scores.
Linda Zivat, Freshman
Joining Michigan State this season, freshman Linda Zivat has quite the impressive resume. A three-year level 10 and two-time J.O. national qualifier, Zivat comes in heavily decorated. She brings a national vault title and a sixth-place finish in the AA to the Spartans this 2020 season.
Minnesota
Lexy Ramler, Junior
A no brainer! Superstar Lexy Ramler makes her return for the Golden Gophers with numerous honors. Last season, she set the program's record for highest AA score with a whopping 39.725. At the 2019 NCAA National Championship, Ramler earned four All-American honors on vault, beam, bars, and AA. She was also the AA and bars co-runner up. Ramler was a Sports Minneapolis Women's Collegiate Athlete of the Year Finalist at the 2019 Minnesota Sports Awards.
Ona Loper, Junior
After an unexpected injury her freshman year, Ona Loper bounced back and was a standout in her sophomore season. With a career high AA of a massive 39.45, Loper became a mainstay for the Gophers and was First Team All-Big Ten in 2019. She scored career-highs of 9.925 on beam and 9.95 on vault (which put her in first place) at the NCAA Baton Rouge Regional.
Nebraska
Taylor Houchin, Senior
After an almost perfect vault that received a 9.975, Taylor Houchin, now a senior for Nebraska, looks to continue her success in 2020. With a long list of achievements, such as First Team All-Big Ten and Regular Season Second Team All-American on bars, Houchin threw up huge scores of 9.95 on beam and floor, tying her career-highs.
Sierra Hassel, Senior
Also a senior for the Huskers, Sierra Hassel stepped up her game as a junior. On floor, Hassel scored a career-high of 9.925 and a near-perfect 9.975 on beam. Hassel's potential will continue to grow in her final season.
Ohio State
Sydney Jennings, Sophomore
Sydney Jennings was a mainstay for the Buckeyes, as she led the vault lineup in her freshman season, scoring a career-high of 9.9 on the apparatus. Still an underclassman, Jennings will continue to advance throughout her career.
Jenna Swartzentruber, Junior
Jenna Swartzentruber was quite the performer in 2019 with consistent scores of 9.875 on bars and beam and a career-best of 9.9 on bars. She was named Second-Team All-Big Ten and won the beam title at the Big Ten Championship, earning her a spot on the Big Ten All-Championship Team in 2019.
Penn State
Tess McCracken, Senior
Tess McCracken saw action in all 13 meets on bars and beam for the Nittany Lions in 2019. She set new career-highs on bars, beam, and floor, with scores of 9.85+. McCracken, now a senior, will help the Lions in 2020 with her consistency and strong performances.
Lauren Bridgens, Junior
With 21 career event titles to her name, Lauren Bridgens will without a doubt continue to be impressive in her junior season. She was named First-Team All-Big Ten and was selected for the Big Ten All-Championship Team. Bridgens scored the famous perfect 10.0 for her jaw-dropping performance on bars, and set three other career-highs on floor, beam, and in the AA.
Rutgers
Shannon Farrell, Senior
Shannon Farrell was a go-to for the Scarlet Knights in 2019. In her junior season, she earned the 9.925 award for her performance on bars, which was the highest bar score the program had seen since 2003. She was named this season's team captain.
Belle Huang, Junior
After a fabulous sophomore season, Belle Huang is now a junior ready for 2020. An extremely established gymnast, Huang snagged Second-Team All-Big Ten honors, Team MVP, 9.9, and 9.925 awards. Huang qualified individually to the NCAA Regionals as a floor specialist.