Eight elite NCAA gymnastics teams opened their seasons at the California Grand Invitational Collegiate Challenge. These are the top headlines from the exciting event.
Reigning NCAA Champion Tops Session 2
Oklahoma won its first meet of the 2020 season with a score of 197.350, the highest score in the nation so far. Rotating in Olympic order, the Sooners started on vault and had a few incredible scores in a row, topped by a 9.900 from Anastasia Webb with a strong Yurchenko 1.5.
On bars, Jade Degouveia scored a 9.875 in her first bar routine for Oklahoma. It was a great day for firsts, as Jordan Draper made her collegiate debut with a 9.850. The scores only got higher as Webb scored a 9.900, freshman Ragan Smith stuck her routine and earned a 9.950, then senior Maggie Nichols stuck her double layout dismount to score a 9.975. After their second rotation, the sooners crept up to first place and stayed golden the rest of the competition.
On beam, the Sooners remained steady and Smith had the highest beam score on the team with a 9.900. On floor the team continued to fly high, with a 9.900 from Webb and a 9.925 from Nichols.
Oklahoma won by 0.775 over UCLA, which came in second place with a 196.575.
UCLA Second to the Sooners
Last year's California Grand collegiate challenge winner couldn't quite pull out another first-place finish at this year's competition, despite a good meet with lots of highlights. UCLA began on bars, where Margzetta Frazier had an especially solid routine, tying her career high of a 9.950 and putting the Bruins in first place after their first rotation.
As they rotated to beam, however, UCLA lost its momentum and had to count a fall after back-to-back falls from Grace Glenn and Felicia Hano. Despite this, the Bruins came back with a good lineup to finish the event. Frazier competed her first routine in the regular beam lineup, scoring a 9.775. Samantha Sakti competed her first routine ever for UCLA, scoring a 9.950, and Kyla Ross matched Sakti's score to complete the rotation.
Norah Flatley fell on floor during UCLA's third rotation, but the Bruins did not have to count a fall as everyone else stood up their routines. They saw especially good performances from Ross with a 9.950, Frazier with a 9.925, and Grace Kramer with a 9.900. On their final rotation, Ross scored a 9.900 for her vault, which was enough to ensure her the all-around title with a total score of 39.725. UCLA has a lot of talent this year, but needs to remain more consistent to beat powerhouses like Oklahoma.
FINAL: UCLA places second at the #CollegiateChallenge, and @kyla_ross96 wins the all-around with a 39.725.

1. Oklahoma - 197.350
2. UCLA -196.575
3. California - 196.200
4. Stanford - 195.475#GoBruins | #CollegiateChallenge pic.twitter.com/YOXscEE1pf

— UCLA Gymnastics (@uclagymnastics) January 5, 2020
Behind silver medalist UCLA was California in third with a 196.200 and Stanford in fourth, scoring a 195.475, to complete the second session.
Alexis Vasquez Clinches First Perfect 10 of the Season
The first perfect 10 of the season was awarded at the Collegiate Challenge, and it went to Alexis Vasquez on beam. Vasquez's flawless routine was rewarded with a perfect score, and this sophomore could not have looked more confident.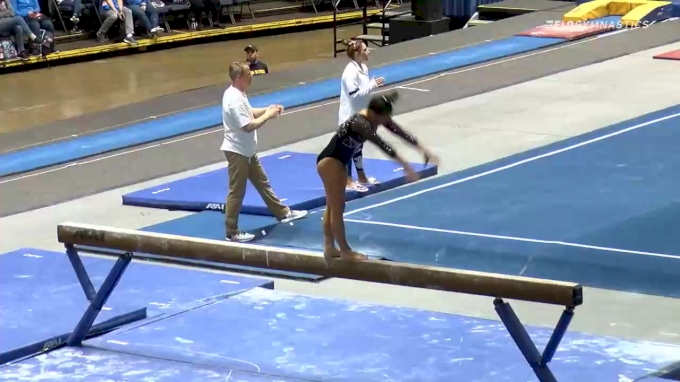 Unlock this video, live events, and more with a subscription!
Get Started
Already a subscriber? Log In
She received support from many fans on Twitter, including Michigan gymnastics alumni Olivia Karas.
The first 10 of the season going to an under the radar but unbelievably deserving athlete is exactly how 2020 gym season needed to start

— Olivia Karas (@lil_livkay) January 4, 2020
Denver First Place In Session 1, Second-Highest Team Score
Vasquez's perfect 10 helped Denver score a 196.700 as a team, giving the Pioneers first place in their session and the second-highest team score out of all the college teams competing overall, right behind Oklahoma. Their high score did not result in them taking second place, as they were in a different session, but still proved that they are a huge competitive force this season.
First perfect 10.0 of the 2020 NCAA season -- and of the decade! #PioneerTogether #GoPios pic.twitter.com/WgTRW5ztP7

— Denver Gymnastics (@DU_Gymnastics) January 5, 2020
Fan favorite and reigning NCAA floor champion Lynnzee Brown helped the team as well this meet, scoring a 9.850 on vault, 9.925 on bars, 9.825 on beam, and a 9.950 on floor.
Behind first-place Denver in session one was Arizona State in second place after a 194.675, Auburn in third scoring a 194.375, and Penn State in fourth with a 193.500.
Watch replays of every routine from the 2020 Cali Grand Invitational Collegiate Challenge.