Sam Mikulak Wins Sixth National All-Around Title
Sam Mikulak Wins Sixth National All-Around Title
Sam Mikulak won his sixth national all-around title at the 2019 U.S. Gymnastics Championships ahead of Yul Moldauer and Akash Modi.
Aug 11, 2019
by Amanda Wijangco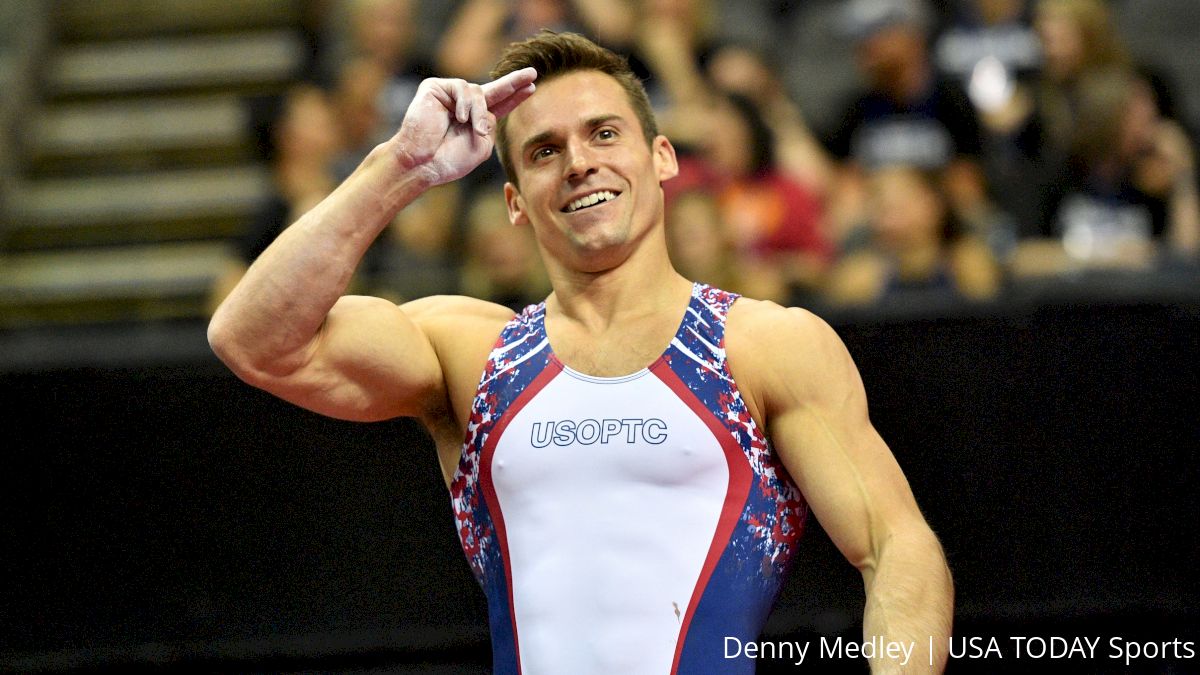 After 12 hit routines, Sam Mikulak won his sixth national championship with a two-day all-around score of 174.150, in addition to a whopping four of six possible event titles. Mikulak won floor exercise, pommel horse, parallel bars, and high bar.
Mikulak's performance at the U.S. Gymnastics Championships earned him an invitation to the World Team Selection Camp on Sept. 5-9 at the U.S. Olympic and Paralympic Training Center in Colorado Springs, Colorado. Silver all-around medalist Yul Moldauer, bronze all-around medalist Akash Modi, Allan Bower, Trevor Howard, Shane Wiskus, Donnell Whittenburg, and Colin van Wicklen were also invited to the selection camp and named to the 2019-20 senior men's national team.
Others named to the national team include Sean Melton, Stephen Nedoroscik, Robert Neff, and Alec Yoder.
The senior men's competition began Thursday where Mikulak led after day one with a 86.750. The Michigan alum also posted the top scores on floor, parallel bars, and high bar after the first day of competition. Moldauer sat in second, while Wiskus and Modi tied for third after Thursday's meet.
Mikulak didn't compete his full difficulty Thursday but felt hitting six-for-six made an important statement.
"I felt like I proved to the committee, 'Hey, consistent Sam can do these easy routines and still score well,'" Mikulak said to the media Thursday night. "Let's see what event finalist Sam can do heading into Saturday."
"Consistent Sam" had a solid lead over the rest of the field with 2.750 separating him and Moldauer after the first night of competition. That lead only grew as the men's senior meet continued Saturday night, even with 19 of the 30 competitors scoring higher Sunday.
Sam Mikulak looking better than ever on his way to his 6th national AA title! #USGymChamps pic.twitter.com/znEqBzgRYv

— FloGymnastics (@FloGymnastics) August 11, 2019
With increased difficulty, Mikulak hit another six routines and improved upon his all-around score from Saturday by 0.650, finishing Saturday with a 87.400 for a 174.150 two-day total.
Moldauer improved four of his routines to score 0.600 better than Thursday, despite a major mistake on high bar. He caught his release too close, ruining the flow of his routine. The Oklahoma Sooner significantly improved his vault, pommel horse, and rings on day two to end the night with an 84.600 and 168.600 two-day total.
When comparing event scores from day one and day two individually, Modi did better on Thursday for the most part. But thanks to a much better vault Saturday, the Stanford alum increased his all-around score by 0.350 to move into third ahead of Wiskus.
Wiskus scored pretty similarly on both days of competition, but his one-handed catch on his Cassina during his high bar routine Saturday caught the attention of fans and the media. The Minnesota Golden Gopher moved down to fourth in the all-around standings after entering the final night tied for third. However, he did win the vault title with a 28.850 total.
Miss a hand? Not a problem for Shane Wiskus ? #USGymChamps pic.twitter.com/Rv9jT4qVPa

— FloGymnastics (@FloGymnastics) August 11, 2019
Ohio State's Howard and Oklahoma's Bower rounded out the top six all-around finishers and were automatically named to the national team following the competition.
Illinois' Alex Diab competed only three events but won the still rings title with a two-day total of 29.350.
In addition, the men's selection committee added Whittenburg and van Wicklen, who withdrew from the second day of competition due to injury, to the national team and invited them to the World Team Selection Camp. Six more gymnasts were also added to the national team but were not named as part of the 2019 World Team Training Squad.
Full all-around and apparatus results from the senior men's competition can be found on USA Gymnastics' official website.