Thanks to her incredible athleticism and domination in the sport of gymnastics, Simone Biles is now a household name in the United States and around the world.
But Biles isn't just well-known because she is an amazing athlete! Her bubbly personality and relatable demeanor have made her popular, and even viral.
Here are just a few of the many times Biles set the internet on fire, either with her skills, silliness, or something else entirely.
1. The bee incident at the 2014 World Championships
A lot of the world did not yet know Simone Biles in 2014, as that was before her Olympic debut in 2016, but the gymnastics world sure had a good laugh watching her run from a bee at the 2014 World Championships.
Biles won the all-around competition and was on the podium when a bee was attracted to the yellow flowers in her bouquet. Either forgetting that she was on an international stage receiving an award or simply not caring, Biles ran off the podium trying to avoid the bee. Her antics set the internet aflame as people made memes, jokes, and loved Biles's relatableness.
2. Her 2016 Olympics wins.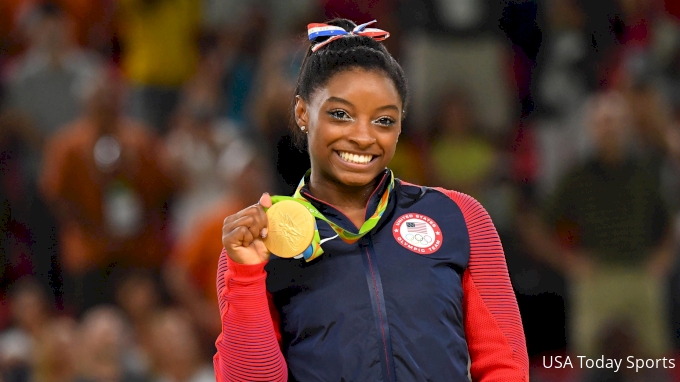 For people who only watch gymnastics when it comes to the Olympic stage, many met Biles at the 2016 Olympics. The internet went crazy for this pint-sized American hero who won five medals and dominated on the floor. Biles won all-around, vault, floor, took third on beam, and was part of the USA team that won gold.
3. Meeting Zac Efron
Right before the 2016 Olympic Games, Biles talked frequently in interviews about how much she loved Zac Efron, not thinking her comments would lead anywhere.
Soon, the two celebrities began having Twitter exchanges, with Efron wishing Biles luck at the Olympic Trials, at the Olympics, and more. After the Olympics, the Final Five thought they were being interviewed by the Today Show, but they were really meeting Zac Efron!
The internet went nuts for these girls getting to be normal teenagers and fan-girling over Efron right after they won the team Olympic title.
4. "Smiling doesn't win you gold medals."
During her time on "Dancing with the Stars," one particular line Biles said on the show had Twitter quickly rallying on her side.
The judges criticized her for not showing enough emotion in her routines, giving slightly harsh feedback. Biles was not smiling after hearing this, and show host Tom Bergerson asked her why she did not look happy. "Smiling doesn't win you gold medals," she quickly fired back.
That evening, the internet was full of support for Biles, agreeing that it was a sexist thing to ask her.
5. The Moana dance on DWTS Disney night.
Luckily, Biles' time on DWTS also had the internet talking for a positive reason. Though all of her dances were great, during Disney night she danced as Moana, and the crowd loved it. The dance played to all of her strengths as a gymnast, adding lots of tricks and some flips, making it her most memorable dance of the season.
6. Tumbling videos before the 2019 U.S. Classic.
Most recently, the internet went crazy for Biles when not just one, but two incredible tumbling videos came out on Twitter right before the U.S. Classic. First came a video of her doing a double layout up to two eight-inch mats.
#KHOU More of @Simone_Biles working out...this time on floor exercise... pic.twitter.com/RVoKER1Ahp

— Matt Musil (@KHOUSportsMatt) July 17, 2019
A fan tweeted his shock that she could train that skill up to that height, and Twitter went nuts for Biles' iconic reply.
I don't want to hurt your feelings Scott but I do tuck double doubles up there too😉😘 https://t.co/Vycv2Nhx4T

— Simone Biles (@Simone_Biles) July 19, 2019
As if that wasn't enough excitement, the Olympic Channel then tweeted a video of Biles doing a triple double. Understandably, there was excitement from Twitter fans to say the least!
"And she... oup!" 😲

A triple double on floor from @Simone_Biles. Although she doesn't plan to compete this weekend, when she does she will be the first woman to perform this element. #GKClassic @gymnastics pic.twitter.com/lTw2wn6zbN

— Olympic Channel (@olympicchannel) July 19, 2019
Simone Biles has shocked the internet and the world many times with her greatness. With more competitions coming up this summer and the 2020 Olympics on the horizon, it is safe to say she will continue to create chaos in the online world for awhile to come.