2019 Pan American Games
USA Adds Four Medals In First Event Finals Of Pan Am Games
USA Adds Four Medals In First Event Finals Of Pan Am Games
Team USA led the medal count on the first day of event finals for artistic gymnastics at the 2019 Pan American Games.
Jul 31, 2019
by Amanda Wijangco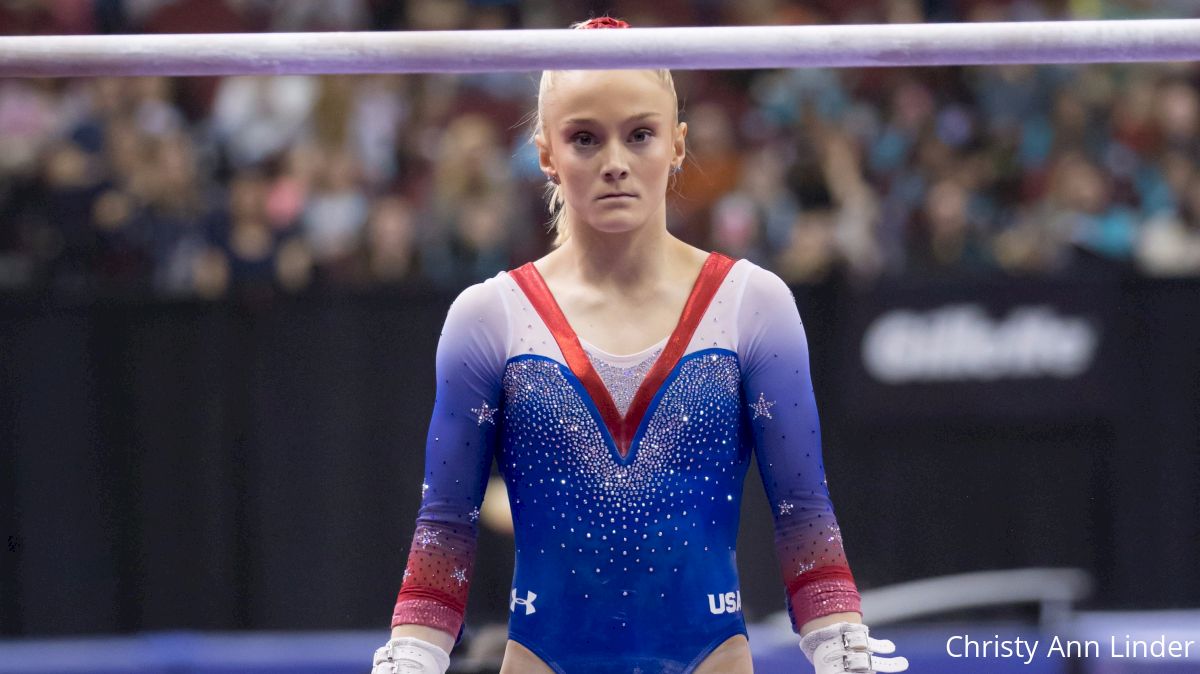 The first day of event finals at the 2019 Pan American Games in Lima, Peru, saw medalists from eight countries in the men's floor exercise, pommel horse, still rings, women's vault, and uneven bars. Team USA led Tuesday's medal count with four, followed by Canada with three, while Brazil and Colombia each won two medals.
For the men's event finals, Chile's Enrique Tomas Gonzalez won floor, Brazil's Francisco Barretto won pommel horse, and Mexico's Fabian de Luna won rings. On the women's side, Canada's Ellie Black was victorious on vault while USA's Riley McCusker finished on top on uneven bars.
Strong Floor Finish Gives Gonzalez The Gold
The men's floor final began on a high note with a great routine from Colombia's Andres Martinez, whose routine set the bar high with a 14.100. Brazil's Arthur Zanetti followed with a good routine, beginning with a stuck front double pike but couldn't match Martinez, earning a 13.733. Nory followed his Brazilian teammate but wasn't able to deliver as good of a performance as he did in the all-around final, scoring a 13.966. USA's Cameron Bock had solid tumbling but was too bouncy on his landings, so his routine scored a 13.166.
From there, the second half of the rotation picked things up and made the medal race close. Mexico's Daniel Corral competed a very clean routine until he over-rotated his final pass and had to take a big step back. Corral's floor exercise scored a 13.933, moving him into medal contention. Bock's U.S. teammate Robert Neff showed off his clean twisting skills in the floor final and was rewarded with a 14.166. Neff knocked Corral off the podium and moved into first, and with only two gymnasts to go, was guaranteed a medal.
Gonzalez opened with a front double pike half out and hit the rest of his passes cleanly and with control. He earned a big 14.600 for the gold. Peru's Daniel Aguero was up last and hit a good routine but went out of bounds on one of his passes, removing him out of medal contention. Aguero earned a 13.766.
The final podium standings were Gonzalez with the gold after a 14.600, Neff with silver for his 14.166, and Martinez with the bronze with a 14.100. Full results are on the official Pan American Games website.
Black Continues To Be Golden With Vault
The women's vault final started well, and the scores elevated as the final went on. Chile's Makarena Daisy hit her front handspring and 1/2 on vaults for an average of 13.750. Cuba's Marcia Vidiaux hit her first vault but fell forward on her hands on her front handspring front pike vault. Vidiaux still managed to average a 13.583, though. Chile's Franchesca Santi followed and earned a 13.516 for her vaults.
Argentina's Martina Dominci was up next and competed a good Yurchenko double and a nice Podkopayeva to score a 13.686. Puerto Rico's Yesenia Ferrera also vaulted a Yurchenko double and got a lot of power, taking a big step back on the landing. Ferrera's second vault was also a Podkopayeva, which was clean, giving her an average of 14.391. Guatemala's Ana Palacios hit her two solid vaults to earn a 13.849.
That landing tho?@EllieBlack_ #Lima2019 pic.twitter.com/CHyv28zLF7

— CBC Olympics (@CBCOlympics) July 29, 2019
Canadian duo Ellie Black and Shallon Olsen finished the rotation and were expected to be medal contenders. Black was up first and competed another excellent front handspring full and a nice Tsukahara 1.5 and earned an average of 14.450, easily moving into first. Olsen competed a strong and clean Yurchenko double for her first vault, but then fell forward on her second vault, nearly hitting her knees on the mat on the landing. However, she still scored well enough to medal, earning a 14.183 average.
Make that TWO Canadian vault medals ✌️@Shallonolsen follows up @EllieBlack_'s gold with a BRONZE at #Lima2019 ?https://t.co/7jT7kxGSzD @gymcan1 pic.twitter.com/cofUKZPQz2

— CBC Olympics (@CBCOlympics) July 30, 2019
Black won gold with a 14.450, Ferrera earned silver with a 14.391, and Olsen took the bronze with a 14.183. Full results are on the official Pan American Games site.
According to USA Gymnastics, USA's Aleah Finnegan had to withdraw from the vault final due to an injury.
Barretto Hangs On To Win Pommel Horse
Pommel horse is notorious for being a difficult event, and when it came to the Pan American Games pommel horse final, it was a matter of who could stay on and hit.
USA's Robert Neff started the final with a hit routine. He struggled a bit going into his dismount but pulled it together for a 13.466. Malone competed after his U.S. teammate and had some form issues and leg separation, in addition to difficulty with his dismount, so he scored a 12.766. Zachary Clay of Canada followed. Clay began his routine with some problems, hitting his feet on the side of the horse but was able to get his legs over and move on with his routine. Unfortunately, he struggled to hit the handstand to dismount, fell out of it, and had to redo it. Clay scored a 12.366.
Dismounts continued to be an issue as Carlos Calvo of Colombia also muscled through his handstand to dismount but was able to score relatively well still with a 13.233. Brazilian Francisco Barretto followed and hit his routine for a 13.533. Daniel Corral of Mexico had a good rhythm going until he got stuck at the end of the horse with his hands in between his legs as they were trying to swing. Corral earned a 12.583.
Canadian Justin Karstadt didn't have the best luck on this apparatus either, losing his form with big knee bends, causing him to fall off. He scored a 12.366. Peru's Jesus Moreto was unable to conclude the apparatus final on a good note, falling off the horse twice, earning just a 10.466.
2⃣ events, 2⃣ silver medals for Robert Neff. ?? pic.twitter.com/vxFldLFLce

— USA Gymnastics (@USAGym) July 30, 2019
Barretto won the gold with his 13.533, Neff won another silver with his 13.466, and Calvo got the bronze with a 13.233. Full results are on the official Pan American Games site.
USA Soars Atop The Uneven Bars Podium
The second women's event final of the day got better as it went on. It began with a hit routine from Brazil's Carolyne Pedro that included a Shaposhnikova to Pak salto and a straddled Jaeger. Her skills were solid but she needed to clean up her form to score higher. Pedro earned a respectable 12.766. Up next was Canada's Brooklyn Moors and her unique routine, which included a Shaposhnikova to Pak salto, a Khorkina release, and the Moors dismount. Moors scored a 13.000 flat.
Argentina's Abigail Magistrati went third and showed a lot of potential in her routine with a Maloney, piked Jaeger, and a Tkatchev. However, she stumbled back on her double layout dismount and got a 12.200. Following Magistrati was Brazil's Lorrane Oliveira with a great uneven bars set that showed off her lines and toe point. Oliveira earned a 13.833. Magistrati's teammate Martina Dominici was next and hit another great routine, complete with a Maloney to blind full to Ray to Pak salto, a van Leeuwen, and a blind change to piked Jaeger. Dominici scored well with a 14.433.
But it's the last trio of gymnasts who ended up being the highest scorers and won the medals. Competing in her first international event final was USA's Leanne Wong. Wong competed a beautiful routine that included a Komova II to Pak salto to Chow 1/2 and a stuck double layout dismount for a big 14.300. McCusker followed her teammate and delivered a good routine that definitely redeemed her fall on the apparatus yesterday. Her routine included a stalder full to Maloney to Tkatchev and a Ricna to Pak salto to van Leeuwen. McCusker earned a big 14.533 to move to the top of the leaderboard ahead of Wong.
Uneven bars gold and silver! #Lima2019 pic.twitter.com/1nwuHrbIi0

— USA Gymnastics (@USAGym) July 30, 2019
Up last was Ellie Black who had just won gold on vault. Black hit a good routine, complete with a Maloney to Hindorff and a great toe-on tuck front 1/2 for 14.000 flat.
McCusker's 14.533 won gold, Wong's 14.300 won silver, and Black's 14.000 earned bronze. Full results are on the official Pan American Games website.
De Luna Keeps Still On Rings To Win Mexico's First Gymnastics Medal
Mexico's Fabian de Luna was up first in the still rings final and managed to maintain the top score for the entire final. He did a great job on his holds, especially his cross, and just had a hop on his full-twisting double back dismount. His routine earned a 14.500. Up next was Brazil's rings king, Arthur Zanetti. He did well on his holds, except for one handstand where he almost fell out of it and had to save it. Zanetti scored a 14.400, right behind de Luna.
Cuba's Rafael Rosendi was next and a had a few mistakes, including a few shaky handstands. The Cuban scored a 13.500. Argentina's Frederico Molinari hit a good routine for a 14.066. Lugo followed with another good routine, besides his handstand at the end that had too much movement, so he scored a 13.933. The men's all-around champion Caio Souza of Brazil competed next but had some issues with movement, a bit shaky during a planche and an arched handstand. Souza earned a solid 14.066, though.
Canada's Rene Cournoyer hit a good, solid routine but didn't quite have the difficulty to contend for a medal, scoring a 13.833 with a 5.833 execution score. Up last was Argentina's Daniel Villafane. He also hit a solid routine but was a bit sloppy near the end, earning a 13.633.
De Luna held onto the top spot to win the gold with a 14.500, Zanetti hung on for the silver with a 14.400, and Molinari earned the bronze for a 14.066. Full results are on the official Pan American Games website.