2019 Pan American Games
Ellie Black, Caio Souza Top Pan American Games All-Around Podiums
Ellie Black, Caio Souza Top Pan American Games All-Around Podiums
Canada's Ellie Black and Brazil's Caio Souza won the women's and men's all-around titles, respectively, at the 2019 Pan American Games in Lima, Peru.
Jul 30, 2019
by Amanda Wijangco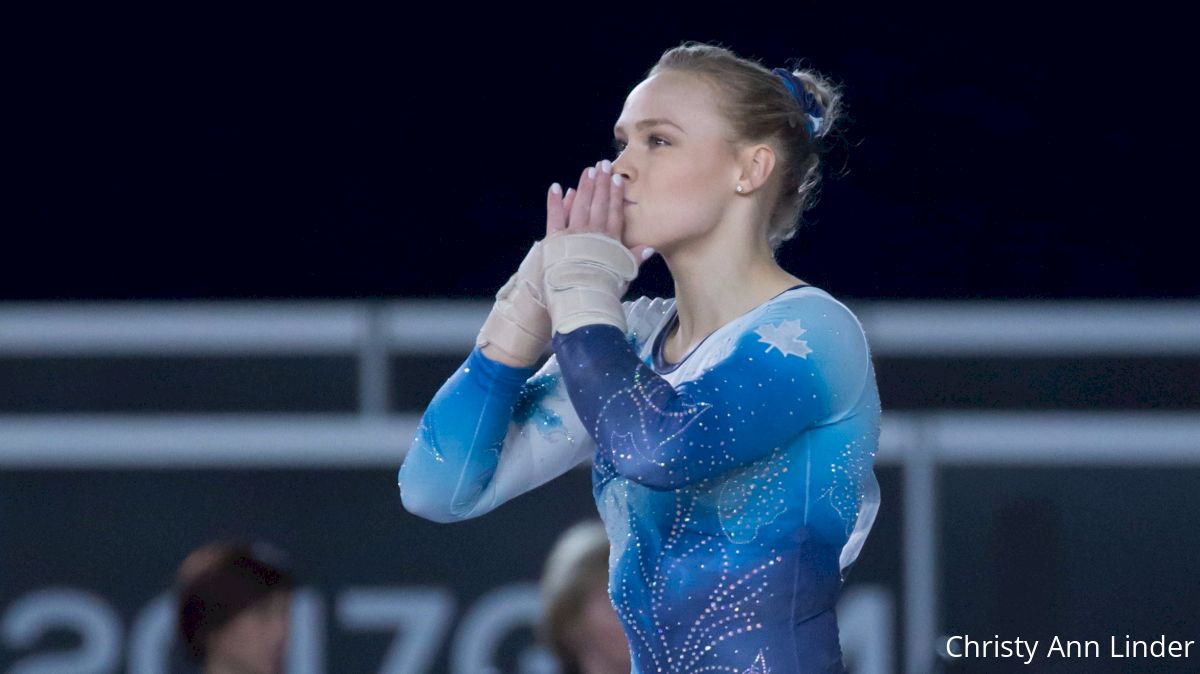 Canadian superstar Ellie Black successfully defended her 2015 Pan American Games all-around title as she finished ahead of silver medalist Riley McCusker and bronze medalist Flavia Saraiva of Brazil in the 2019 Pan American Games women's all-around competition in Lima, Peru. On the men's side, Brazil and Canada dominated as Caio Souza won the title and teammate Arthur Mariano took silver ahead of Canadian Cory Paterson.
Black Wins Second Pan American Title Without Fall
Black literally led the women's all-around competition as she was up first on vault. After nailing a front handspring, front pike full vault, the 23-year-old Canadian earned a big 14.450, which immediately put her at the top of the leaderboard.
That landing tho?@EllieBlack_ #Lima2019 pic.twitter.com/CHyv28zLF7

— CBC Olympics (@CBCOlympics) July 29, 2019
Black set the tone for a good vault rotation as American contender Kara Eaker followed with a clean Yurchenko 1.5 for a 13.950. McCusker vaulted a solid Yurchenko double for a 14.250 to move into second. Brazil's Thais Fidelis dos Santos and Argentina's Martina Dominici also competed Yurchenko doubles, scoring 13.700 and 13.850, respectively. Dos Santos' teammate Saraiva rounded out the vault rotation with a tight Yurchenko double that scored a 14.150 to move her into third after the first rotation.
After the first rotation, Black, McCusker, Saraiva, Eaker, and Dominici led the standings as the top five.
The second rotation is where the top flight of gymnasts started to falter. Eaker hit a clean bar set with a super straight double layout dismount for another 13.950. McCusker followed and hit her first Tkatchev but failed to catch her stalder Tkatchev. However, she was clean and had no problems with the remainder of her routine and still managed to score pretty well with a 13.150.
Saraiva also had some problems with her bar routine. The Brazilian didn't fall and hit all of her routine until she over-rotated her double front dismount and took two huge steps forward, nearly returning to the low bar. She scored a 12.800. Black didn't let anyone's mistakes faze her, though, putting together a good routine for a 14.300.
Halfway through the meet, Black remained on top, while Eaker moved into second, McCusker down to third, Dominici up to fourth, and Saraiva down to fifth.
With the next rotation bringing the top qualifiers to beam, it's no surprise the rankings continued to shift. McCusker bounced back from her fall on bars and hit her beam routine with just a few tiny wobbles for a 14.200. Dominici also stayed on the beam but had a big balance check on her acro series, putting her leg up after her roundoff layout. She earned a 12.800.
Saraiva adjusted as she performed on the beam, opting for just a back handspring layout stepout instead of a triple series and hit for a 13.500. Black was very solid and conquered beam with no problems to earn a 13.900. Unfortunately, Eaker did not nail her signature event, falling right away on her split leap mount. Fortunately, she hit the rest of her routine beautifully and still scored a 13.500 with the fall.
Heading into the final rotation, Black maintained her top spot with McCusker, Eaker, Saraiva, and Dominici rounding out the top five in that order.
Black opened up the door for McCusker and Eaker after completely landing out of bounds on her 2.5 through to double pike pass on floor, earning just a 12.600 to finish with a 55.250, but neither were able to overtake the lead. Eaker followed Black but fell on her 2.5 to front full, scoring a 12.350 to end with a 53.750. After her floor routine, Eaker sat in third behind Black and Saraiva, but McCusker was still to go.
McCusker also went out of bounds, stepping out on her tucked full-in to start her floor routine. The rest of her passes went fine, but she was still shy of the gold, missing out by .125. McCusker finished in second with a 55.125 after a 13.525 on floor.
The top five were Black, McCusker, Saraiva with a 54.350, Eaker, and Dominici with a 52.800. With Black's gold, she became the first women's gymnast to win consecutive Pan American Games all-around titles. Saraiva also defended her 2015 bronze medal.
Full results can be found on the official Pan American Games website.
Brazilian & Canadian Men Fight To The Finish
The men's all-around final wasn't easy to predict in the first half of the meet, but the top four were solidified come the start of the second half.
The top group of qualifiers began on floor, which was solid and strong. Most of the gymnasts scored in the 13.000 range, led by Caio Souza's 13.600 and Cory Paterson's 13.650. But the highlight was Arthur Mariano's 14.050, as he stuck his first three passes.
The top scores of the first rotation came from those beginning on vault. After the first rotation, Peru's Daniel Arguero, Argentina's Daniel Villafane, and Ecuador's Israel Chiriboga were the top three in the standings ahead of Mariano, Paterson, and Souza.
Next up for the top qualifiers was pommel horse, which could have easily moved them down the leaderboard. Andres Josue Perez got things started and fell twice. Luckily for the rest of the rotation, the gymnasts hit their routines. Cournoyer led the way with a nice set earning a 13.300. Mariano and Souza hung on for a 12.950 each, and Paterson hit his routine for a 13.050.
But the group of top qualifiers still had a ways to go to reach the top spots on the leaderboard. After two, Villafane moved up to first, followed by Jostyn Fuenmayor of Venezuela, Mariano, Rafael Rosendi of Cuba, Aguero, Chiriboga, Paterson, and Cournoyer.
Things started to shake up in the third rotation thanks to still rings and vault. Cournoyer competed a great rings set for a strong 14.025. Mariano hit his routine but was a bit shaky on the apparatus, scoring a 13.050. Paterson also struggled a bit but earned a solid 13.350. Caio Souza then put the still in still rings for a big 14.250. Meanwhile, USA's Brady Malone rocked a nice and clean Kasamatsu 1.5 for a big 14.550.
Halfway through the meet, Souza moved to the top of the leaderboard, followed by Cournoyer, Malone, Fuenmayor, Rosendi, Mariano, and Paterson.
The group of top qualifiers then got a quick score boost as they moved to vault. Mariano nailed a Yurchenko 2.5 for a huge 14.650. USA's other all-around competitor, Robert Neff, then vaulted a nice Kasamatsu 1.5 to earn a 14.450. Paterson followed with a solid Yurchenko double but went out of bounds and had a low landing for a 14.050. Souza delivered another big Yurchenko 2.5 and scored a 14.600. Cournoyer did a bit too much and over-rotated his front handspring double front tuck vault and took a big step forward. He didn't score as well and earned a 13.950.
After four rotations, the top four gymnasts were solidified as Souza stayed on top, followed by Mariano, Paterson, and Cournoyer. The four then moved to parallel bars for rotation five.
Paterson hit a good routine and finished with a nice double front dismount to earn a 14.350. Souza had some struggles with form and muscling handstands but still competed a solid routine for a 13.700. Cournoyer struggled early with a handstand but made it through and hit the remainder of his set, including a nice Bhavsar and a double front dismount. He and Mariano both scored a 13.850 with a 5.5 difficulty score and an 8.350 execution score.
Despite a lower scoring parallel bars routine, Souza maintained his top spot ahead of Mariano, Paterson, and Cournoyer.
High bar then determined which Brazilians and Canadians would earn what medals.
Paterson kicked off the final rotation with three nice Tkatchev releases and a big full-twisting double layout dismount for a 13.750 on the event and an 82.200 in the all-around. Souza followed with a big routine of his own, which included a layout Tkatchev to Tkatchev half, a Kovacs, and a Yamawaki to Gienger. The Brazilian returned to his No. 1 spot with a big 14.400 on high bar and 83.500 all-around score.
Cory Paterson came out ?and stuck the landing for a bronze medal ?

This is his ✌️bronze medal in ✌️days @Lima2019Games ?

Watch #TeamCanada LIVE at #Lima2019 on https://t.co/JASqUEqqST or the @cbcsports app ?? pic.twitter.com/U9pFo7p2ZC

— Team Canada (@TeamCanada) July 30, 2019
Cournoyer didn't have lots of big releases in his high bar routine but competed a clean routine, complete with a stuck layout double double dismount. His 8.550 execution score was the highest on the event for the day, giving him an event score of 13.650 and an all-around score of 82.075. That moved him into third, but only temporarily as Mariano was still left to go.
Mariano's routine included a layout Tkatchev to straddled Tkatchev to Tkatchev half, a Yamawaki, and a stuck double double layout dismount, earning a 14.400, to clinch his silver medal all-around score of 82.950. Paterson then moved down to third for the bronze, and Cournoyer finished in fourth.
Malone was able to move into the top five after a good floor routine earned a 14.050. He finished with an all-around total of 80.450, just ahead of his teammate, Neff, who was seventh with a 79.700.
Full results are on the official Pan American Games website.