For the first time ever, junior elite gymnasts will have an opportunity to compete on the world championship stage. Gyor, Hungary, will be the host site for the 2019 Junior World Championships and the women's competition will run from June 28 to 30, 2019.
The FIG has released the nominative rosters for each country and USA has nominated Kayla DiCello, Olivia Greaves, Konnor McClain, and Skye Blakley. These rosters are subject to change and USAG has announced the Junior World Championships Team Trials will be held on Friday, June 14.
Here's what to keep an eye out for in each of the four girls.
Kayla DiCello
This junior elite from Hill's Gymnastics in Maryland is going into her third elite gymnastics season. So far in 2019, she's competed at the WOGA Classic and the City of Jesolo Trophy meet. At the WOGA classic, DiCello won the all-around and every event except floor. In Italy, she only competed bars due to a minor injury.
Going into worlds, vault is where DiCello thrives. In all but one elite meet she has competed in, her vault has been her highest scoring event. DiCello's double twisting Yurchenko vault starts from a 15.6 and on day two of the 2018 U.S. Championships, she scored a huge 14.9 with this close-to-perfect vault.
DiCello is also strong on bars and beam which allows her to be a contender for the all-around. She has beautiful lines on bars and has one upgrade to her bar set from the 2018 season. At the WOGA classic she put in a Stalder full before her Maloney to the high bar.
She scored a 13.95 with this jam-packed routine. Both her Pak salto and piked Jaeger have huge height off the high bar.
Olivia Greaves
In only one season at the junior elite level, Olivia Greaves of MG Elite has already proven to be a gritty competitor. At the 2018 U.S. Championships, she medaled on bars, floor, and the all-around and was also named to the Junior National team.
Her long lines and great toe point make her gymnastics easy to watch. Greaves' best and highest difficulty event is bars. She has added a Church towards the beginning of her routine and has also added a Stalder full on the high bar before her tucked full-in dismount. At the 2019 Gymnix International meet she scored a 14.5 with this routine.
Greaves could also help Team USA out on floor. She opens her routine with a full twisting double back, but her second pass shows her technical strength. Artistry has been a huge component to floor in the past few years, and Greaves does not fall short in this category. Her flexibility mixed with power is something to keep an eye out for.
Konnor McClain
Tiny gymnast with huge skills is an easy way to describe Konnor McClain from Revolution Gymnastics. She is coming off an all-around win with a huge 56.167 score at the City of Jesolo Trophy meet. Since her 2018 elite season, she has upgraded her vault to a double twisting Yurchenko that has a huge block and great form in the air.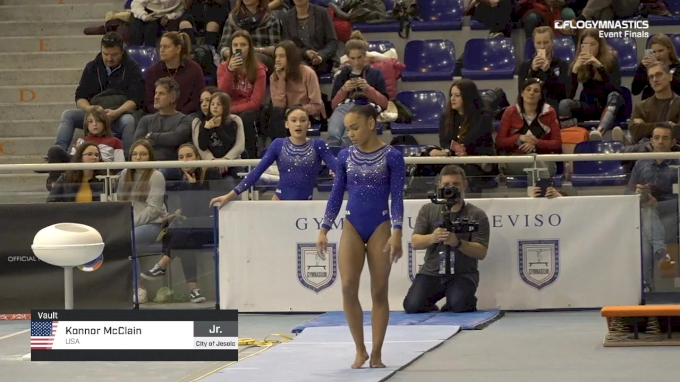 Unlock this video, live events, and more with a subscription!
Get Started
Already a subscriber? Log In
McClain's beam is even more explosive than her vault. She has a Shawn Johnson-type skill level and is still only a junior. Along with her vault, McClain has upgraded a few skills on beam. Her routine is packed full with a standing Arabian, triple flight series, standing full, and ends with a huge double pike dismount.
A hit routine from McClain combined with a big start value will be a hard one to beat.
Skye Blakely
Skye Blakely is the youngest on the nominative roster but in just a year in the elite world, she has already made a name for herself. At 14 years-old, Skye is already competing a double twisting Yurchenko on vault. This year, Blakely won a gold medal for this vault at the 2019 Gymnix International meet.
Her other strong event is bars. Just like most elite gymnasts from WOGA, Skye has gorgeous transitions and single bar work throughout her routine. With this routine at the 2018 U.S. Championships she placed fifth and most recently won another gold medal on the event at Gymnix this season.
Skye's technique and ability to throw big skills at such a young age will be exciting to watch.
Schedule
The first day of competition these gymnasts could see is Friday, June 28. The U.S. will start on the balance beam at 9 AM in subdivision 1. First day of competition will determine the team and all-around final and will also be a qualification for event finals on Saturday and Sunday, June 29-30.
FloGymnastics in partnership with Gymnastics Canada will be live streaming the competition, only for PRO users located in Canada.