Faith Torrez Wins With Consistency & Prepares For First Elite Season
Faith Torrez Wins With Consistency & Prepares For First Elite Season
Faith Torrez won her second consecutive J.O. Nationals all-around title ahead of her first season as an elite gymnast.
Jun 9, 2019
by Amanda Wijangco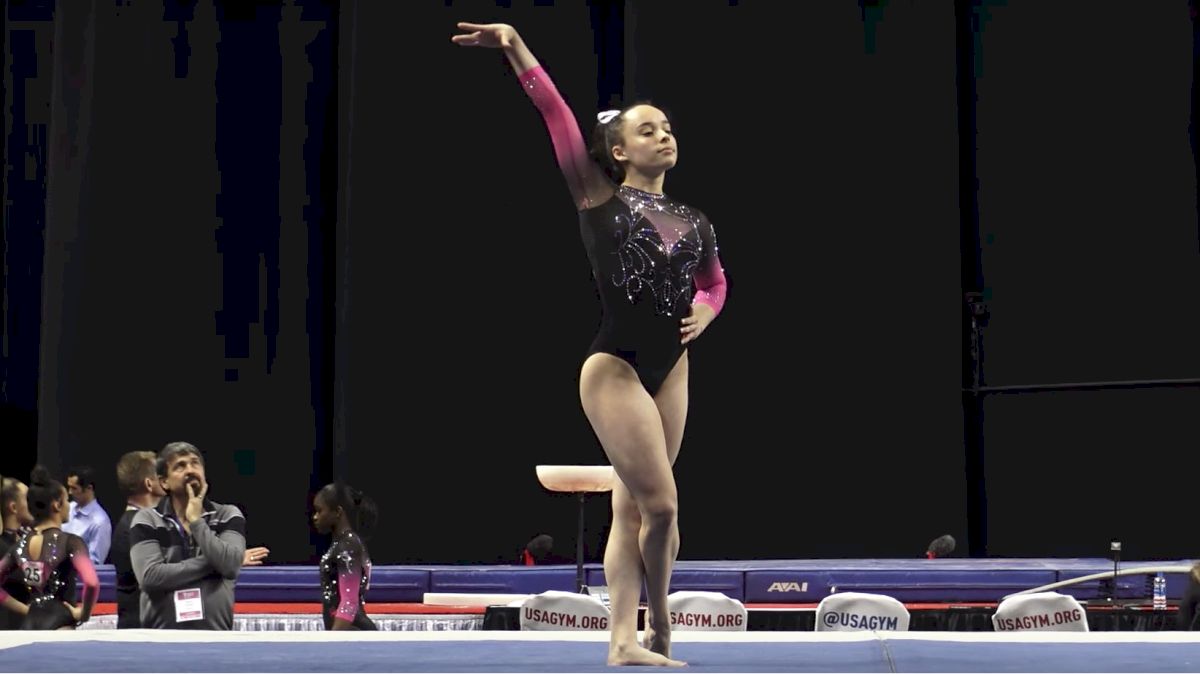 FloGymnastics interviewed a few of the gymnasts who were crowned J.O. national all-around champions this year, and Legacy Elite's Faith Torrez is the latest to be featured.
Torrez won the Junior D all-around title with a score of 38.725 and also took home the Junior D balance beam title with a 9.875. A 9.700 on floor earned bronze, while her 9.575 on vault and uneven bars placed in the top 15 for both events.
At the 2019 Region 5 Championships, Torrez won three titles: vault, beam, and floor. At the Illinois State Championships, she swept her division with four scores of 9.625 or higher for an all-around total of 39.050. She also qualified to her second Nastia Liukin Cup this year and tied for bronze on beam. Of the 10 meets listed on her MyMeetScores page from this season, she won an impressive eight all-around titles and 21 event titles. In addition, she's earned four scores of 9.900 this season.
Earlier this year Torrez took her first steps towards another accomplishment and qualified to the senior elite level at the Buckeye National Qualifier. She will compete in her first meet as an elite gymnast at the American Classic on June 22.
---
FloGymnastics: At J.O. Nationals, you got the all-around win in your division as well as beam. What was it like to end your club season on such a high note?
Faith Torrez: It felt really great, because I got injured before, and I got really nervous because I don't really get injured. I've never been injured and then had to crawl back up [to competing]. But it really taught me I need to condition and still have confidence. So it was really hard, but Jiani (Wu, Torrez's coach) helped me through it, and I competed at nationals and I won, and it felt really amazing to win.
You actually won a lot of the all-around titles at most of the meets you competed at this season. What do you think was the key to having such a good season?
I had to practice really consistently and do [lots of] numbers and make sure they were clean. So going to the meets and trying to hit clean, it wasn't as difficult, because it was just like practice. You just have to be consistent with your routines.
You're relatively new to Legacy Elite. You competed for Scamps Gymnastics in Wisconsin up until two years ago. What has it been like training at Legacy Elite, and why did you decide to make a change?
Legacy Elite had really good results from their gymnasts, and it's just a really good program. And the coaching staff is amazing. So when we were thinking about moving gyms, my mom mentioned Legacy Elite, and I was like, "Whoa. That's kind of far." She was like, "I think it will be worth it." And it's obviously worth it now. I love it here, and everything's been amazing.
You qualified elite earlier this year. Why did you decide to try for that level?
It's always been a dream of mine, and coming to Legacy Elite, I knew that I had the opportunity to do it, so I was like, "Why not?" I've been doing level 10 for a while now, because I started when I was young. So I was like, "Let's give it a shot."
What are your goals for elite?
My long-term goals for elite are to make national team and get invited to camps. So hopefully that will happen this year. Otherwise, I'm just looking to go out there and have fun.
Do you have plans for upgrades based on what you competed for J.O. this year?
Yeah, so for floor, we're going to have the four passes just like everyone else. I'm definitely going to add a lot of connections on beam and bars.
What are your dream skills, whether they be something you want to compete in elite or college?
For elite, I just kind of want to play around with skills, because [my coaches] are still kind of new with me, so they don't really know what I can and I can't do. So I think we're just going to go out and play with different skills.
Are there certain events you think you could try new skills on and do well with? Maybe certain tumbling passes on floor or anything on bars or beam?
On beam, I do have stuff I'm working on, but we're not sure if we're going to use it. For vault, I'm going to try a [Yurchenko] double twist. Floor, we're going to try some new passes, but we're not sure yet. American Classic, we're definitely just going to try to get the qualifying score. Then GK Classic, we'll probably try to put in more upgrades.
You're committed to the University of Oklahoma, and they won another national title this year. What was it like watching them win, especially knowing you're set to go to such a prestigious gymnastics school?
It was amazing. I was watching it the whole time, and when Brenna [Dowell] stuck her vault [and clinched the title], I was so happy because they're such a family. Watching them see that they won, I was like "Wow. I'm going to be there one day." And hopefully we can win a national title again.