Ellie Lazzari Makes Strong Comeback In Legacy Elite Debut
Ellie Lazzari Makes Strong Comeback In Legacy Elite Debut
After a year off, Ellie Lazzari returned to gymnastics competition this year and won the Junior F all-around title at the 2019 J.O. National Championships.
Jun 5, 2019
by Amanda Wijangco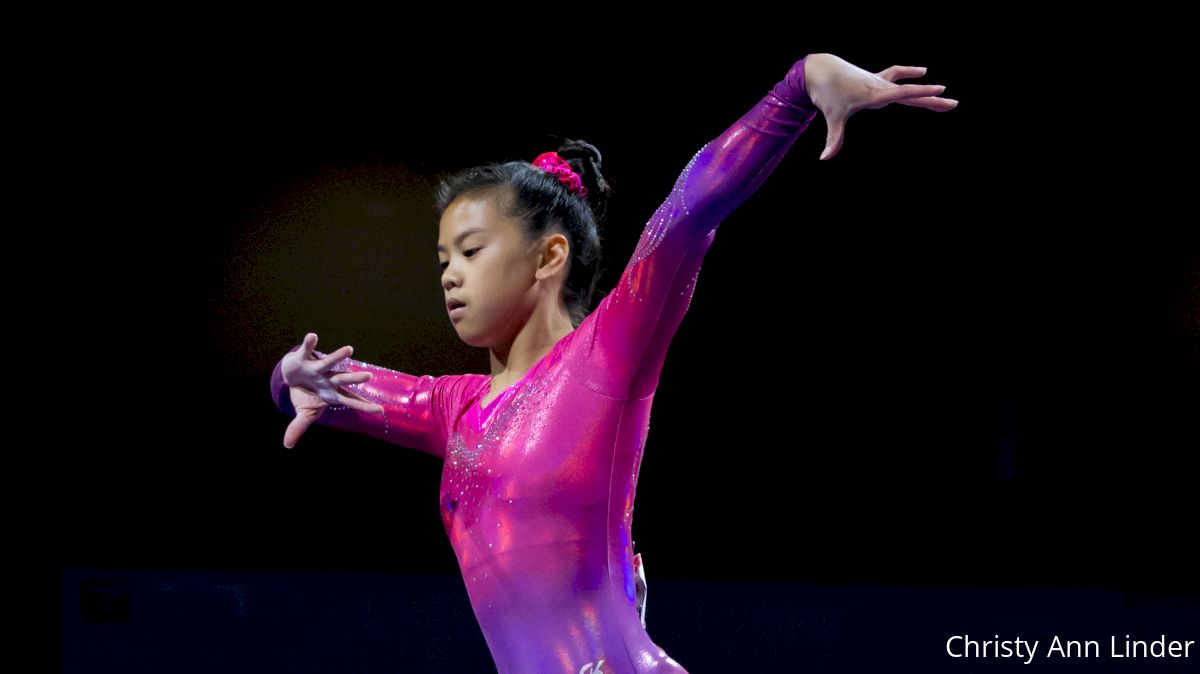 FloGymnastics interviewed some of the winners of the 2019 J.O. National Championships, including Junior F all-around champion Ellie Lazzari.
In addition to the all-around title, Lazzari won the Junior F beam and floor titles with scores of 9.775 and 9.725, respectively. Her uneven bars score of 9.700 placed second while her vault score of 9.750 was good enough for fourth place and gave her an all-around total of 38.950, her highest all-around score of the season.
Lazzari was sidelined from competition for the 2018 season due to a shoulder injury and competed as a junior elite in 2016 and 2017.
---
FloGymnastics: Last season, you didn't get to compete because you were injured. What was it like to be able to compete again this season?
Ellie Lazzari: It was a lot of fun. I trained really hard coming back, getting my confidence back and my skills and my strength. It was a long process. It was definitely a learning process, but I trusted in my journey, and I pulled it off and had a really successful season.
The last time you competed before this season was actually as an elite. So what was it like coming back to level 10?
It was definitely a change. The team aspect is what I missed most about J.O. I was just happy to be back on the floor again, and I'm really happy with where I'm at right now.
How did it feel after that year off, especially ending at J.O. Nationals as beam, floor, and all-around champion in your division?
It felt really good, like all my hard work was showing, and I was really happy with how everything turned out. I think I peaked at the right time, which is really important.
This is actually your first season competing with Legacy Elite. You were at GymNasti before. How do you like it at Legacy Elite so far, and why did you decide to change gyms?
I love it here. Everybody welcomed me, and they're very supportive, and I feel like I fit right in here. It's a family, and I decided to switch just because I needed a change. Getting to my full potential, I just felt like I needed to make this change for it to be possible.
Why did you decide to do elite before, and is that something you'd be interested in going back to, or are you just going to stick with level 10?
I decided to do elite because I think my coaches and my teammates, they saw something in me that I could go far with in elite, and I decided to go back to J.O., and I'm really happy with where I'm at right now. I think I'm going to go far in J.O. till college, so that's my plan.
What are some of your favorite memories from elite?
Definitely the girls. I've been going to developmental camp and national team camp since I was like 9, and it's been amazing meeting all of the amazing gymnasts that have come through the elite scene.
What lessons did you learn from elite that you're still applying to your gymnastics today?
Definitely confidence. Self-confidence is the most important thing you can have in gymnastics. A lot of people are very talented, but I think having self-esteem and believing that you deserve to achieve anything you desire is important.
Who are some of your role models in gymnastics?
Maggie Nichols. I really like her. She's very inspirational, and she's been through a lot. I just really look up to her.
What are your plans for the summer, both in gymnastics and in general?
My plan is just to work upgrades, just different skills that I haven't learned yet. I'm going to University of Florida camp in June, so that'll be fun.
Are there any specific skills or upgrades you're looking to learn this summer or just playing around?
Definitely playing around. On vault, I think I'm changing to a (Yurchenko) 1.5 so I have that 10.0 start value, so that will be fun.