2019 NCAA Gymnastics Championships
Oklahoma Caps Incredible Season With An NCAA Title
Oklahoma Caps Incredible Season With An NCAA Title
The Oklahoma Sooners are back on top after winning the 2019 NCAA Women's Gymnastics Championships.
Apr 21, 2019
by Amanda Wijangco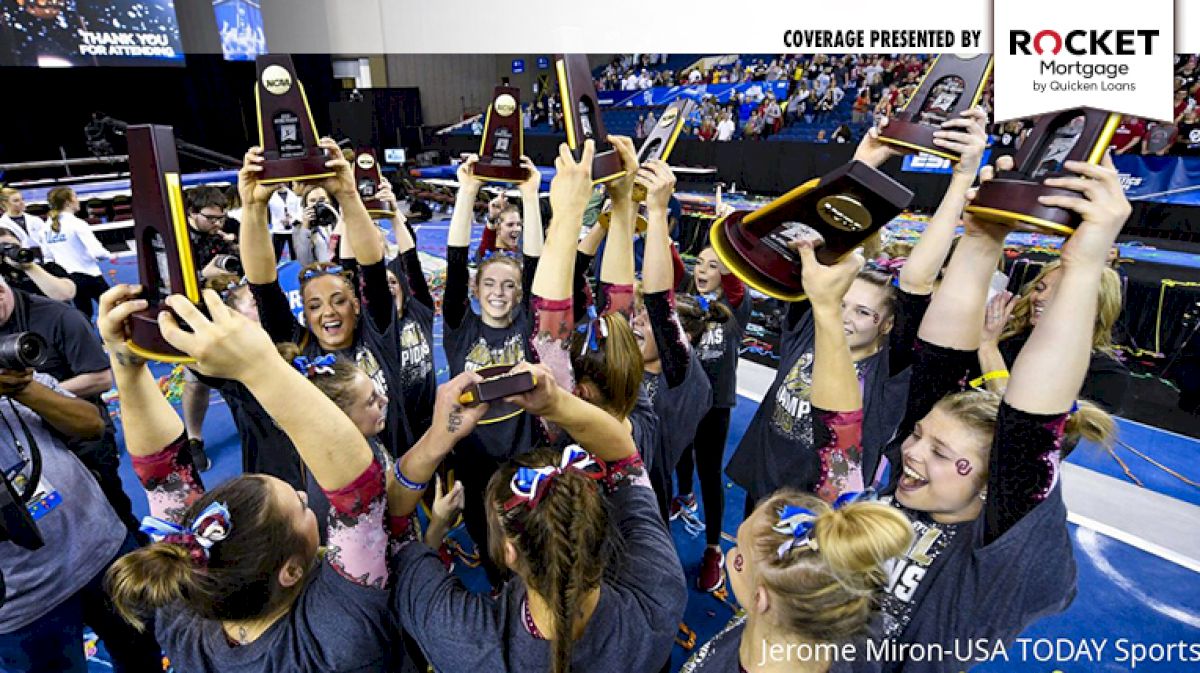 In the inaugural Four on the Floor final of the NCAA Women's Gymnastics Championships, the Oklahoma Sooners won the team title and are back on top after scoring a huge 198.3375. The LSU Tigers had another runner-up finish and earned their highest NCAA Championship score with a 197.8250 ahead of last year's champion UCLA Bruins, who were in third with a 197.5375. The Denver Pioneers concluded their season with a fourth-place finish, their best ever final ranking in program history, with a 197.0000.
NATIONAL CHAMPIONS!!! pic.twitter.com/mSlVdBHPJ6

— Oklahoma Women's Gym (@OU_WGymnastics) April 21, 2019
Oklahoma led the meet right away after one rotation and maintained the top spot for the entire meet. But it wasn't easy to stay on top, and LSU put up a fight. The first rotation had Oklahoma on bars with six hit routines. Half of the lineup scored 9.9000+, and Maggie Nichols led with a 9.9375. LSU had the advantage of competing in Olympic order, starting on vault. It wasn't LSU's best vault rotation as only one vault earned a score in the 9.9000 range. That performance came from lead-off Sarah Finnegan, who vaulted a near-perfect Yurchenko full for a 9.9125.
UCLA began defense of its 2018 title on beam. Grace Glenn and Brielle Nguyen started the rotation well with a 9.9000 and 9.8500, respectively, but Madison Kocian had a big break and bent down on one of her skills, breaking the rhythm of the lineup, and earned just a 9.6625. Norah Flatley picked things up with a beautiful beam set for a 9.9125, and despite a pretty big balance check on her acro series, Katelyn Ohashi earned a 9.8000. Kyla Ross finished the rotation strong with a 9.9250.
Denver had a bit of a rough start on floor as Maddie Karr went out of bounds on her Rudi to finish, so Claire Kern's 9.7625 had to count. After one, Oklahoma led with a 49.4500, followed by UCLA with a 49.3875, LSU close behind with a 49.3750, and Denver with a 49.2000.
Despite being only four inches wide, balance beam posed no problem for the Sooners as they moved to the apparatus in the second rotation. Every routine was a 9.8625 or higher, including four scores in the 9.9000 range. Nichols continued to lead her team with a 9.9625. The Sooners finished beam with a 49.6125. The Tigers had a bit of a slow start on bars after Sami Durante was low on her dismount for a 9.7750, but the rest of the lineup picked it up with Finnegan earning a 9.9500 to lead the apparatus for the entire meet. The SEC champions' bar total was a 49.4625.
Floor also gave the Bruins some trouble, as Felicia Hano and Gracie Kramer both went out of bounds, but Katelyn Ohashi finished her gymnastics career on a very strong note with a 9.9500, giving them a 49.3000 on floor. The Pioneers were solid on vault, but just not as sharp or clean, scoring in the 9.9000 range just once for an event total of 49.2125.
Katelyn Ohashi absolutely crushed the final routine of her collegiate career ? pic.twitter.com/6itBzeQ9RP

— espnW (@espnW) April 21, 2019
Halfway through the competition, the Oklahoma Sooners stayed on top with a 99.0625. LSU moved ahead of UCLA with a 98.8375. UCLA had a 98.6875, and Denver had a 98.4125.
In the third rotation, the floor errors continued. Oklahoma's Evy Schoepfer over-rotated her double tuck and fell back and out of bounds, but luckily, the rest of its lineup hit and received four scores of 9.9250 or higher for a big 49.6500 total. LSU was consistent and steady on beam, earning scores in the 9.8000 range for the first five routines, and Finnegan nailed her final beam routine with a 9.9500. LSU had another event total of 49.4625.
Vault was solid for UCLA, counting scores only above 9.8000. Ross nailed another Yurchenko full for a 9.9500 to lead UCLA's 49.4250 lineup. Denver continued to be solid on bars and counted five scores in the 9.8000 range for a 49.2375.
The Bruins gave us so many great memories this year.

Their final meet of the season was highlighted by 9️⃣.9️⃣5️⃣s from Kyla Ross on vault and bars, as well as Katelyn Ohashi on floor.@uclagymnastics | #Pac12Gym pic.twitter.com/DNd8WBWWhQ

— Pac-12 Network (@Pac12Network) April 21, 2019
Entering the final rotation, Oklahoma maintained its lead with a 148.7125, with LSU not far behind with a 148.3000. UCLA stayed in third with a 148.1125, and Denver maintained its fourth place standing with a 147.6500.
Vault allowed the Sooners to quickly get through its final rotation. The Sooners had six strong vaults, but the highlight was Brenna Dowell's stuck Yurchenko 1.5 to anchor the rotation, clinch the title, and end her career with a huge 9.9875. A 49.6250 on vault gave the Sooners a 198.3375 that put them in the lead.
About as close to perfection as you can get ? pic.twitter.com/F9z3mbYopz

— espnW (@espnW) April 21, 2019
With the leading team ending on the quickest and highest scoring event, the other teams were realistically competing just for the runner-up spot. LSU finished strong on floor as Christina Desiderio led off with a big 9.9000. Then Finnegan and McKenna Kelley anchored with a pair of 9.9500s to end their gymnastics careers and give their team second place. A 49.5250 on floor put LSU behind Oklahoma with a 197.8250.
Dave, this was for YOU.

NATIONAL CHAMPIONS!!!!! pic.twitter.com/CT6zXmtuvu

— Oklahoma Women's Gym (@OU_WGymnastics) April 21, 2019
UCLA had a good uneven bars lineup that scored a 49.4250, but it just wasn't enough to defend its title or be the runner-up. UCLA finished with a 197.5375. Though Denver was at the bottom of the scoreboard for the entire meet, the Cinderella-story team saved their best event for last with beam. All of Denver's scores were higher than 9.8250, and senior Kaitlyn Schou finished her gymnastics career and ended her team's season on a high note with a 9.9375. Denver ended the meet with a 197.0000 to end its 2019 season on a historic note, finishing as the No. 4 team in the country and making the first four-team women's gymnastics championship final.