On Sunday (late Saturday evening in the U.S.), gymnasts competed in another FIG World Cup, this time in Tokyo, Japan. There was both a women's and men's competition, and both meets showed talent from a range of countries.
In the women's competition, we saw routines from Ellie Black (Canada), Morgan Hurd (United States), Kseniia Klimenko (Russia), Carina Kroell (Germany), Lee Yunseo (Korea), Liu Jingxing (China), Carolyne Pedro (Brazil), Aiko Sugihara (Japan), and Asuka Teramoto (Japan). The men's competition featured Néstor Abad (Spain), Bart Deurloo (Netherlands), Bae Garam (Korea), Nikita Ignatyev (China), Sam Mikulak (United States), Giarnni Regini-Moran (United Kingdom), Kenzo Shirai (Japan), and Wataru Tanigawa (Japan). Competitors showed off routines in the Tokyo Metropolitan Gymnasium.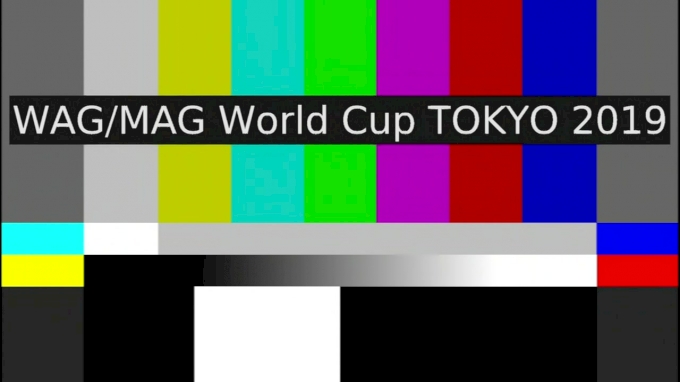 Unlock this video, live events, and more with a subscription!
Get Started
Already a subscriber? Log In
Women's Competition
Morgan Hurd took first in the women's competition, winning the all-around by a slim margin of 0.067. Her all-around score was a 55.099, just a bit over Ellie Black's second-place total of 55.032. Asuka Teramoto placed third, scoring a 54.799. Although first through third place was tight, the all-around score dropped almost three full points for fourth place. It was truly a battle between these three gymnasts for first place, but in the end, Hurd came out on top.
Hurd got to her all-around score by combining a 14.233 on vault, 14.300 on bars, 12.933 on beam, and 13.633 on floor. Black scored a 14.500 on vault, 13.533 on bars, 13.733 on beam, and 13.266 on floor. Teramoto scored the highest on vault that day, with a 14.600. She also received a 13.266 on bars, 13.333 on beam, and a 13.600 on floor.
Morgan Hurd's Meet Details
Morgan Hurd did not get off to her best start on rotation one. She began on vault, and threw a double tuck Yurchenko. It looked like she was a bit off on the takeoff. She managed to save it, but took a pretty big step to the side on the landing. After rotation one, she was in third place behind Teramoto and Black.
On rotation two, the gymnasts moved to bars, where Hurd competed perfect handstands and a full twisting double tuck, which she stuck. She also showed a Shaposh, Tkatchev, Ricna to Pak, and inbar blind. After this rotation Hurd was in first place, followed 0.5 behind by Black, and Teramoto was in third by 0.667.
On the third rotation, Hurd fell behind Black after the Canadian competed a solid routine with little room for deductions. She looked confident and unwavering, and Hurd could not quite match that. She wobbled a bit on her standing full and had a small check on her side aerial. Small wobbles overall gave her a 12.933, and placed Black slightly in the lead heading into the fourth rotation. Now, it would all come down to floor.
If Morgan Hurd scored 0.3 ahead of Black she would win the meet, and if she didn't, Black would keep first place.
Morgan Hurd competed second to last, with Ellie Black right after her to finish the meet. Hurd competed a strong routine, especially seeing as it was a new routine for this gymnast in competition. After a small under rotation on her double double tuck, she picked it up to compete a stuck double layout, a front layout to front full, and a double pike. Black competed a good routine, but was not solid enough to compare to Hurd's.
Men's Competition
In the men's competition there was not such a tight race for first place, but it was still within a point. Sam Mikulak placed first all-around, scoring a 86.599. Japan scooped up both second and third place, Wataru Tanigawa scoring a 85.665, 0.934 behind Mikulak, and Kenzo Shirai got a 82.964, 3.625 behind Mikulak and 2.701 behind Tanigawa.
Giarnni Regini-Moran scored highest on floor, taking home a 14.566. Shirai got the second-highest floor score with a 14.433 and Mikulak was third on that event, receiving a 14.200. On pommel horse, Mikulak blew the other competitors out of the water, scoring a 14.200 compared to the second-highest score of a 13.900 by Tanigawa. Mikulak also took third on rings, scoring a 14.300, while Nikita Ignatyev took first with a 14.533 and Tanigawa scored a 14.500.
On vault, Tanigawa scored the highest, nailing a 14.866. In second was Shirai with a 14.766, then Regini-Moran with a 14.733, and finally Mikulak in fourth with a 14.533. Mikulak took second on parallel bars, scoring a 14.600 right behind Tanigawa's 14.633. Horizontal bar was a great event for Mikulak, as he finished first with a 14.766. No one even came close to his score, with second place being a 14.233 by Shirai.
This meet was preceded by the 2019 Birmingham World Cup, and the 2019 Zhaoqing World Cup will follow.