No. 29 Illinois and No. 30 Central Michigan competed in a play-in meet at the NCAA Women's Gymnastics Regional Championships in Ann Arbor, Michigan, that was as close as their rankings. Illinois came out on top with a victory of just 0.05 points over Central Michigan (195.325-195.275).
Click here for the full results.
The meet was close from the start, as the Fighting Illini opened on vault, while the Chippewas began on uneven bars. Vault is the Illini's weakest event, where they score in the mid-9.600 to high-9.700 range. Sophomore Kasey Meeks led Illinois on vault with a powerful Yurchenko full for a 9.775. Leading the Chips on bars was senior Gianna Plaska, who earned the only score in the 9.800 range for the first rotation with a 9.875. The remainder of CMU's scores on uneven bars were in the 9.600-9.700 range.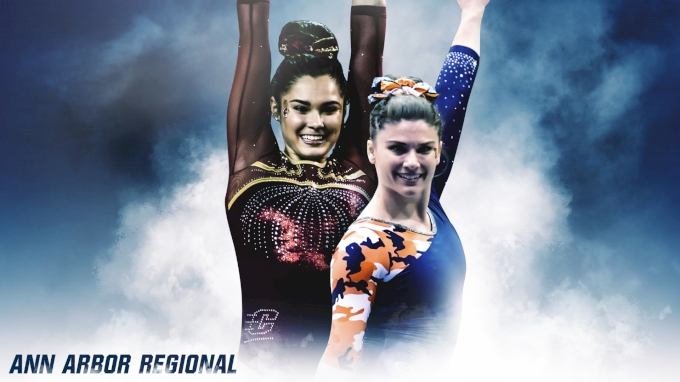 Unlock this video, live events, and more with a subscription!
Get Started
Already a subscriber? Log In
After the first rotation, Central Michigan had a slight lead of 0.05 with a 48.725 on bars over Illinois' 48.675 on vault.
Both teams moved on to one of their best events in rotation two, with Illinois on bars and Central Michigan on vault. Illinois junior Lindsay Dwyer led off with a solid routine including a piked Jaeger and a double tuck dismount for a 9.725. Despite a long wait in between the first and second routines, Illinois hit all routines, and counted two 9.850s from junior Karen Howell and sixth-year Mary Jane Otto. Howell's routine showed off her excellent toepoint, especially on her piked Jaeger, Pak salto, and handstands. Otto's routine was full of transitions, including a Maloney, van Leeuwen, and Pak salto.
Central Michigan junior Denelle Pedrick led her team on vault with a 9.875 with a strong Yurchenko double. The rest of CMU's vault rotation was solid with scores in the 9.600-9.750 range. It matched its uneven bar total on vault, earning another 48.725.
Halfway through, Illinois took the lead, 97.600-97.450.
Both teams had a good third rotation as the Illini moved to balance beam and the Chippewas went to floor. The Illini scored a 9.750 or higher on every beam routine, and Otto led the way with a 9.850. The Chippewas counted no score below 9.725, and senior Abbie Zoeller led with a 9.825.
Heading into the final rotation, Illinois maintained its lead over the Chips, 146.575-146.350.
Just one event was left in the 2019 season for one of these teams. Illinois finished on floor, while Central Michigan finished on beam. Illinois hit its first five routines, and freshman Shaylah Scott was not only the lead off competitor but was also its highest-scoring gymnast with a 9.800.
Central Michigan, however, wasn't as lucky and had a fall to start its final rotation. Plaska fell on her front tuck mount. Central Michigan was able to remain on the apparatus for the remainder of the rotation, but it wasn't enough.
Illinois earned a 48.750 on floor for a 195.325 total, while Central Michigan was just 0.06 from winning after a 48.925 on beam gave the team a 195.275.
The Illini will advance to the second round of regional competition in Ann Arbor and will be in Friday's second session with UCLA, Nebraska, and West Virginia. Pedrick and Plaska will continue to represent Central Michigan as individual competitors tomorrow for all-around and bars, respectively.
Coverage of the Ann Arbor regional will continue here on FloGymnastics through Saturday, April 6.