2019 Birmingham World Cup
Mustafina, McCusker Win Gold And Silver At Birmingham World Cup
Mustafina, McCusker Win Gold And Silver At Birmingham World Cup
U.S. gymnast Riley McCusker won all-around silver at the 2018 Birmingham World Cup behind Russia's Aliya Mustafina.
Mar 25, 2019
by Amanda Wijangco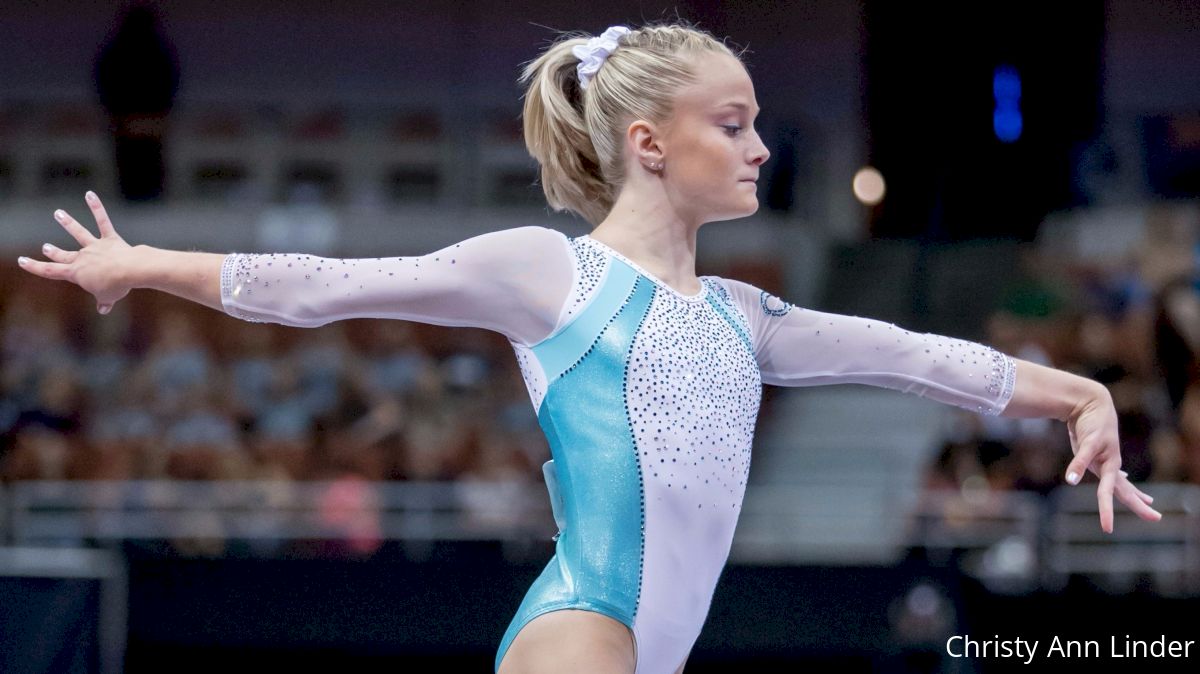 In her first competition since winning team gold at the 2018 World Championships in October, Riley McCusker won all-around silver at the 2018 Birmingham World Cup. She finished just a few tenths behind gold medalist, Russian superstar and two-time Olympian Aliya Mustafina. Rounding out the podium was Brazil's Thais Fidelis.
To begin the meet, McCusker was first up on vault, where she competed a DTY. Unfortunately, she did not get a good block off the table and landed on her knees and put her hands down as she was unable to get the full twisting and salto rotation of the vault. She received a decent score of 13.133 to put her in seventh place after the first rotation.
Mustafina and Great Britain's Ellie Downie both had good, powerful DTYs in the first rotation for scores of 14.366 and 14.300, respectively, to put them in first and second after one. Canada's Victoria-Kayen Woo and Fidelis both vaulted nice Yurchenko fulls to follow in third and fourth after the first rotation, scoring 13.666 and 13.566, respectively.
The second rotation brought the gymnasts to uneven bars, where McCusker redeemed herself ―doing even better than Mustafina, the reigning two-time Olympic uneven bars gold medalist. Her routine began with a hit combo of a stalder 1/1 to Maloney to Tkachev, followed by a Ricna to Pak salto, a van Leeuwen and finished with a front giant to half-in double back dismount. McCusker's well-executed routine combined with her difficult combos gave her an event-high score of 14.400 to move up into second with an all-around total of 27.533.
Mustafina maintained her first-place position after competing on her signature event. She began her routine with a winding combination of a stalder 1/1 to Maloney to Pak to van Leeuwen, followed by a stalder 1/1 to piked Jaeger and ended with a toe-on 1/1 to full-in dismount. Her routine earned a 14.366 for an all-around score of 28.732.
France's Carolann Heduit also had a great bar routine and moved into third after the second rotation with a 27.266. Heduit's set wasn't as clean as McCusker's or Mustafina's, but her connections—like an inbar 1/1 to Maloney to Ricna and Galante to Pak―gave her a good start value. She earned a 13.900.
Fidelis had a solid routine that lacked some difficulty and execution for a 12.233 to move down to fourth with a 25.799. Woo moved down to fifth after catching her Jaeger too closely messed up the rhythm of her routine, earning only a 12.033 for an all-around total of 25.699.
Rotation three was a reminder of how narrow the beam really is, as the scores ranged from 11.300 to 12.993. McCusker was crooked on her acro series and came off the beam after the layout step-out and had balance checks on the remainder of her routine. However, she finished with a solid double-tuck dismount to earn a 12.166 for a total of 39.699, keeping her in second.
Despite a fall and a few balance checks, Mustafina remained in first after beam, scoring an 11.866 for an all-around score of 40.598. The all-around standings stayed the same after beam, including Fidelis in fourth, who earned the highest beam score of the day with a 12.933 after a nice triple series and double pike dismount.
McCusker bounced back to finish strong in the fourth rotation, earning the highest floor score of the meet. Debuting her new floor routine, she started with a tucked full-in with a small bounce on the landing, followed by a nice combo of a front double full to punch front to stag jump, a double pike and finished with a double tuck with a hop to the side. She also had nice leaps to help her earn a 13.366 to finish her first meet of the year with a 53.065 for silver.
Mustafina finished her gold-medal performance with a solid floor routine. She also started with a tucked full-in and took a step back. She racked up some difficulty with a triple turn, which preceded a nice, high double tuck, followed by a Rudi to front 1/1. Her double full to end had form issues, but she stuck it to score a 12.966 for a total of 53.564 to win the meet.
Heduit had a pretty solid floor routine despite falling out of a wolf turn and earned a 12.700, but it wasn't enough to stay in third. Fidelis had some big tumbling, including a Rudi through to double Arabian and a tucked full-in, in addition to a double pike and double tuck. Even though the Brazilian went out of bounds on her double Arabian, she scored a 13.100 to move in front of Heduit and win her first all-around World Cup medal with a 51.832.
Results below:
| | | | | | | | |
| --- | --- | --- | --- | --- | --- | --- | --- |
| Place | Gymnast | Federation | Vault | Bars | Beam | Floor | All-Around |
| 1 | Aliya Mustafina | RUS | 14.366 | 14.366 | 11.866 | 12.966 | 53.564 |
| 2 | Riley McCusker | USA | 13.133 | 14.4 | 12.166 | 13.366 | 53.065 |
| 3 | Thais Fidelis | BRA | 13.566 | 12.233 | 12.933 | 13.1 | 51.832 |
| 4 | Carolann Heduit | FRA | 13.366 | 13.9 | 11.666 | 12.7 | 51.632 |
| 5 | Victoria Kayen Woo | CAN | 13.666 | 12.033 | 12.6 | 12.8 | 51.099 |
| 6 | Leah Griesser | GER | 13.133 | 12.566 | 11.3 | 12.8 | 49.799 |
| 7 | Elissa Downie | GBR | 14.3 | 10.5 | 11.5 | 13.033 | 49.333 |
| 8 | Nagi Kajita | JPN | 13.033 | 11.766 | 11.366 | 12.833 | 48.998 |
| 9 | Liu Jieyu | CHN | 13.033 | 9.933 | 12.2 | 12.7 | 47.866 |