2019 GymQuarters Mardi Gras Invitational
LSU, Lindenwood Score Big At GymQuarters Mardi Gras Invitational
LSU, Lindenwood Score Big At GymQuarters Mardi Gras Invitational
LSU and Lindenwood won their respective sessions at the 2019 GymQuarters Mardi Gras Invitational in St. Charles, Missouri.
Feb 21, 2019
by Miranda Martin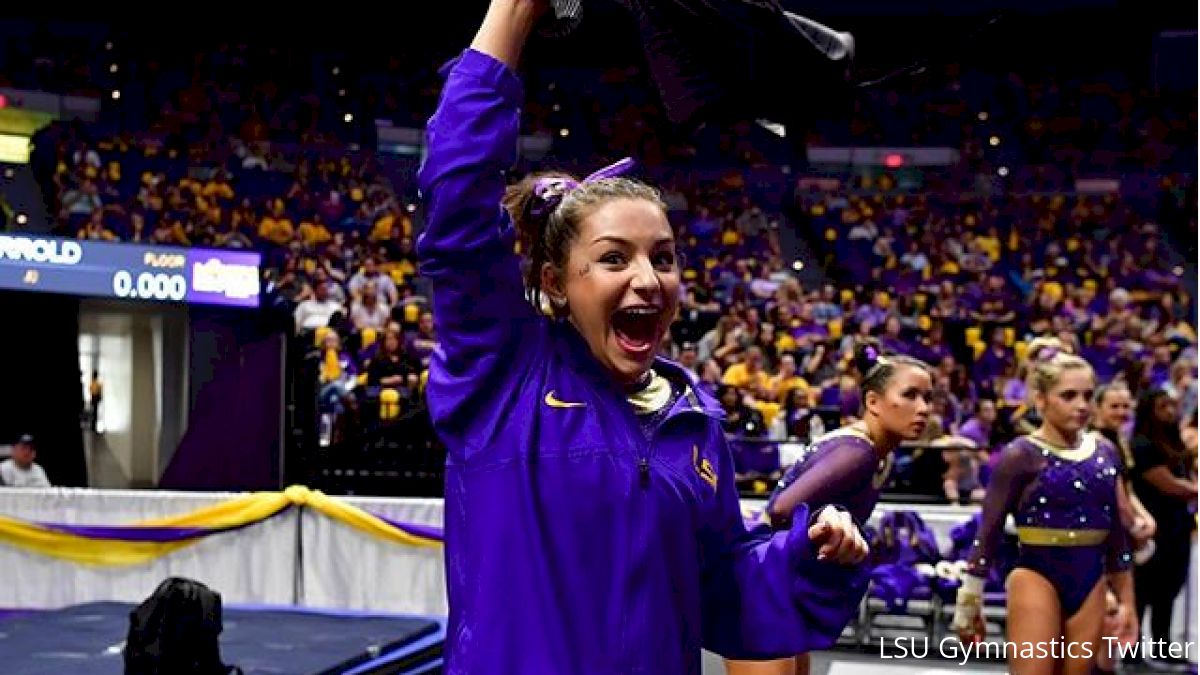 The 2019 GymQuarters Mardi Gras Invitational was a huge success this past weekend, drawing gymnasts from near and far to St. Charles, Missouri. This large competition had both club and NCAA teams competing, giving any gymnastics fan enough excitement to last long after the weekend was finished.
Both NCAA sessions featured a lot of action. In the matinee session Lindenwood swept the meet, taking first place over Texas Women's University (TWU), Southeast Missouri State University (SEMO) and Iowa State. The Lions scored a 195.275, quickly defeating the other teams and ending up on top.
Iowa State had defeated Lindenwood earlier in the season, a loss which Lindenwood more than redeemed, beating the Cyclones by a wide margin in St. Charles, despite not beating the team's previous season high score of 195.350.
Iowa State took second at the Mardi Gras Invitational with a 193.575, an uncharacteristically low score for the Cyclones, who have been consistently scoring over 194 in most competitions this season and almost reached 196 at two recent competitions.
TWU followed with a 190.725, a score that, like Iowa State's, was significantly lower than most of its team scores this season. As expected, SEMO finished in fourth place, scoring a 188.450.
The evening session turned out to be much more of a nail biter, with all teams scoring within 1.5 points of each other. Louisiana State took home the victory with a 197.250, topping Utah (197.075), Missouri (196.475) and Stanford (195.850).
Highlights from LSU included Sarah Finnegan winning four titles, including vault with a 9.950, bars and floor with a 9.925 and all-around with a 39.650. After an average start on bars and ending up behind Utah after the team's beam rotation, the Tigers went into floor with energy. The excitement and good spirits paid off, and LSU hit a season high of 49.475 on the event. Ruby Harrold matched her previous career high with a 9.900 and Reagan Campbell set a new career high of 9.900.
Finnegan opened up the Tigers' last rotation with a Yurchenko full on vault and hit a new career high of 9.950, helping LSU close the meet strong.
No. 4 Utah took second place, barely missing with just 0.175 points less than LSU. Utah began on vault, where the team started strong and scored a 9.800 or above on every vault. Bars were just as strong, but the Utes ran into problems on beam, an apparatus where they have had some difficulty all season. Although they ended with high energy and clean routines on floor, and Mykayla Skinner scored a solid 9.925, it was not enough to cinch the top spot.
Missouri scored a 196.475, its second-best team score of the season, and just 0.375 points behind its high of 196.850. This score snagged third place for Mizzou, which was the goal coming into the meet, as it was unlikely the Mizzou Tigers would overtake highly ranked LSU or Utah.
Missouri even reached a season high of 49.175 on bars and hit a 49 or better on all four events. Hitting a new bars score was particularly exciting for this team because bars was its final rotation, making it one of high pressure and adrenaline. Sometimes this pressure going into a final rotation can help, but other times it can lead to uncharacteristic mistakes, so Mizzou has a lot to be proud of from its bars performance in St. Charles.
"I thought we did a nice job," Missouri head coach Shannon Welker said. "We had some new people step up in places, so I was really pleased about that."
Stanford was the underdog in this meet, and despite taking last, the Cardinal still ended the competition with some gains to celebrate. Stanford's gymnasts were more consistent on all four events, giving the team extra confidence and strength going forward.
The Mardi Gras Invitational marked the first time Stanford hit all 24 routines this season. Three gymnasts hit career highs on floor, one hit a career high on bars and another matched a career high on the same event. The team also missed tying its season high on bars by a mere 0.025.