2019 Elite Canada - Women's Artistic Gymnastics
Ana Padurariu Wins 2019 Elite Canada Competition
Ana Padurariu Wins 2019 Elite Canada Competition
Recapping the 2019 Elite Canada women's artistic gymnastics competition, including general takeaways and routines to re-watch.
Feb 5, 2019
by Miranda Martin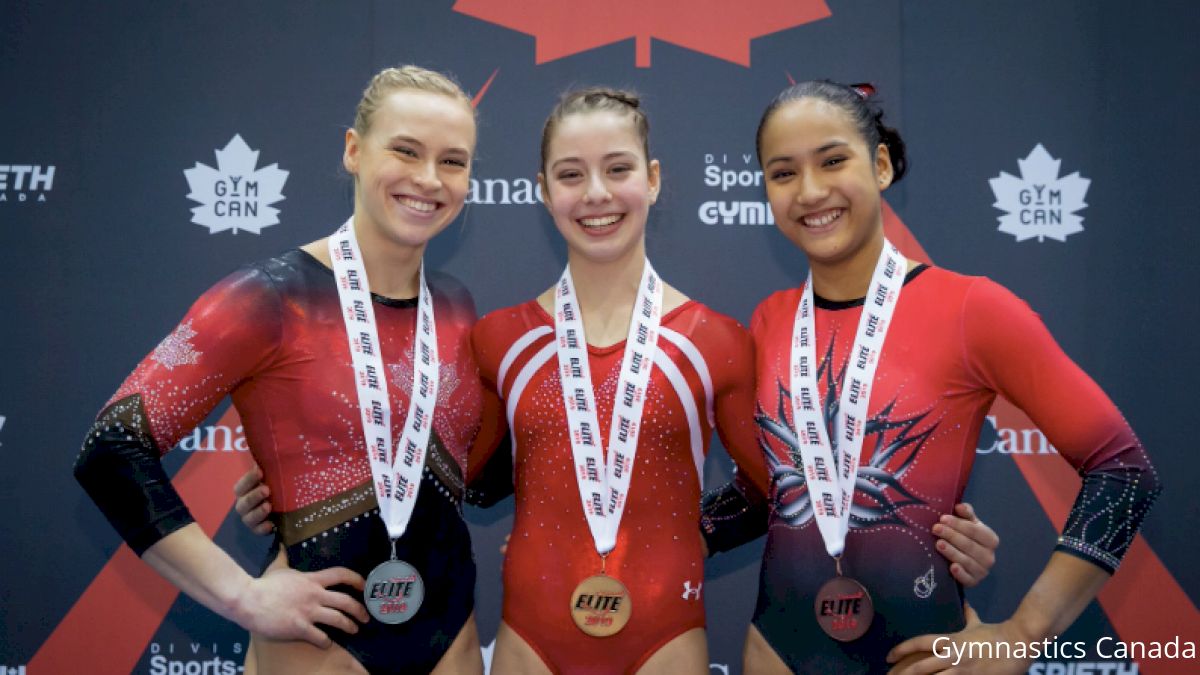 After FloGymnastics and Gymnastics Canada began collaborating, one of the first events broadcasted was the 2019 Elite Canada competition. This meet was an important national competition, although an early one, where gymnasts in novice, junior and senior categories competed and showed their best tricks.
All three categories competed in hopes of qualify for High Performance status, which would allow them to compete in High Performance categories at the Canadian Championships. This status also helps them be considered for national teams and international competitions, so the meet was a high-stakes one for many.
Keep reading to find out which seniors won on each event, see the routines to re-watch and learn takeaways from the meet.
All-Around: Recap & General Takeaways
Thirty-four of the competitors at the Elite Canada meet were seniors. The top three seniors were Ana Padurariu, Ellie Black and Zoé Allaire-Bourgie. Padurariu took first place, winning gold with a 55.591. Black ended up with silver, scoring a 54.624. Allaire-Bourgie took bronze, with her four event scores totaling a 53.541. None of these gymnasts were a huge surprise, as all three are consistent top scorers and had it in them to place in the top three at this high-stakes competition. Two of the three were even on FloGymnastics' predictions of who to watch at the meet!
The main trend of the top-scoring gymnasts at this meet was not to have any event be an obvious weakness. All three medal-winning gymnasts had solid scores on each event, rather than counting on any one event to pull their score up. Padurariu, who won first place, was most proud of her bar routine, as that is not her most consistent event, especially in recent months. One of FloGymnastics' favorite moments of the meet was breaking the news to her that she had won all-around, and her surprised reaction was amazing! It has been over a year since Padurariu has competed all four events at a competition, so this outcome was incredible for her and her gym.
Vault: General Takeaways & Routines to Re-watch
Ellie Black from Halifax Alta performed the winning vault. She threw two different vaults, the first of which had a difficulty of 5.4 and execution of 9.000, totaling a 14.400. Her second had a difficulty of 5.2 and execution of 9.300, totaling a 14.500. The average was a 14.450, which was high enough to win gold. Second place went to Mia Saint-Pierre from Gym-Fly, whose first vault had a 4.6 difficulty and 8.950 execution. Her second vault had a 4.8 difficulty and 8.900 execution, scoring a 13.700. Combined with her first vault, a 13.550, her average was a 13.625, giving her second place.
Mia Saint-Pierre's vault is certainly worth re-watching, as it is refreshingly different than other vaults we typically see.
Another vault to revisit is Kiera Wai's from Manjak Gymnastics, who showed up with a clean Yurchenko full.
A final vault you don't want to miss from this competition is that of Zoé Allaire-Bourgie, whose simple Yurchenko full helped her secure a spot on the all-around podium.
Bars: General Takeaways & Routines to Re-watch
Bars was clearly a make-or-break event for many gymnasts, as the order of the top three bars finalists matched the order of the top three all-around finalists! Ana Padurariu took gold on this event with a difficulty of 6.0 and an execution of 8.750, scoring a 14.750. Ellie Black was right behind her, scoring a 14.550 due to a 5.9 difficulty and 8.650 execution. Zoé Allaire-Bourgie took third with a 14.025, scoring a 5.2 in difficulty and an 8.825 in execution.
Besides re-watching the top bars scorers, Jessica Dowling is interesting for fans to watch. From Dynamo Gymnastics, her perfectly hit and held handstands as well as her beautiful lines make her routine a dream.
Jade Chrobok from Gemini Gymnastics had a fun routine this year as well. Despite some form mistakes that she needs to clean up for later this season, her difficult combinations and dismount make her routine a fun one to revisit.
While we're looking at unusual bar skills that make routines new and interesting to watch, Laurie Denommee has quite the unique bar routine this year as well.
Beam: General Takeaways & Routines to Re-watch
The senior beam results were widely varied, with Ana Padurariu taking first and scoring almost a full point higher than Ellie Black, who took second on the event. Padurariu had a difficulty of 6.2, which gave her quite the advantage over Black's 5.4. Padurariu then scored an 8.675 in execution, next to Black's similar 8.575. Final scores for the two gymnasts were 14.875 and 13.975. Laurie-Lou Vézina took third with a 13.075. Her difficulty was a 5.1 and execution was a 7.975.
Vézina's gorgeous mount and graceful dance make her routine stand out as a star beam routine of this competition!
Showcasing a beautiful front aerial+split jump+straddle jump, Haley De Jong's routine impressed the crowd as well. Her routine was one of the most interesting to watch during this meet because it is jam-packed full of difficult skills, one after the other.
Emma Milne had an incredible routine as well, despite some wobbles. Her series, a side aerial+back layout+back layout looks amazing, and with some work, will become stronger and more consistent.
Floor: General Takeaways & Routines to Re-watch
First on floor went to none other than Ana Padurariu, with a difficulty of 4.8, execution of 9.067 and a total of 13.866. Unlike beam, second place for Victoria-Kayen Woo was not far behind, totaling a 13.666 after a difficulty of 4.8 and execution of 8.833. Ellie Black rounded out the podium, taking third with a close 13.566.
Victoria-Kayen Woo was fun to watch on floor, beginning with a huge double layout and ending with a high double pike, showcasing multiple high-level turns throughout.
Another routine to re-watch is Emma Spence, whose first two passes are done so quickly they are almost back to back and look so good they are almost unreal.
Gabrielle Deslauriers also showcased a fun routine, certainly worth re-watching. Although simpler than others in difficulty, her form and tumbling height make up for it.
---
Miranda Martin is a freelance writer who writes about gymnastics, social justice issues, and more. You can follow her on Twitter, Instagram, or contact her through her website.