Despite beginning the meet with two falls on beam, the No. 9 Michigan Wolverines persevered, led by freshman Natalie Wojcik, and had three strong events to win the 2019 Cancun Classic with a team score of 196.050, ahead of Iowa State, West Virginia, and Rutgers. Thanks to a strong vault rotation, the Iowa State Cyclones followed in second with a 194.275. West Virginia led beam and floor to finish in third with a 194.150 while the Rutgers Scarlet Knights began their 2019 season with a 189.750. View the complete results here.
In the first rotation, Michigan and West Virginia had shaky starts. Michigan began on beam with a fall from their first and second routines but they were able to hit the following four. West Virginia had their own struggles with three falls on bars as a few gymnasts struggled to properly rotate their double layout dismounts. Meanwhile, Iowa State and Rutgers had solid starts on floor and vault, respectively. After rotation one, Iowa State led with a 48.775, followed by Rutgers with a 48.65, Michigan with a 48.55, and West Virginia with a 47.525.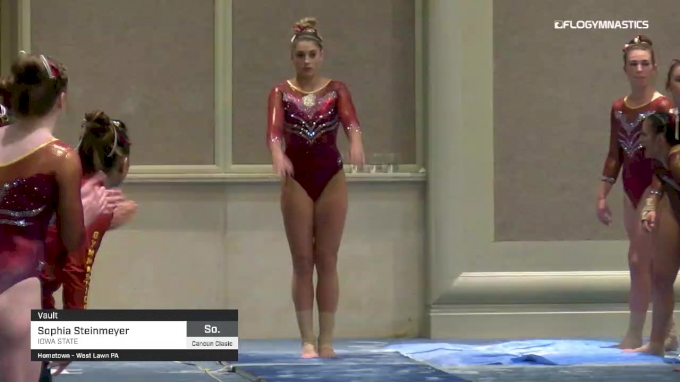 Unlock this video, live events, and more with a subscription!
Get Started
Already a subscriber? Log In
The second rotation brought the first vault with a 10.0 start value of the night from Iowa State's Sophia Steinmeyer, who earned a 9.850. She led the Cyclones' great first vault rotation to a 48.975. The bars struggles from the first rotation carried over to the second as Rutgers had two falls on the event, totaling just a 45.850. West Virginia was solid on beam and didn't have to count its fall, scoring in the 9.700-9.800 range. The Mountaineers earned a meet-high 48.775.
Floor wasn't perfect for the Michigan Wolverines, as they had two scores in the 9.600 range, but Maddy Osman's and Abby Brenner's 9.800s, Wojcik's 9.825, and Emma McLean's meet-winning 9.925 carried the Wolverines to a 49.025. Halfway through the meet, Iowa State and Michigan moved up the rankings with a 97.750 and 97.575, respectively. West Virginia and and Rutgers followed in third and fourth, respectively, with a 96.300 and 94.500.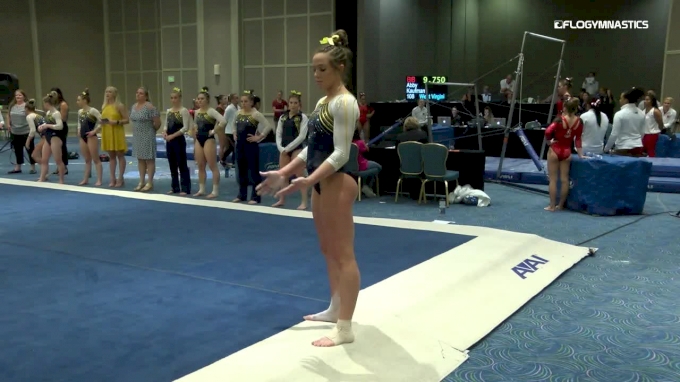 Unlock this video, live events, and more with a subscription!
Get Started
Already a subscriber? Log In
In the third rotation, the Wolverines moved to vault and had great score progression throughout their lineup, starting in the 9.700 range, moving into the 9.800 range with Brenner's 9.850, and finishing with Wojcik's winning Yurchenko 1.5 vault that earned a near-perfect 9.975. The Cyclones continued the bars struggles in the third rotation and had to count a fall as two of their gymnasts fell. Fortunately for the Cyclones, they had three solid bar scores of 9.825 from Meaghan Sievers, 9.800 from Maddy Langkamp, and a 9.775 from Cassie Diaz.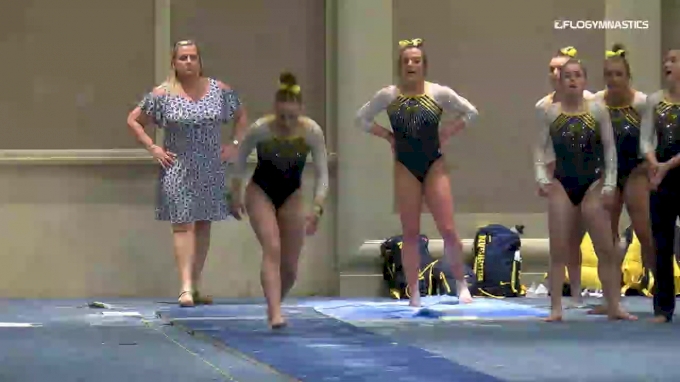 Unlock this video, live events, and more with a subscription!
Get Started
Already a subscriber? Log In
Beam began well for the Scarlet Knights as Mia Betancourt hit her set for a 9.675. Unfortunately, the rest of their lineup had major breaks or falls and had no more scores above 9.600. The Mountaineers were able to have a great floor rotation and were able to drop a low score. Sophomore McKenna Linnen earned a 9.800 in the lead-off position and seniors Jaquie Tun and Kirah Koshinski finished the rotation strong with scores of 9.850 and 9.925, respectively.
After three rotations, Michigan moved into the lead with a 146.775 followed by Iowa State with a 146.175, West Virginia with a 145.35, and Rutgers with a 141.025.
West Virginia finished the meet strong with a great vault rotation, including six hit vaults, highlighted by Koshinski's 9.800. Michigan saved its best for last on uneven bars where every gymnast earned a 9.825 or higher. Iowa State began beam with three hit routines, led by Sievers's career-high 9.825, but the last half of the lineup faltered and had a large balance check and two falls. Rutgers had four solid floor routines, and two above a 9.700. Riahanah Ali and Belle Huang led the Scarlet Knights on the final event with a 9.725 and 9.850, respectively.
Related:
5 Stories To Watch At The Cancun Classic