5 Gymnasts Who Impressed At The 2018 World Championships But Went Unnoticed
5 Gymnasts Who Impressed At The 2018 World Championships But Went Unnoticed
Kelly Simm of Great Britain and Naomi Visser of the Netherlands led gymnasts who performed well at the 2018 Worlds but were relatively unnoticed.
Nov 14, 2018
by Amanda Wijangco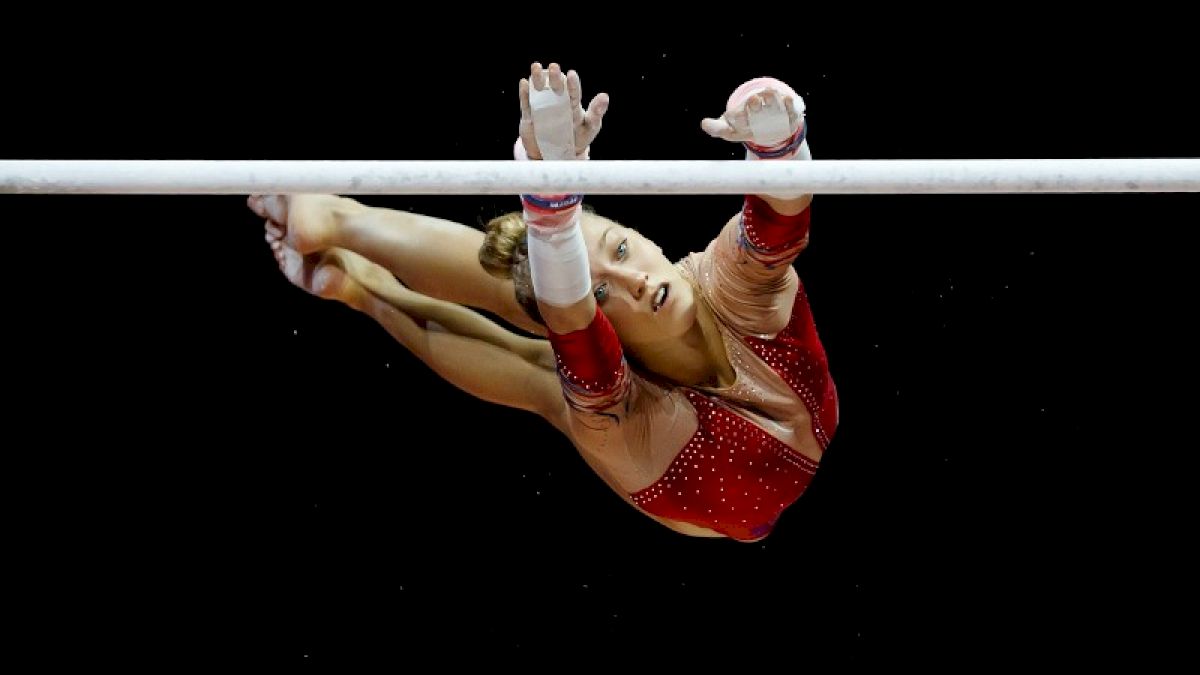 At major international meets like the World Championships, it's easy for medalists and gymnasts from top countries to be noticed. Those are the gymnasts who receive the most coverage and attention. However, there are several gymnasts that go relatively unnoticed despite having a good meet, especially those who compete only in qualifications. Here are five gymnasts who did well in Doha but were under the radar.
1. Kelly Simm (GBR)
Though she competed at Worlds in 2015, Simm didn't compete as much as her teammates in Glasgow. This year's Worlds were very different for her as she competed in the all-around in qualifications and advanced to the all-around finals, a first for her at Worlds.
In qualifications and the all-around final, beam was the only apparatus that gave her much trouble. The rest of her scores were in the 13.000 range, which is good considering most of her start values are in the 5.0 range. She qualified to her first World all-around final with a great score of 53.099, advancing with no problem in the 15th spot. She finished 19th in the all-around final, which is a great accomplishment for the English gymnast in her first individual World final.
With notable members of the British women's national team — such as Amy Tinkler and Claudia Fragapane — out this year due to injury, Simm rose to the occasion and emerged as Great Britain's second-highest all-around gymnast.
2. Naomi Visser (NED)
Competing in her first World Championships this year, Visser competed on all four events during qualifications. She was consistent and produced quality gymnastics with three scores above a 13.000. Beam was the only event she scored lower than 13.000, but her execution score was a solid 8.066. Visser had no trouble advancing to her first World all-around final in the 17th spot with a 52.832.
In all-around finals, she improved upon her qualifications performance and earned scores in the 13.000 range across the board for a final all-around total of 53.332. Not only was she the highest placing Dutch gymnast in the all-around, but she led the team on bars in qualifications with her 13.433. Like Simm did for Great Britain, Visser stepped up in the absence of a few of her country's gym stars, Eythora Thorsdottir and Lieke Wevers. Her performances in Doha showed the Royal Dutch Gymnastics Federation that she can do well on the international stage even when competing alongside more experienced gymnasts.
3. Frida Esparza (MEX)
Gym fans may know Esparza from her elite days competing in the U.S. at meets like the Secret U.S. Classic and P&G Gymnastics Championships, but now the California native is utilizing her dual American and Mexican citizenship to compete for her family's native country. Doha marked her first World Championships, where competed in the all-around in qualifications.
She fared well and finished with a 51.399 all-around score, making her the third reserve for all-around finals. She hit four for four in qualifications with her only major mistake being an out-of-bounds landing on floor. Esparza has one of the highest difficulty scores of the Mexican Worlds team, and when combined with solid execution scores, Doha ended up being a good meet for her and showed that she's a reliable competitor.
4. Sarah Voss (GER)
Voss made her Worlds debut this year in Doha and was a good competitor for the German team. In qualifications, she competed on vault, beam, and floor, and all three of her scores counted. She was excellent on vault and solid on beam, and while her floor wasn't the best, she didn't fall and delivered a routine Germany needed to advance to team finals.
In team finals, Voss improved her beam score from 13.133 to 13.6 and hit her two events. So while she didn't compete all-around for the German team, she hit all of her routines and helped her country advance to team finals. In addition, Worlds gave her the opportunity to prove that she can compete alongside Olympians Elizabeth Seitz, Kim Bui, and Sophie Scheder.
5. Juliette Bossu (FRA)
France is a team on the rise, but if there's one event it struggles with, it's uneven bars. That's where Bossu helps. She competed on just bars during all of Worlds, and she hit her routine every time she competed. Bossu has great lines and does a good job at keeping her legs together during her bar set.
Bossu had the top bars score for France in qualifications with a 13.866 and the second-best in the team final with a 14.033, improving when it mattered most. Her excellent bar work helped France not only advance to team finals in Doha but finish in fifth, which is quite the accomplishment considering France didn't even make team finals in Rio 2016. So although she went to Doha to compete only bars, she did her job and helped her team.