For the past few quadrenniums, the U.S. women's gymnastics program has not only risen to the top but dominated and maintained its golden status. However, at the 2018 World Championships, Team USA isn't the only country expected to contend for a team medal.
1. Russia: Former Olympians Leading The Way
Like the U.S. women, the Russian women's team has been a consistent team medal contender at the Olympics, World Championships, and European Championships. With continuous podium finishes at major international competitions for over a decade, Russia can never be counted out.
Leading this year's team is a pair of veterans: 2012 and 2016 Olympic champion Aliya Mustafina and 2016 Olympian Angelina Melnikova. Rounding out the squad is Lilia Akhaimova, Irina Alexeeva (who has finally joined the Russian program after training at WOGA), and Angelina Simakova.
Mustafina is returning to competition after giving birth to her daughter Alisa last year. She competed at the Russian National Championships this year but scored above 14.000 only on bars with a competitive score of 14.966. The reigning Olympic uneven bars champion was set to compete at the Osijek World Challenge Cup but withdrew due to a meniscus injury.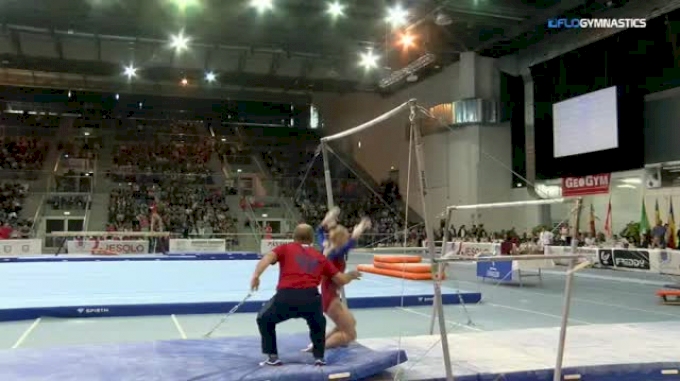 Unlock this video, live events, and more with a subscription!
Get Started
Already a subscriber? Log In
Though Mustafina is the oldest and most experienced of the Russian gymnasts, Melnikova has the most experience and success with this quad's Code of Points and has risen to be the leader of the program. She led Russia to team gold at European Championships and earned a silver for vault and bronze on uneven bars. Melnikova medaled in every competition at the 2018 Russian National Championships with all-around, bars, beam, and floor gold and team and vault silver.
Mustafina and Melnikova are talented all-arounders but are also staples for Russia's bars and beam lineups. Akhaimova, Alexeeva, and Simakova mostly help on vault and floor. Akhaimova is a solid vaulter who made event finals at this year's European Championships and is capable of providing a vault score in the 14.000 range. Simakova and Alexeeva both placed on floor at the Russian National Championships this year, earning silver and bronze, respectively, behind Melnikova, making the duo a good fit for the Russia floor lineup.
With a nicely balanced squad of experienced and newer gymnasts who are capable of putting together quality routines on all four events, Russia should make the podium as expected so long as they don't make too many mistakes.
2. China: Asian Champs Inexperienced But Talented
Another country familiar with standing atop a podium is China. The Chinese are the reigning Asian Games team champions and bring back their entire Asian Games squad (Chen Yile, Liu Jinru, Liu Tingting, Luo Huan and Zhang Jin) plus Du Siyu to Doha. Team China's alternate has yet to be named.
Only two of China's gymnasts have competed at Worlds before, making this a rather inexperienced group. Tingting and Huan competed in Montreal last year but only on one event each. However, with most of the team having major international experience from the 2018 Asian Games, China should far well.
Yile is capable of consistently putting up scores of 14.000+ on bars and beam, which are typically China's strengths. She won beam at the Asian Games and even earned a 15.000 on beam at this year's Chinese Championships. Huan and Tingting also excel on bars and beam, with the former earning a silver medal on bars at the Asian Games and the latter winning the event.
Vault and floor are typically weaker events for China, but Jinru fill those holes well. She won vault at the Chinese Championships and City of Jesolo Trophy this year and has consistently scored above 14.000 on the event. Jin has competed all four events this year but is without a doubt strongest on vault, normally scoring in the high 13.000 to low 14.000 range.
Siyu, the lone member of the team who did not compete at the Asian Games, could be used on bars if she isn't named the alternate. Her routine includes nice lines and is overall clean but isn't as consistent or as experienced as the other team members. Regardless, if China is able to replicate its Asian Games team finals performance in Doha, it should be an easy medal contender.
3. Japan: Murakami The Undisputed Leader
Last but not least is Japan. Even without their top gymnasts, Japan earned team bronze at this year's Asian Games. The women representing Japan in Doha include Hitomi Hatakeda, Nagi Kajita, Mai Murakami, Aiko Sugihara, and Asuka Teramoto, with the latter three helping Team Japan finish fourth in the Rio Olympics team final.
While Murakami, Sugihara, and Teramoto all have Olympic and World Championship experience, Murakami is the clear leader of the experienced trio to lead Japan in Doha. She's a strong all-arounder with the capability to put up scores in the 13.000 and 14.000 range on all four events, so Japan will rely on her heavily in qualifications and the team final, but vault and floor are where she shines most.
Sugihara and Kajita's best events are also vault and floor, leaving Japan with spots to fill on bars and beam. Hitting those two weaker events will be key to Japan doing well at Doha. Luckily, Hatakeda is excellent on bars with several scores in the mid 13.000 to high 14.000 range this year. She is also solid on beam and scored a 13.800 earlier this year at the WOGA Classic. Teramoto is another reliable bars and beam competitor for Japan with scores in the 13.000 range this year.
Japan is no stranger to team finals at the Olympics or Worlds, but with Romania's recent decline and three Olympians to lead the way, Japan is definitely a team to watch.