Now that first official practices are underway at many schools, we're continuing our series on the new additions to NCAA gymnastics team rosters, highlighting the Utah Utes today. Similar to LSU, the team have only lost two key competitors to graduations, Tiffani Lewis and Maddy Stover. Lewis was an important competitor for the team on vault, bars, and floor, while Stover was one of the team's top beam workers.
The Utes will have plenty to choose from to fill those spots with the addition for four freshmen this year: Hunter Dula, Cammy Hall, Cristal Isa, and Adrienne Randall. Let's explore the newbies below.
Top Talent on Bars: Hunter Dula & Cristal Isa
Utah native Hunter Dula is from Orem and trained at All-American Gymnastics. She put up a fantastic showing at the 2018 J.O. Nationals, totaling a 38.175 in the all-around and scoring a 9.675 on vault and bars as well as a 9.525 on floor.
Her bar routine is particularly impressive; she hits all her handstands and has a nice Jaeger release and double layout dismount. She also competed an interesting combination on beam during J.O. Nationals — a straight hop to front tuck to beat jump to back tuck. On floor, she has a strong full-in for her opening pass, and she has a unique vault in her pocket with a round-off, half-on, double pike off. She stuck the vault at J.O.'s earlier this year.
You can check out a highlight video from Dula's performances at J.O.'s below:
Video via SJ Dula
Another freshman who will be a major contender for the Utes' bars lineup is Cristal Isa, who previously trained at Gymcats in Nevada. Isa scored a 9.700 on bars at J.O. Nationals this year, placing first in her group for the second year in a row. Isa has great hit handstands and a lovely Ray release, and she dismounts with a full pirouette to double layout.
Check out her routine below from J.O. Nationals:
Video via USA Gymnastics
Isa is also strong on beam, where she is capable of a back handspring to two layout series, which she hit at J.O.'s.
Cammy Hall Bringing The 10.0 Vault
Cammy Hall trained at Capital Gymnastics Training Center in Virginia and is a powerful vaulter. She'll be bringing her Yurchenko 1.5 to the Utes, which will help add to their arsenal of 10.0 vaults. It's a vault that she scored a 9.650 on at J.O. Nationals.
Check out her vault from the Excalibur Cup in February earlier this year:
Video via Cameron Hall
Hall is a good tumbler as well, most recently having competed a double Arabian as her opening pass at club meets.
Ruflova Randall: A Key Contributor on Beam
Adrienne Randall hails from California, where she trained at SCEGA. She had a great showing at J.O. Nationals this year, where she actually tied her new teammate Isa for fourth in the all-around. Randall is strong on all four events, but will be one to watch on beam in particular. She has lovely form on the event and competes an incredible Ruflova that we hope she'll use in her NCAA routine.
Check out her routine below from last year's SCEGA Classic: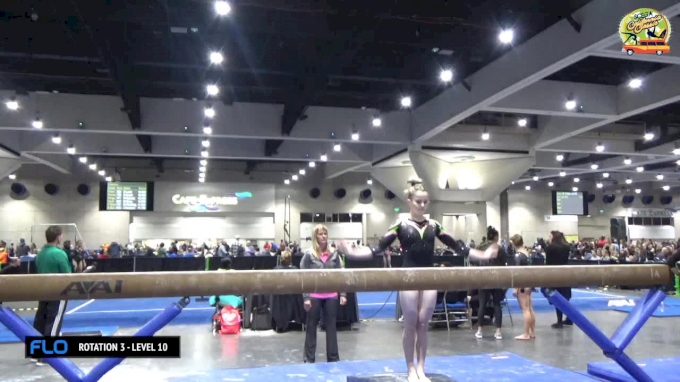 Unlock this video, live events, and more with a subscription

! Get Started

Already a subscriber? Log In
Randall is also strong on floor, where she's capable of a full-in for her opening pass, and on bars where she has great form, a nice Jaeger release, and a solid double layout dismount.
Other Lineup Considerations: The All-Around
One consideration for the 2019 Utes is how many of their gymnasts will compete all-around. Last season, they had four gymnasts who competed all-around fairly consistently: MyKayla Skinner, MaKenna Merrell-Giles, Missy Reinstadtler, and Kari Lee. That's a lot of all-arounders for one team, and it will be interesting to see if the addition of the freshmen will shake this up a bit.
There are also a few sophomores who did not compete much or at all in their freshman season, such as Lauren Wong, who competed once on bars, and Alexia Burch, who was solid in the beam lineup last year until she suffered an unfortunate injury. We also didn't see much from Shannon McNatt, a senior this year who competed beam just twice last season.