LSU Looking To McKenna Kelley & Bailey Ferrer For New 1-2 Punch
LSU Looking To McKenna Kelley & Bailey Ferrer For New 1-2 Punch
First official practices are underway at many schools, and we're highlighting the 2019 LSU Tigers today.
Sep 20, 2018
by Justine Kelly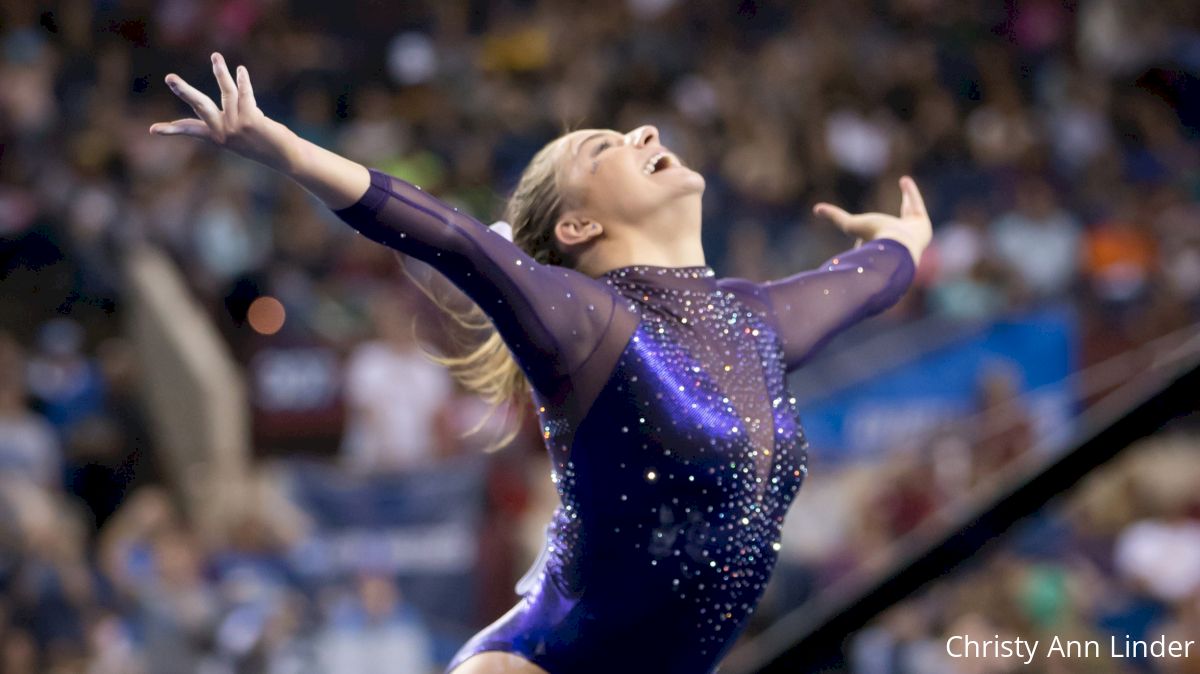 Now that first official practices are underway at many schools, we're continuing our series on the new additions to NCAA gymnastics team rosters, highlighting the LSU Tigers today.
Fortunately for the Tigers, the team have only lost two major contributors this year — Myia Hambrick and Erin Macadaeg, who both graduated. Hambrick has left big shoes to fill, having competed in the all-around for the team and being one of the Tigers' top competitors on every event, particularly on beam and floor. Macadaeg is another loss from the beam lineup. In fact, the lineup started with Macadaeg, followed by Hambrick, so the team will have to come up with a new first two to start their beam rotations.
Interestingly, LSU has added only two freshmen this year: Rebecca D'Antonio, who is currently listed on the roster and is a walk-on, and Bailey Ferrer, who is not on the roster yet but is expected to join in January.
Check out the new additions and anticipated returns you can look forward to this year from the Tigers.
The Freshmen: A Louisiana Native & A Former Elite
D'Antonio is currently the only freshman slated on the LSU roster at the moment, a walk-on from New Orleans who trained at Cypresse Pointe Gymnastics. She has some high-level skills in her pocket, including a front tuck on beam and a piked Jaeger on bars.
You can see a video of some of her training from the summer of 2017 below:
Video via Rebecca D'Antonio
The other freshman, due to start in January 2019 (a year early), is Ferrer, who most recently trained at Gymnastics USA with Ray Gnat, father of LSU great Ashleigh Gnat. Ferrer was a former elite athlete who competed in the junior division at the Secret U.S. Classic and P&G Championships in 2014. She switched gyms a few years later, training at the J.O. level until she reached college.
When we saw Ferrer compete at J.O. Nationals in 2017, she showed off incredible power on floor. In fact, Ray Gnat said in an interview with The Advocate that to watch her "reminds me of McKenna Kelley, all that tumbling and vaulting power, with great personality." In 2017, Ferrer was competing a big double Arabian, back 1.5 to front layout, and double pike.
Check out her routine below:
Video via USA Gymnastics
Ferrer is also a solid beam worker, and will likely have a Yurchenko 1.5 vault to add to the mix, so it's possible the team will be looking to her to fill some of the empty spots left by Hambrick.
The Return of McKenna Kelley & Other Lineup Considerations
Another gymnast to factor into the mix for this season is McKenna Kelley, who was out all last year with an Achilles tear. Assuming she is back to full strength come January, we can expect to see her back in the floor lineup, where she contributed high scores in her first two seasons with the team. She was also training a new vault before her injury, so it will be interesting to see if she continues with this.
In terms of other lineup considerations, there are a few gymnasts who contributed on one or two events last year who have potential to do more. One is Ruby Harrold, who mostly competed bars and vault last year. She competed floor a couple of times, and this is one event that she could contribute a lot on if she's consistent. Her high score last season was a 9.900.
The other gymnast to consider for the floor lineup is sophomore Sarah Edwards, who competed a fun routine last year for much of the start of the season, but did not appear in lineups toward the end. She's capable of a lot of power so she'll likely be hoping for a spot back in this lineup.
Another question mark is senior Lexie Priessman, and how many events she will be contributing on this year. She only competed floor toward the end of the season, and dropped vault, which she had been competing at the beginning, but was a mainstay in the bars lineup. Much of this has to do with how much her body can take, but she's capable of putting up huge numbers on both vault and floor, and the coaches will likely want to see her in both lineups if possible.
We got a glimpse of LSU's first day of practice in this brief clip below:
We were back in the gym Monday for the first team practice. Only 108 days until the first meet of 2019! #GeauxTigers pic.twitter.com/bCHML0OVw6

— LSU Gymnastics (@LSUgym) September 18, 2018