Travel Preparation With Betsy Bootcamp: Eating Healthy On The Go
Travel Preparation With Betsy Bootcamp: Eating Healthy On The Go
Eating healthy while traveling — endless airports and hotels — isn't easy. Here are some tips from Betsy McNally on how to stay fit on the road.
Aug 9, 2018
by Betsy McNally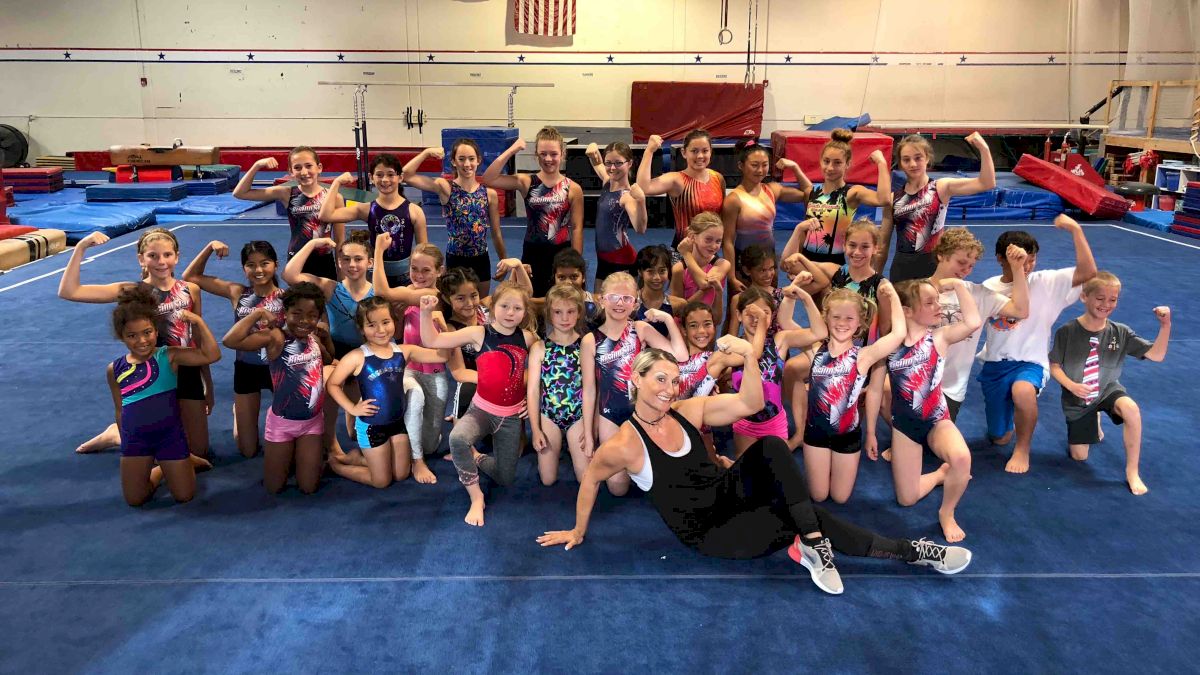 In the past three months, I've visited 16 gyms and have about eight more to go. Needless to say, I've almost literally be living in airports and hotels.
My traveling camp — called Betsy Bootcamp — is packed with two days of fitness and nturition specifically tailored to gymnasts, and eating healthy on the go is one of the most important, though difficult, aspects of being an athlete.
With all my travels, I've been forced to put my advice into action.
In order for me to do my job and keep up with my amazing gymnast clients, my nutrition and workout schedule has been tested, and I can definitely say after three months I have come out relatively unscathed. But I had to do some planning and preparation to make it work!
Most gymnasts will be dealing with this same exact issue in a few months when competition season begins: eating at airports and hotels, trying to stay healthy on the go.
How can a gymnast possibly maintain energy, strength and mental stability when options are so limited? The following account of my experience and tips will help you get through days of airports and traveling.
Tip No. 1: Wherever you are traveling, there is probably a Walmart or a Starbucks
These two chains are lifesavers.
Why? Because in almost every city in America, there is at least one of these two options.
Starbucks isn't perfect, but in the pinch it can work.
Some of the healthier options are their bento boxes which can include a hard-boiled egg, nuts, carrots, celery, and dried fruit. Sometimes there's hummus, apple slices, whole-grain bread products, and fresh berries or grapes and cheese. I'm not a huge fan of a lot of their "healthy bars" but I do like the nuts/almond butter packets and organic yogurt options they have.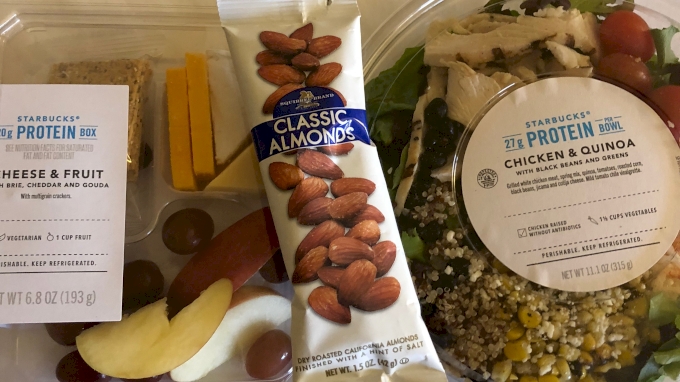 These bento boxes are Starbucks are your best bet here.
Walmart has also been a go-to for almost every trip I've taken.
There are a lot of organic food options, green veggies, salads, fresh fruit, and nuts. Often I pack my Tupperware then do a quick Walmart trip and store my fresh fruits, yogurt, and veggies in my fridge at the hotel. Pick up a few low-sodium tuna pouches and Greek yogurts for protein, too.
Tip No. 2: Make sure your hotel has a refrigerator and a microwave
Here you can store your snacks as well as anything you pre-packed. A couple of times I was left without a microwave and I just used the coffee maker in the room to boil water for oatmeal or tea. The refrigerator is crucial, though; be sure to check on that before you book a room.
Tip No. 3: Pack snacks ahead of time in your checked luggage
Be sure to include some extra plastic baggies and plastic containers, plastic forks, and spoons.
I always carry dried oatmeal, rice cakes, apples, packets of peanut butter or almond butter, packets of coconut oil, and nuts or dried fruit. These are portable options and you can go to these for quick snack options. The hotel breakfasts are usually free but at the cost of eating very processed foods. Check out the options at one hotel that I had — sodium-loaded Lunchables, very high sugar yogurt, and mixed fruit in "fruit juice."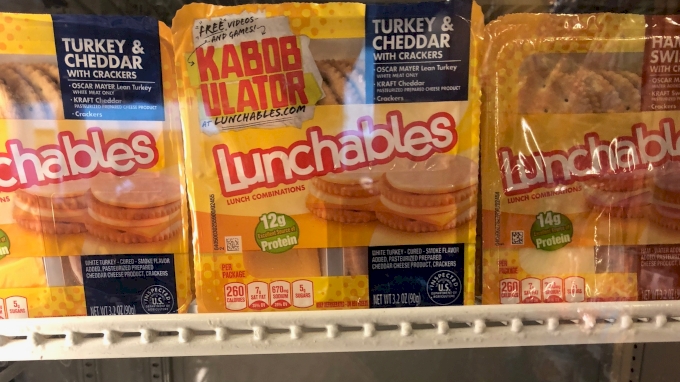 Lunchables are not a healthy option!
Tip No. 4: Stay hydrated
Flying and eating foods high in sodium can cause a lot of water retention and bloating. Move around if you can on long flights to keep the blood flowing. Be sure to drink extra water while traveling as dehydration is common. A lot of times I see gymnasts lacking in energy and retaining water while traveling not due to lack of food but lack of hydration on a cellular level.
Tip No. 5: Read closely the ingredients of the snacks in the convenience stores at the airport
The amount of sugar alcohols, preservatives, added sodium, colorant, and additives are what you really want to watch for in ingredients. Sugar alcohols cause gas, bloating, and stomach issues. And preservative and sodium-laden food have been linked to a lot of health problems. Keep the snacks clean. If you have to go with a chocolate snack always search for dark chocolate — I found in the airport candy store and a packet of pistachios, too!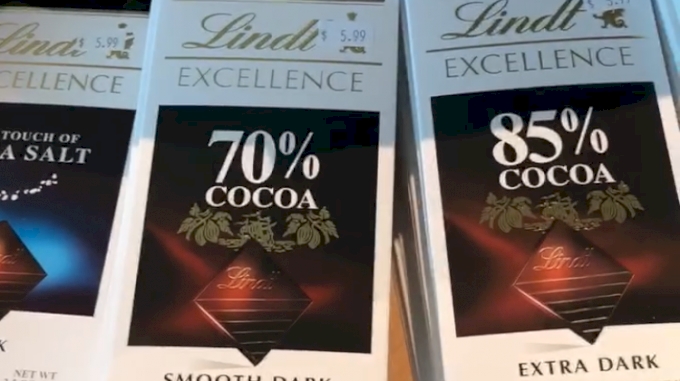 If you need chocolate, dark chocolate is the way to go.
Tip No. 6: Go clean at restaurants
As a rule, when dining out be sure to stay away from heavy sauces, gravies, butter, rich dressings, and highly processed foods (like white bread or pasta, desserts, muffins). Stick with the green and brown foods (whole grains) and colorful foods which are more than likely complex carbohydrates, which will give you sustained energy.
Double up on green veggies whenever you have the opportunity to find them. Fruits and vegetables are challenging to come by in some airports so just do your best. I have been pleasantly surprised by some of the recent options I have seen at airports. I found a beautiful salad in the Cincinnati airport at a restaurant with field greens, pumpkin seeds, avocado, and beets with olive oil.
Finally, do your best! It is a challenge to eat on the go, but you can do it! I'm doing it, so can you!
---
If you would like an individual training or nutrition program for yourself or your athletes or want to learn more about Betsy Bootcamp (coming to a city near you) please contact Betsy here: coach@betsymcnally.com or follow her on her Facebook Page Betsy McNally Laouar Gymnastics Nutrition and Fitness Specialist or betsy_mcnally_laouar on Instagram!