2018 Pacific Rim Championships
Pac Rims Rosters Are Here: Carey, Hurd Among Nominative US Field
Pac Rims Rosters Are Here: Carey, Hurd Among Nominative US Field
The Pacific Rim Competition has released a list of competitors from each country. *Some rosters are nominative.
Apr 5, 2018
by Sarah Lorish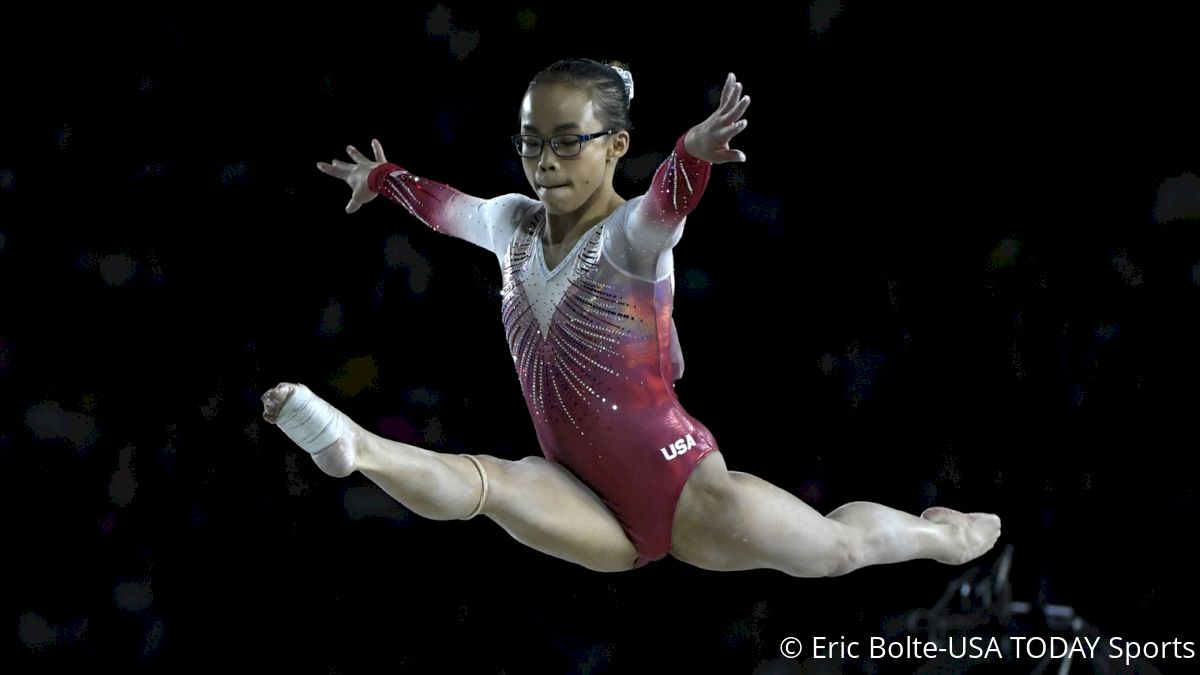 The Colombian Gymnastics Federation released the tentative rosters for the teams competing at this year's Pacific Rim Championships in Medellin April 27-29.
*Rosters not marked confirmed are subject to change.
| | | |
| --- | --- | --- |
| TEAM | NAME | JR/SR |
| Argentina | Ayelen Tarabini | Senior |
| | Martina Dominici | Senior |
| | Luna Fernandez | Junior |
| | Olivia Araujo Bagu | Junior |
| | Abigail Magistrati | Junior |
| | Lucia Esposito | Junior |
| | | |
| Australia (Confirmed) | Talia Folino | Senior |
| | Kate Mcdonald | Senior |
| | Kikara Munteanu | Senior |
| | Kate Sayer | Junior |
| | Elena Chipizubov | Junior |
| | Sidney Stephens | Junior |
| | | |
| Canada | Haley De jong | Senior |
| | Hannah Jade Chrobok | Senior |
| | Brooklyn Moors | Senior |
| | Emma Spence | Junior |
| | Zoé Allaire - Bourgie | Junior |
| | Imogen Patterson | Junior |
| | | |
| Chile | Simona Castro | Senior |
| | Martina Castro | Senior |
| | Tamara Ampuero | Senior |
| | Martina Palamara | Junior |
| | Renata Merino | Junior |
| | Sofia Casella | Junior |
| | | |
| Chinese Taipei | Chuang Hsiu-Ju | Senior |
| | Lo Yu-Ju | Senior |
| | Tsai Chia-Jung | Senior |
| | | |
| Colombia | Gina Escobar | Senior |
| | Yurany Avendaño | Senior |
| | Marcela Sandoval | Senior |
| | Sabrina Cortes | Junior |
| | OPEN | |
| | OPEN | |
| | | |
| Costa Rica | Heika Salas | Senior |
| | Luciana Alvarado | Senior |
| | Mariana Andrade | Senior |
| | Camila Montoya | Junior |
| | Aaliyah Escoe | Junior |
| | | |
| Cuba | Yesenia Saskia Ferrera Nuñez | Senior |
| | Marcia Teresa Videaux Jimenez | Senior |
| | | |
| Ecuador | Denisse Grijalva Mendez | Senior |
| | Nathaly Boloña Marmolejo | Junior |
| | Daniela Jimenez Pincay | Junior |
| | Monserrath Mora Paspuezan | Junior |
| | Genesis Gibson Zurita | Junior |
| | | |
| Hong Kong | Chan Cheuk Lam | Senior |
| | | |
| Mexico | Jimena Moreno | Senior |
| | Nicolle Castro | Senior |
| | Paulina Campos | Senior |
| | Daniela Briceño | Junior |
| | Barbara Dodolli | Junior |
| | Paulina Vargas | Junior |
| | | |
| New Zealand (Confirmed) | Isabella Brett | Senior |
| | Maia Fishwick | Senior |
| | Charlotte Ryan | Senior |
| | Jonti Matthewson | Junior |
| | Ariana Salavaio | Junior |
| | (Alt.) Tyla Bow | Senior |
| | | |
| Panama | Karla Navas Boyd | Junior |
| | Hillary Heron Soto | Junior |
| | Laura Rodríguez | Junior |
| | | |
| Peru | Angela Perez | Senior |
| | Venere Horna | Senior |
| | Ana Karina Mendez | Senior |
| | Fabiola Diaz | Junior |
| | Nadya Chacon | Junior |
| | Brissa Portillo | Junior |
| | | |
| United States | Morgan Hurd | Senior |
| | Jade Carey | Senior |
| | Maile O'Keefe | Senior |
| | Leanne Wong | Junior |
| | Sunisa Lee | Junior |
| | Anya Pilgrim | Junior |