2018 Elite Season
Margzetta Frazier Wins Silver At FIG World Cup, Melnikova Takes Gold
Margzetta Frazier Wins Silver At FIG World Cup, Melnikova Takes Gold
Margzetta Frazier's performance in Birmingham Thursday earned her a silver medal and a fist pump.
Mar 24, 2018
by Sarah Lorish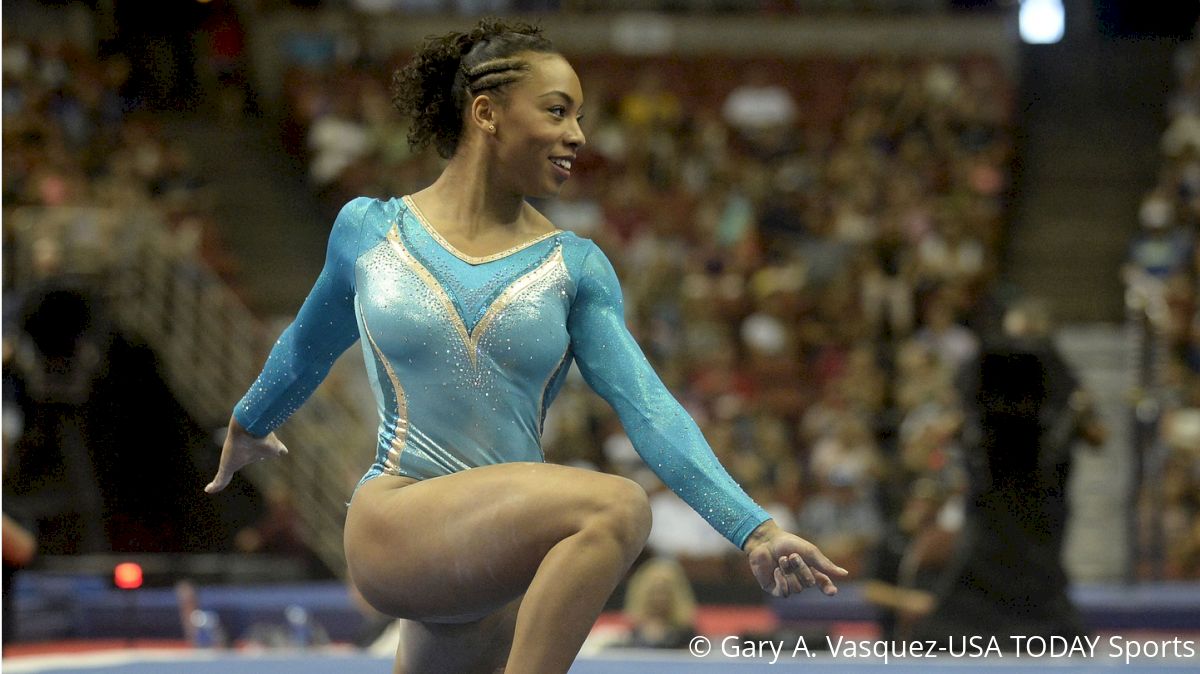 Margzetta Frazier took second all-around in her international debut on Thursday at the FIG World Cup Event in Birmingham, Great Britain.
Frazier started on vault, competing a double-twisting yurchenko, which scored a 14.166 and placed third. She nailed her difficult bar set—complete with a huge Ray to Pak combination—for an unmatched score of 14.2. She placed second on floor (13.433). Frazier's all-around score of 53.932 came in behind Russia's Angelina Melnikova, who took home gold medals for beam, floor, and all-around.


Congratulations to the medallists of the women's competition of the Birmingham World Cup! ??
? Angelina Melnikova ??
? Margzetta Frazier ??
? Alice Kinsella ??
? Recap (WAG & MAG): https://t.co/2bKAKmqe3i
? Results: https://t.co/2D0WOqSXgB
#GymnasticsWorldCup pic.twitter.com/g14LjofRw9

— FIG (@gymnastics) March 23, 2018
Going into floor, the top three women—Melnikova, Frazier, and Great Britain's Alice Kinsella—were in close contention. Though Melnikova was able to edge out the competition, Frazier served up in signature Marz style a high-flying, personality-packed routine that was nearly impossible not to dance along with.
Seriously, if you have a pulse and were within a five-mile radius of the arena, you were tapping your foot. Check out the routine below.
Video courtesy of USA Gymnastics
The pride Frazier felt in her performance was clear when she topped off her last tumble, a stuck double tuck, with a fist victory fist pump and a grin.
"It's probably the best night of my life," Frazier said in an interview with FIG.
Women's Results
| | | | | | | | |
| --- | --- | --- | --- | --- | --- | --- | --- |
| Rank | Athlete | Country | VT | UB | BB | FX | AA |
| 1 | Angelina MELNIKOVA | Russia | 14.433 | 13.866 | 12.666 | 13.500 | 54.465 |
| 2 | Margzetta FRAZIER | United States | 14.166 | 14.200 | 12.133 | 13.433 | 53.932 |
| 3 | Alice KINSELLA | Great Britain | 14.166 | 13.600 | 12.600 | 12.733 | 53.099 |
| 4 | Jade CHROBOK | Canada | 13.800 | 12.866 | 12.400 | 12.300 | 51.366 |
| 5 | Hitomi HATAKEDA | Japan | 13.633 | 13.900 | 10.600 | 13.000 | 51.133 |
| 6 | Vera VAN POL | Netherlands | 13.333 | 13.366 | 12.133 | 12.200 | 51.032 |
| 7 | LIU Jieyu | China | 13.366 | 11.800 | 11.166 | 12.500 | 48.832 |
| 8 | Sarah VOSS | Germany | 14.466 | 10.966 | 10.366 | 12.333 | 48.131 |
Men's Results
| | | | | | | | | | |
| --- | --- | --- | --- | --- | --- | --- | --- | --- | --- |
| Rank | Athlete | Country | FX | PH | SR | VT | PB | HB | AA |
| 1 | Shogo Nonomura | Japan | 14.066 | 13.233 | 14.566 | 14.333 | 15.066 | 13.533 | 84.797 |
| 2 | Nikita Nagornyy | Russia | 14.366 | 14.000 | 14.900 | 13.966 | 15.066 | 12.433 | 84.731 |
| 3 | James Hall | Great Britain | 14.233 | 13.600 | 14.033 | 13.966 | 13.866 | 13.833 | 83.531 |
| 4 | Dominick Cunningham | Great Britain | 14.066 | 13.033 | 13.933 | 14.833 | 13.966 | 12.700 | 82.531 |
| 5 | Sun Wei | China | 13.200 | 13.500 | 13.933 | 15.000 | 13.366 | 13.000 | 81.999 |
| 6 | Marcel Nguyen | Germany | 13.466 | 11.833 | 13.700 | 14.433 | 15.000 | 12.800 | 81.232 |
| 7 | Donothan Bailey | United States | 11.500 | 13.666 | 13.600 | 14.333 | 13.866 | 12.266 | 79.231 |
| 8 | Lucas Bitencourt | Brazil | 12.400 | 12.633 | 12.933 | 13.366 | 12.466 | 13.900 | 77.698 |