2018 NCAA Season
Conference Championships Are Here: 9 Routines You Need To See This Weekend
Conference Championships Are Here: 9 Routines You Need To See This Weekend
Conference championships kick off in the SEC, Pac-12, Big Ten, MRGC, EAGL, and MAC conference this weekend. You need to see these routines.
Mar 23, 2018
by Lauren Green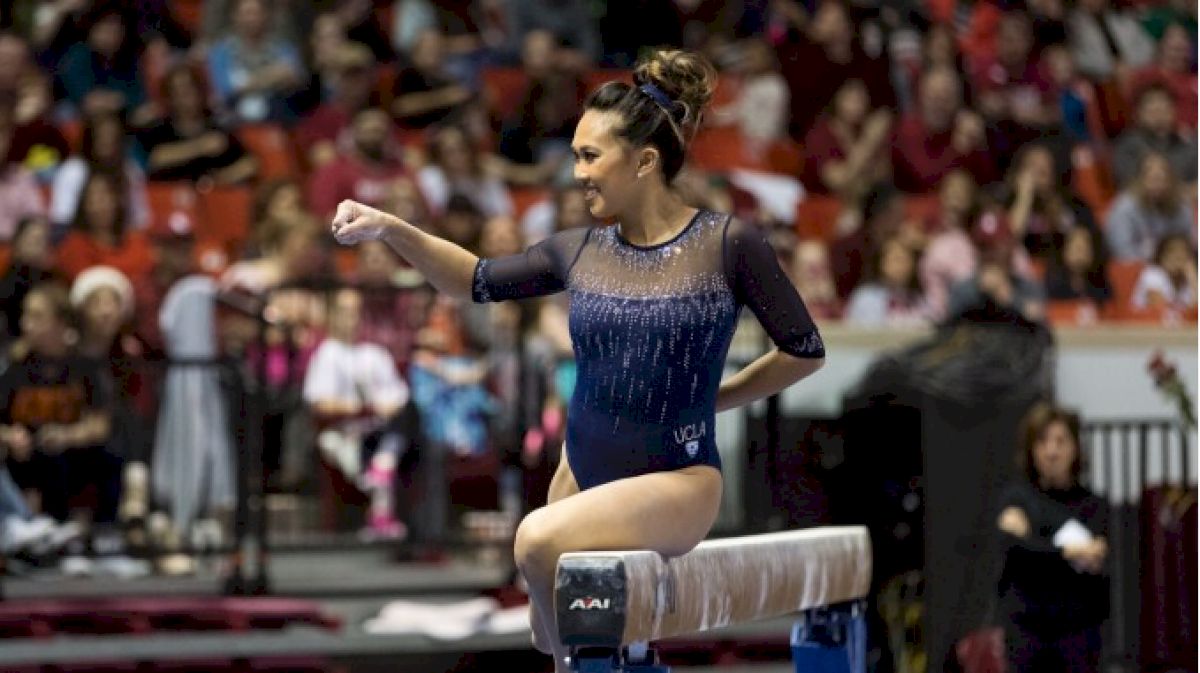 Postseason action kicks up this weekend with conference championships taking place across the board.
You probably already knew that you can catch the 2018 NCGA Championships and the 2018 Big 12 Championships—with previews here and here—live on FloGymnastics, but these other compelling meets are happening all over the country.
Don't miss these nine routines, as gymnasts and teams alike prepare for their conference championships, regionals, and beyond.
1. Sarah Shaffer | Arkansas | Floor
SEC, Afternoon | Arkansas, Georgia, Auburn, Missouri


It was another 9.925 on floor for @sarah_shaff! ??? pic.twitter.com/lSoRmQgkOG

— Razorback Gymnastics (@RazorbackGym) March 3, 2018
The Razorbacks compete in the afternoon session at the SEC championships against the likes of Georgia, Auburn, and Missouri. Freshman Sarah Shaffer earned SEC Freshman of the Week honors after scoring a 9.900 on beam and a 9.950 on floor in the final regular season meet. Shaffer has been dynamic on floor with eight routines hitting a 9.875 or better.
2. Sarah Finnegan | LSU | Uneven Bars
SEC, Afternoon | LSU, Florida, Alabama, Kentucky


PERFECTION IN THE PMAC!!!! Watch the 10 from @sfinnegan37!https://t.co/q2vBFd0Sgw pic.twitter.com/zJVHwBfXsP

— LSU Gymnastics (@LSUgym) March 17, 2018
The Tigers will be the top seed in the evening sessions at the SEC championships and take on Florida, Alabama, and Kentucky this weekend. Sarah Finnegan has been stellar across the board, but especially on uneven bars where she is the top-ranked gymnast in the country. She has scored a 9.900 or better 10 times this season including three 9.975s and last weekend's perfect 10 with an RQS of 9.960. Expect Finnegan to be in the running for individual titles on bars, beam, and in the all-around.
3. Cairo Leonard-Baker | Arizona State | Floor
Pac-12, Afternoon | Arizona State, Oregon State, Stanford, Arizona


ASU Gymnastics: Gym Devils hit their highest total since 2006 in their 196.800-194.850 victory of the Cal Bears. The meet was capped off by freshman Cairo Leonard-Baker's 9.925 on the floor exercise. Recap coming soon. pic.twitter.com/DawLcVb0zf

— Cronkite Sports (@CronkiteSports) January 28, 2018
The Gym Devils take on rival Arizona plus Oregon State and Stanford in the afternoon session at the Pac-12 championships. Arizona State finished the regular season ranked 17th in the country, and Leonard-Baker was a big part of the success for the Gym Devils. The freshman finished the regular season with an RQS on floor with a 9.905. She has posted a 9.900 or better seven times on floor and has been incredibly consistent on all four events, going 42 for 43 thus far.
4. Peng Peng Lee | UCLA | Balance Beam
Pac-12, Evening | UCLA, Utah, Washington, California


PERFECTION ???

?@PengPengCLee @uclagymnastics pic.twitter.com/rC2jot4bjO

— FloGymnastics (@FloGymnastics) January 29, 2018
The Bruins go into the Pac-12 championships as the top-seeded team and face Utah, Washington, and California. Lee has been phenomenal on balance beam with three perfect 10s, including back-to-back 10.0s in Week 4 and 5. She has scored a 9.900 or better all but two times. She currently ranks second on beam with an RQS of 9.975 and has been a reliable big score for UCLA.
5. Sienna Crouse | Nebraska | Vault
Big Ten, Afternoon | Nebraska, Penn State, Rutgers, Michigan State


WATCH: Sienna Crouse's 9.975 on vault from last weekend's win over Michigan.

SATURDAY we face Minnesota at 7 p.m. at the Devaney Center! Help us fill Devaney as we "Light Up the Night" and giveaway 1,000 glow necklaces ?

Doors open at 6 p.m., clear bag policy in effect. pic.twitter.com/c22571Sq7M

— Nebraska Women's Gym (@HuskersWGym) February 1, 2018
After struggling on balance beam at the Big Five meet last weekend, the Huskers find themselves in the afternoon session at the Big Ten championships taking on Penn State, Rutgers, and Michigan State. Crouse has been a strong vaulter for Nebraska all year with her Yurchenko one and a half. She has gone 9.850 or better eight of 11 times this season. Nebraska finished ranked at No. 8 on vault. Crouse is currently ranked sixth on vault with an RQS of 9.920. If she can stick her landing, look for Crouse to battle it out for the Big Ten title on vault.
6. Ivy Lu | Minnesota | Uneven Bars
Big Ten, Evening | Minnesota, Iowa, Michigan, Illinois, Maryland, Ohio State


9⃣.9⃣ or ⬆️ @ivylu98 scores 9.9s like it's her day job. Check out this 9.925 from Nebraska this past Saturday! #Gophers #LoveTheBattle pic.twitter.com/Qg0oNmUi4M

— Minnesota W Gym (@GopherWGym) February 6, 2018
Minnesota rallied to claim the final spot in the evening session last weekend at the Big Five meet. The Gophers had a difficult rotation on beam to start but closed the meet with a big rotation on bars. Lu won the uneven bars title with a big 9.950 in the anchor spot. She has scored a 9.900 or better in all but one meet this season. She posted back-to-back 9.975s earlier in the year and 9.950s in her last three meets.
7. Shani Remme | Boise State | Floor
MRGC Championship | Boise State, BYU, Utah State, Southern Utah


Check out @ShaniRemme with her first beam routine of the year, a team high 9.875 for the night! #BleedBlue #OwnIt pic.twitter.com/6qCkIIPMMB

— Boise State Gym (@BroncoSportsGYM) January 12, 2018
The Broncos finished the season atop the Mountain Rim Gymnastics Conference and are No. 15 in the country. Remme has been a solid and consistent competitor for Boise State with all but two routines going 9.800 or better. She has posted a 9.850 or better in nine of 10 balance beam routines this season, including four scores of 9.900 or better. Expect Remme to be in contention for the all-around title as well as titles on beam and bars.
8. Cami Drouin-Allaire | George Washington | Vault
EAGL Championship | George Washington, New Hampshire, NC State, North Carolina, Pittsburgh, Towson


This near-perfect vault from @GWGymnastics' Cami Drouin-Allaire tied for 1st last night at the GymQuarters Mardi Gras Invite. pic.twitter.com/hzSeS47k0V

— FloGymnastics (@FloGymnastics) February 17, 2018
The Colonels are solidly in the picture for the postseason, sitting at No. 19 heading into the EAGL championships. George Washington will be looking to fight its way into the top 18 to grab a seeded spot at regionals. Drouin-Allaire has been stellar on vault with a pretty Yurchenko full that has scored well all year long. She has 10 of 12 vaults that have scored a 9.875 or better. Look for Douin-Allaire on both vault and in the all-around.
Another storyline to watch will be how New Hampshire, Pittsburgh, and North Carolina perform as all three are on the bubble and will be hoping to lock up a spot at regionals.
9. Denelle Pedrick | Central Michigan | Vault
MAC Championship | Central Michigan, Ball State, Bowling Green, Eastern Michigan, Kent State, Northern Illinois, Western Michigan


#FireUpFriday pic.twitter.com/VUpQu3a7QP

— CMU Athletics (@CMUAthletics) January 12, 2018
Central Michigan enters the weekend currently holding the final spot that would qualify for regionals and will need a solid performance at the conference championships to ensure advancement. The Chippewas will be looking for Pedrick to put up solid scores on all four events, but especially on vault where she competes a double twisting Yurchenko. She was super solid at the start of the season with a 9.850 or better on six of seven vaults but has falls in two of the last three meets. Pedrick unveiled the Yurchenko double at regionals last year and qualified for the NCAA championships after earning the regional title.
Related links: