2018 Big 12 Championship
OU Eyes Another Title: Event-By-Event Analysis Of The Big 12 Championships
OU Eyes Another Title: Event-By-Event Analysis Of The Big 12 Championships
Will Oklahoma win their seventh consecutive Big 12 title? Or will a challenger dethrone the Sooners? Check out our event-by-event preview of the Big 12s.
Mar 20, 2018
by Justine Kelly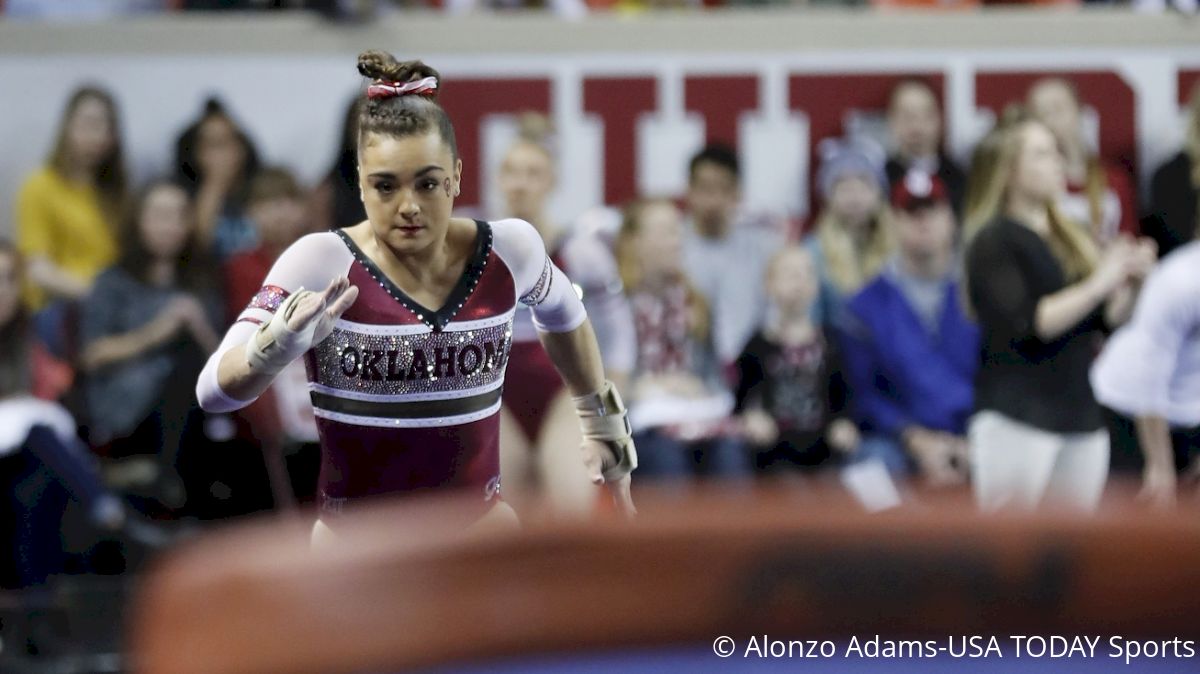 After weeks and weeks of hard work, routine tweaks, and stunning gymnastics, championship season is here, and FloGymnastics heads to Ames, Iowa, on Saturday to bring you LIVE coverage of the Big 12 Championships.
No. 1 Oklahoma aims to extend their dominance against No. 15 Denver, No. 26 Iowa State, and No. 29 West Virginia. Iowa State hosts the competition at the Hilton Coliseum.
Not surprisingly, the Sooners are the favorites to win the competition. Victory would give OU their seventh consecutive Big 12 championship, but the team title isn't the only prize up for grabs this weekend. Check out our analysis below for the top gymnasts and routines to watch this weekend.
All-Around | Maggie Nichols vs Maddie Karr
While some programs, like West Virginia, do not put many (if any) of their gymnasts up on all four events, other schools have several all-around athletes who contribute massively to the team score. Oklahoma is one of those teams who has several top all-around gymnasts, and Maggie Nichols is at the top of the pack. The regular season closed out with Nichols ranked No. 1 in the country with a 39.765 RQS. She is truly talented across all four events and has scored a perfect 10.0 on every apparatus this year with the exception of bars.
Nichols' teammate, Anastasia Webb, is another incredible all-around competitor for Oklahoma, despite being only a freshman. Webb is ranked No. 27 in the country with a 39.330 RQS. Beam tends to be one of her better events, and she scored a 10.0 on it earlier this season.
Finally, Oklahoma junior Nicole Lehrmann has also started competing in the all-around recently, with her high score being a 39.675. She is definitely capable of hitting 9.9+ across all four events and could be a contender for an all-around podium finish.
One of the gymnasts who has a real chance at challenging Nichols for the all-around title is Denver sophomore Maddie Karr, who is ranked not far behind at No. 6, with RQS 39.6. Like Nichols, Karr is capable of scoring into the 9.9s on all four events. Although she has no 10.0s this season, she has gone 9.975 on the Yurchenko 1.5 vault, and she has gone 9.95 on both bars and beam.
Iowa State has a couple key all-around gymnasts who will also be making a run for the title: senior Haylee Young and junior Meaghan Sievers. Young falls just behind Oklahoma's Webb in the AA rankings at No. 28, with an RQS of 39.310, while Sievers is ranked at No. 54.
Last year, the AA title was captured by Oklahoma senior Chayse Capps, with Karr placing second.
Vault | Battle Of The Yurchenko 1.5s
On vault, the gymnasts who will be in contention for the Big 12 vault title will likely be those competing 10.0 start value vaults. It's up in the air who will capture the title this year, with a number of athletes competing a Yurchenko 1.5. In all likelihood, it's going come down to who can stick it on competition day.
Oklahoma's Nichols and junior Brenna Dowell are two of the top contenders. They're tied for the No. 2 spot in the country at the moment, and both compete strong Yurchenko 1.5s that they often stick. Both gymnasts also have 10.0s to their name this season on vault. Check out the height on Dowell's 10.0 vault in this clip below:
ICYMI: The first of our three 10s tonight-this one from Brenna Dowell on vault! pic.twitter.com/PfD85h7sTc

— Oklahoma Women's Gym (@OU_WGymnastics) February 4, 2018
Oklahoma's vault lineup is stacked, with many of their vaulters performing 10.0 vaults. Senior AJ Jackson is another strong vaulter for the team who could be in contention for the title if she is able to control her landing. Her high this season is a 9.925 for her Yurchenko 1.5.
Another gymnast in the mix for the title is Denver's Karr, who also competes the Yurchenko 1.5. She'll be looking for a good landing on the vault this weekend to match her season high of 9.975 or maybe even hit that 10.0 mark.
West Virginia also has one of the best vaulters in the country in junior Kirah Koshinski. She has not scored below a 9.85 this season for her Yurchenko 1.5, and her season high is a 9.95.
For Iowa State, Sievers is one of their best vaulters, and she performs a unique vault with a handspring front, pike half off, also a 10.0 start value vault. Her vault has great form in the air, and the key for her will be controlling her landing to get a 9.9+ score.
Last year, the vault title was captured by Nichols, followed by Young and Koshinski, who tied Capps for the second spot.
Bars | Which Release Move Will Be The Winner?
The top contenders for the bars title all have very different routine compositions, which will make watching who comes out on top really exciting. Oklahoma's Nichols and Lehrmann are two of the favorites, ranked No. 6 and No. 7, respectively. Nichols has one of the most difficult routines the country right now, with tough release moves such as a Van Leeuwen and Church. Although she has not scored a 10.0 so far this year, she has come very close and scored 9.95 eight times. Check out one of her routines from earlier this season:
.@magsgotswag12 anchors with a season high 9.950! pic.twitter.com/nIvUuh4556

— Oklahoma Women's Gym (@OU_WGymnastics) February 24, 2018
Lehrmann is another strong competitor for Oklahoma. She brings incredible form and precision to her performance, and she regularly sticks her landings to minimize deductions. Her major release is a high flying Jaeger. Teammate Dowell is not far behind either in the No. 20 ranking. She performs a huge Ray release and has a solid double layout dismount.
Denver's Karr is a contender as well. She's tied with Dowell for that No. 20 spot right now, and has a stellar combo in her routine of a giant full to immediate Gienger to shoot over. Check out her solid routine from the Elevate the Stage meet earlier this season:
Karr's teammate Emily Glynn could also challenge for the title. She's another gymnast who competes a Gienger and she's got incredible form on bars, right through to her full twisting double back dismount that is always super high above the bar, allowing her to spot and stick the landing.
Last year, the bars title was a three-way tie between Nichols, Dowell, and Sooner senior McKenzie Wofford.
Beam | Can The Pioneers Challenge The Sooners?
Once again, Nichols has a strong chance of capturing the beam title. She's scored a whopping three perfect 10.0s on the event this season, and nothing below a 9.875. It's no surprise that she is ranked No. 2 in the country at the moment. Nichols has incredible form in her routine, and she has proven to be a calm and solid anchor for the team.
Two other strong Sooner beamers are Webb and sophomore Bre Showers. After battling an injury last season that kept her out of the lineup, Showers has proven this year to be a reliable competitor on beam. She's ranked No. 14 in the country and has a season high of 9.975, so she's definitely capable of challenging for the title. Similarly, Webb has been a tremendous addition to the beam lineup this year. Along with Nichols, she has also attained a perfect 10.0 on the event this season. Check out her flawless routine below:
We think this will be the first of many 10s in Anastasia's career! pic.twitter.com/jsLd5YvA6n

— Oklahoma Women's Gym (@OU_WGymnastics) February 5, 2018
Denver's Karr is the one who might be able to win the beam title over one of the Sooners. She's tied with Showers for that No. 14 ranking at the moment, and she's scored a 9.95 twice so far this season. Her routine includes a unique series of aerial cartwheel to back handspring, and she has some difficult combos, such as a hitch kitch to side somi, and beat jump to full twisting split jump.
Karr's teammate Kaitlyn Schou is also a contender. She has gone 9.9 or above six times this season, with her high being a 9.95. Check out Schou's gorgeous 9.9 routine below from Elevate the Stage:

Last year, the beam title was a tie between Sooners Capps and Natalie Brown, followed by Denver's Julia Ross.
Floor | Get Ready For Big Tumbling
The floor title is really up for grabs this year—there are so many gymnasts in this group who are capable of taking it home, and lots of big tumbling to look forward to. In terms of rankings, Nichols is up at the top for this group in the No. 3 spot, and she just recently scored a perfect 10.0 in a meet against TWU for their last regular-season competition. Nichols is capable of competing a piked full-in for her opening pass, and she'll likely put this in during all of the postseason.
Dowell is another Oklahoma competitor who brings the big tumbling and is capable of putting up huge numbers. She competes a tucked double front as her opening pass, immediately connected into a stag jump. She has hit her season high of 9.95 twice this year, including the Sooners' last regular season meet just this past weekend. Another big tumbler is senior Jackson, who can throw an open tucked full-in as her first pass. Webb is also excellent on floor, with precise movement and a strong front double full as her first pass. In general, Oklahoma will be fun to watch on this event, not just due to their huge tumbling, but also due to their unique choreography, which is put together by head coach KJ Kindler.
Denver has a few gymnasts who could challenge for the title, including Karr and senior Nikole Addison. Although Karr doesn't have a big E tumbling pass like some of the other gymnasts, she has excellent control of her tumbling and tends to score highly as a result. Addison, meanwhile, does have big tumbling, including a double layout as her first pass. Check out her awesome routine below from the Denver Winterfest Classic: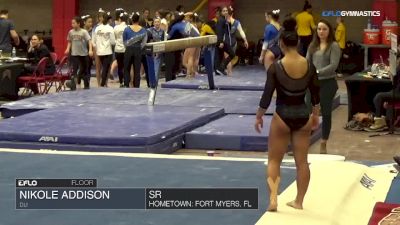 Other Pioneer gymnasts who could have a shot at the title include freshmen Lynnzee Brown and Mia Sundstrom, both of whom have gone 9.95 this season.
From West Virginia, the gymnast to pay attention to on floor is Koshinski, who also opens with a big double layout as her first pass. Koshinski is capable of going 9.95, which she just did in a meet against GWU and Pittsburgh. Check out her routine from the Denver Winterfest Classic below: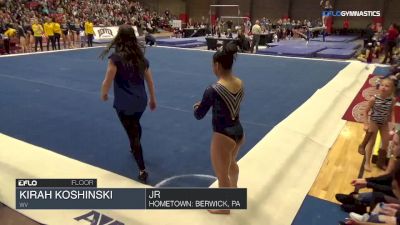 Last year, Jackson took the floor title, followed by a tie in second place between Capps and WVU's Zaakira Muhammad, who is another contender for the title this year.
Related:
Big 12 Championship Preview: Oklahoma Sooners Aiming to Defend Titles