2018 NCAA Season
NCAA Week 6: Five Stellar Gymnasts Competing This Weekend
NCAA Week 6: Five Stellar Gymnasts Competing This Weekend
Week six in NCAA gymnastics is jam-packed with action, and you'll find some of the best routines from these five gymnasts.
Feb 8, 2018
by Lauren Green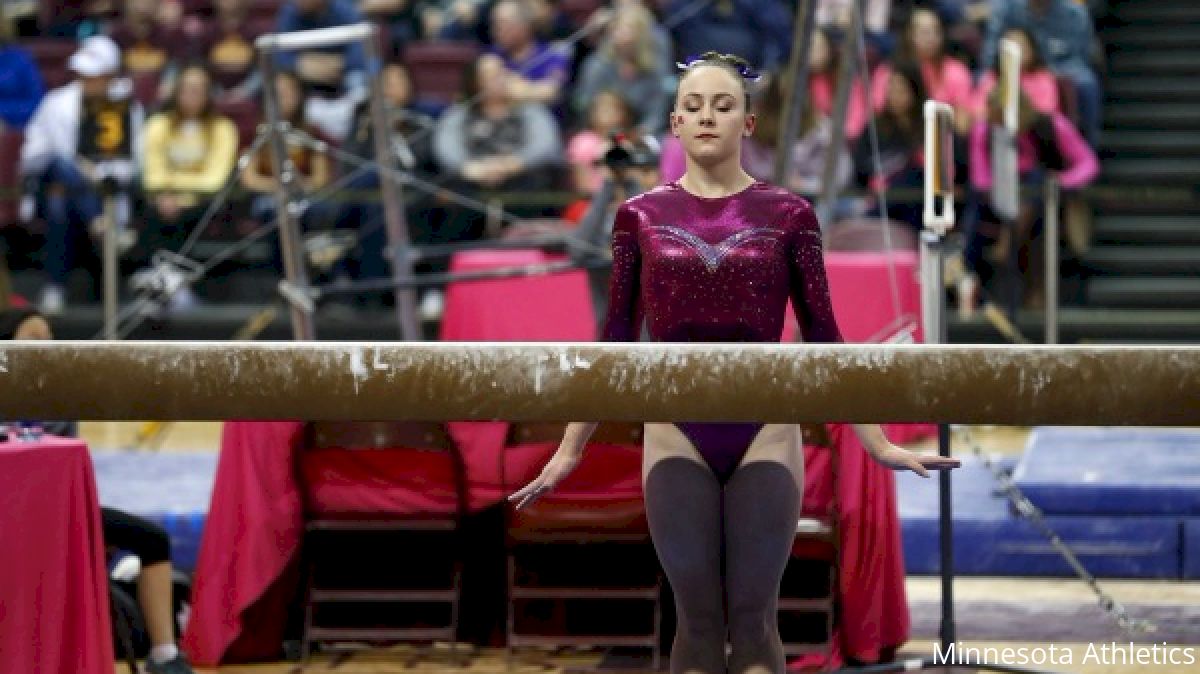 The sixth week of NCAA competition kicks off this Friday night as youthful Kentucky takes on a Georgia team that is getting stronger each week. There's also a Big Ten showdown slated tomorrow, as Minnesota and Illinois face off. Then conference foes Nebraska and Iowa meet in a Saturday dual contest, while Denver plays host to West Virginia and George Washington at the 2018 Winterfest Classic, which you can watch right here on FloGymnastics.
Stanford and Arizona will battle it out in Pac-12 action on Sunday.
1. Alex Hyland | Kentucky | Beam
Friday, Feb. 9 at 7 PM ET vs Georgia
The Fresh Princess of the Beam did it again last Friday. pic.twitter.com/cmGOkfneKd

— Kentucky Gymnastics (@UKGymnastics) January 24, 2018
Hyland is a gorgeous beam worker for the Wildcats who has been a solid, consistent presence in the lineup. The strongest parts of Hyland's exercise comes in the way she connects skills — a cat jump into a front aerial-back handspring-layout stepout series that she makes look so easy. The junior was the SEC co-champion on balance beam in 2017. The Wildcats are ranked sixth on balance beam.
2. Lexy Ramler | Minnesota | Beam
Friday, Feb. 9 at 8 PM ET vs Illinois [LIVE ON FLOGYMNASTICS]
A 9.900 on beam for @LexyRamler gives her a FOURTH straight all-around title! She finishes with a 39.475. pic.twitter.com/IZWvlyMkyG

— Minnesota W Gym (@GopherWGym) February 4, 2018
Ramler has been stellar on beam in her freshman season and has yet to score below a 9.900 on the event. She is crisp beam worker and works through each skill quickly, but not rushing through her routine. Ramler has already picked up three Big Ten Freshman of the Week honors through four meets this season. The Gophers are currently ranked 16th in the country on balance beam with a season-high 49.100 so far.
3. Sienna Crouse | Nebraska | Vault
Saturday, Feb. 10 at 5 PM ET vs Iowa [LIVE ON FLOGYMNASTICS]
WATCH: Sienna Crouse's 9.975 on vault from last weekend's win over Michigan.

SATURDAY we face Minnesota at 7 p.m. at the Devaney Center! Help us fill Devaney as we "Light Up the Night" and giveaway 1,000 glow necklaces ?

Doors open at 6 p.m., clear bag policy in effect. pic.twitter.com/c22571Sq7M

— Nebraska Women's Gym (@HuskersWGym) February 1, 2018
Crouse dazzled with this vault against Michigan in week three action when she picked up a near-perfect 9.975. Crouse has excellent form in the air on this vault, and when she hits the landing she tends to bring in a great number. The junior has a pair of scores that have gone 9.950 or better this season. She hasn't scored below a 9.825 yet. Vault is the Huskers' best event — they're ranked seventh — so expect another great performance this weekend.
4. Lynnzee Brown | Denver | Floor Exercise
Saturday, Feb. 10 at 8 PM ET vs George Washington and West Virginia [LIVE ON FLOGYMNASTICS]
Lynnzee Brown rocked this floor routine Saturday for a new career-high 9.950! #DU1NATION #NCAAGym pic.twitter.com/ItIclvjEPz

— Denver Gymnastics (@DU_Gymnastics) February 5, 2018
Brown has a huge, gorgeous double layout to open her routine, which is full of fun and energy. The freshman has great form throughout her tumbling skills, particularly on her middle combination pass where he legs are glued together. She combines great power with excellent execution. Brown has scored a 9.900 or better three times this season and hasn't dropped below a 9.800 on floor.
5. Rachael Flam | Stanford | Vault
Sunday, Feb. 11 at 2 PM ET vs Arizona
SWG freshman, @rachaelflam scores a season-high 9.85 on vault at Oregon State! #GoStanford pic.twitter.com/Lbg8DOuCYu

— Stanford Gymnastics (@StanfordWGym) February 1, 2018
Flam has struggled just a little bit with her Omelianchik this season, but was stellar on this vault at Oregon State. In a sea of Yurchenko fulls and a slightly increasing number of Yurchenko one and a halfs, Flam has a more unique vault. It also starts from a 10.0, which will help the Cardinal boost its vault score. Flam has great form throughout the vault and she has scored 9.850 or better in each of her last two meets.
Don't forget that you can watch many of these meets live on FloGymnastics this weekend!