2018 NCAA Season
NCAA Recap: Bruins And Sooners Rise Together, Utah No. 2 In Nation
NCAA Recap: Bruins And Sooners Rise Together, Utah No. 2 In Nation
The Oklahoma Sooners and UCLA Bruins killed it on the competition floor, but also shared a special moment. What else happened in week five?
Feb 5, 2018
by Lauren Green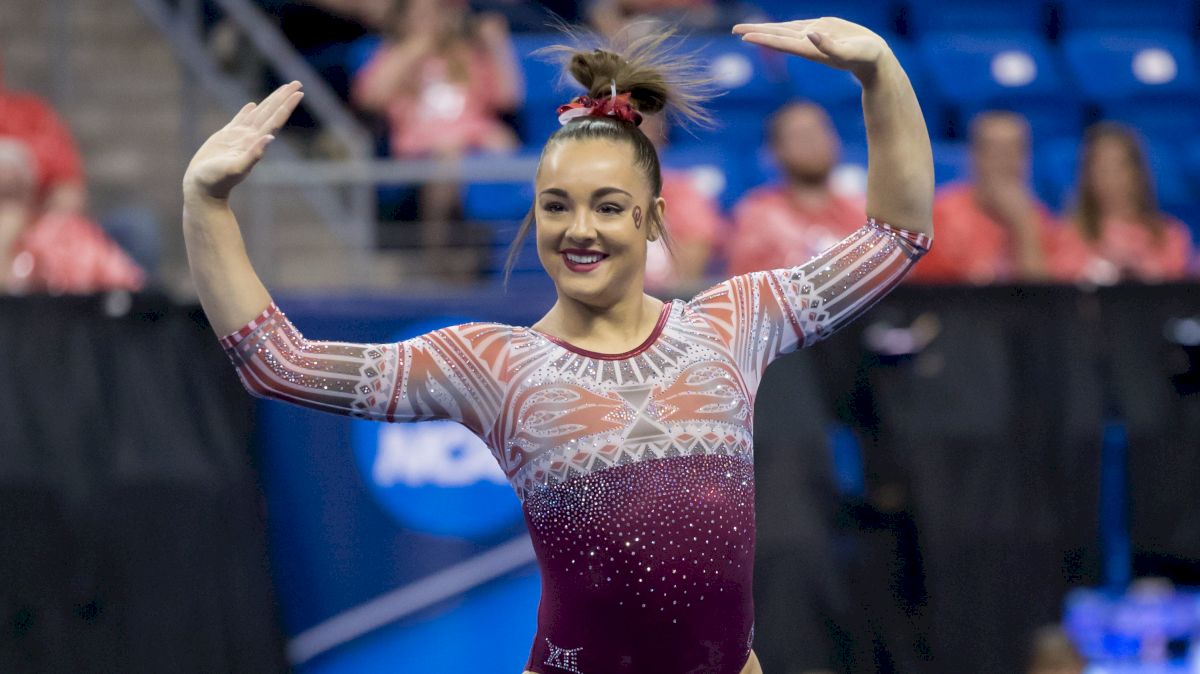 Together We Rise
Oklahoma took on UCLA at Pauley Pavilion Sunday in a meet that did not disappoint. The Sooners came out on top 198.050 to 197.950 with a second straight week scoring over the 198 mark. But perhaps the most moving part of the afternoon came after the final floor routine finished and the last score was flashed.
#TogetherWeRise

Following today's meet, @UCLAGymnastics and @OU_WGymnastics joined forces to celebrate the strength of all the women and their supporters in elite gymnastics. #Pac12Gym pic.twitter.com/JbJD3NLSz4

— Pac-12 Network (@Pac12Network) February 4, 2018
Both teams donned shirts with "Together We Rise" splashed across them. UCLA head coach Valorie Kondos Field and Oklahoma head coach K.J. Kindler honored the brave survivors in both programs' gymnastic families in Jamie Dantzscher, Jeanette Antolin, Mattie Larson, Maggie Nichols, and Jordyn Wieber.
Thank you to all of the courageous survivors who have spoken out. @UCLAGymnastics & @OU_WGymnastics are proud to call these five exceptional women members of our Bruin & Sooner families. pic.twitter.com/wAMMdEaoxU

— UCLA Gymnastics (@uclagymnastics) February 4, 2018
10. 10. 10!
On the competition floor, both UCLA and Oklahoma brought some great gymnastics and were rewarded for it. Sooners junior Brenna Dowell nailed her Yurchenko one and a half and earned her first career 10.0.
ICYMI: The first of our three 10s tonight-this one from Brenna Dowell on vault! pic.twitter.com/PfD85h7sTc

— Oklahoma Women's Gym (@OU_WGymnastics) February 4, 2018
Dowell has been nailing her landings all season and is currently ranked second in the country behind teammate Maggie Nichols.
Christine Peng Peng Lee earned her third career 10.0 on balance beam and her second straight 10.0 on the event this season. Lee is currently the top-ranked gymnast on beam with a 9.940 average on the event.
?❗️?❗️?❗️@UCLAGymnastics scored a trio of perfect scores in Sunday's matchup with top-ranked Oklahoma. #Pac12Gym pic.twitter.com/q1SWmw9b4f

— Pac-12 Network (@Pac12Network) February 4, 2018
The fourth rotation was where things got a little crazy.
After 9.875s from Gracie Kramer, Nia Dennis, and Kyla Ross, Felicia Hano nailed her floor routine in the fourth spot. Hano has a huge double layout and finished with a clean double pike to pull in her first career 10.0.
The Bruins' @fish_hano posts another PERFECT 10 for the Bruins! #GoBruins pic.twitter.com/9HMl7ouqD0

— UCLA Gymnastics (@uclagymnastics) February 4, 2018
Hano is tied for eighth in the country on floor exercise this season.
As Hano's score came up, Sooner freshman Anastasia Webb was on balance beam in the fifth spot for Oklahoma. Webb was in a must-hit position after a fall earlier in the lineup. The freshman had been just a little bit off throughout the meet with a fall on vault and a step out of bounds on floor. But she rebounded well on her final event and hit a perfect beam routine.
We think this will be the first of many 10s in Anastasia's career! pic.twitter.com/jsLd5YvA6n

— Oklahoma Women's Gym (@OU_WGymnastics) February 5, 2018
Webb is currently ranked ninth in the country on beam.
Katelyn Ohashi added her name to the list of 10.0s with a stellar floor performance. Ohashi has a great double layout and her middle combination pass is a crowd favorite. She changed up her final pass to a front handspring-front full-front half to a switch split straight to the ground. It wouldn't be surprising to see the junior opt to keep that as her final pass over the sometimes-short double pike.
How about a second straight 10 on floor, this time from @katelyn_ohashi! #GoBruins pic.twitter.com/8YkV5WESBt

— UCLA Gymnastics (@uclagymnastics) February 4, 2018
Maggie Nichols was the final competitor of the afternoon for the Sooners and, like Webb, was up on beam while UCLA fans were going crazy for Ohashi's 10.0. After a slew of 9.975s over the last two meets — Nichols had 9.975s on both floor and vault against Florida and UCLA — she finally got her first 10.0 of the season, this time on balance beam.
Not one...not two...but ? perfect 10s were scored tonight! Check out Maggie's eighth of her career to close out the meet! pic.twitter.com/SQR3ITeLEP

— Oklahoma Women's Gym (@OU_WGymnastics) February 5, 2018
Merrell-Giles Leads Utes To Season-Best Total
The Utes scored a season-best 197.700 against Washington with top team totals coming on both vault and floor exercise. Utah was led by MaKenna Merrell-Giles, who scored her first career perfect 10 on a gorgeous Yurchenko one and a half.
PER. FEC. TION.

MaKenna Merrell-Giles earns a 1⃣0⃣.0⃣0⃣ on the vault to start this meet for @UtahGymnastics! #Pac12Gym

Watch: https://t.co/ZhZuI5ezsa pic.twitter.com/s6BcHF43C3

— Pac-12 Network (@Pac12Network) February 3, 2018
Merrell-Giles also picked up a 9.975 on floor exercise to edge teammate MyKayla Skinner for the all-around title with a 39.675 total. The Utes did not score below a 9.850 on floor and posted four scores of 9.900 or better with Kari Lee and Sydney Soloski both picking up 9.900s, Skinner with a 9.950, and Merrell-Giles with her near-perfect score.
Utah is up to No. 2 in the rankings this week.
Season-Ending Injuries
Florida sophomore Sierra Alexander, who has appeared in the vault lineup through the first four meets for the Gators, is out for the rest of the season with an Achilles tear. Michigan junior Olivia Karas also suffered what appeared to be an Achilles injury in the Wolverines' win against Maryland.
Nearly Perfect In The PMAC
For the second straight week, senior Myia Hambrick led the Tigers on floor exercise with a 9.975. Junior Sarah Finnegan posted her second 9.975 of the season on uneven bars.
Sarah. Finnegan. Stone. Cold.@sfinnegan37 anchors bars with a 9.975 to tie her career high!!! https://t.co/98zk2297Km pic.twitter.com/z4zdg4pHae

— LSU Gymnastics (@LSUgym) February 3, 2018
Both Finnegan and Hambrick have been stellar performers for LSU this season. Hambrick is the top floor worker in the country and has not yet scored below a 9.950.
The Tigers topped Kentucky 197.225 to 196.700 despite an uncharacteristic uneven bars rotation in which the Tigers were forced to count a low score.
Gym Dogs Break 197
Georgia put together its most complete meet of the season with a solid rotation on vault and floor against Missouri to win 197.000 to 195.850. The Gym Dogs put up their best scores of the season on both bars and beam. Freshman Marissa Oakley led the way on bars with a 9.900 and Rachel Dickson added a 9.900 of her own to pace Georgia. Dickson also led the way for Georgia on balance beam with a 9.925.
Freshman Marissa Oakley posts a new career high on bars with a 9.9! pic.twitter.com/TBLWyilk3r

— Georgia Gymnastics (@UGAGymnastics) February 3, 2018
Big Ten Battle
Nebraska edged Minnesota in Big Ten action, 196.850 to 196.375. Megan Schweihofer led the Huskers with a 39.450 all-around total, including a 9.950 to pace Nebraska on floor. Sienna Crouse led the squad on vault with a 9.875 and earned a 9.925 on floor exercise.
Congrats to @schweihofer15 for a new career high of 9.950 on floor and a new career high in all-around of 39.450‼️? pic.twitter.com/TgKmezkXnJ

— Nebraska Women's Gym (@HuskersWGym) February 4, 2018
Minnesota freshman Lexy Ramler had another stellar meet for the Gophers, winning the all-around with a 39.475. Ramler has been one of the top beam workers in the country this season with a 9.919 average. She has not scored below a 9.900 all season and added another 9.9 to her tally this weekend.
A 9.900 on beam for @LexyRamler gives her a FOURTH straight all-around title! She finishes with a 39.475. pic.twitter.com/IZWvlyMkyG

— Minnesota W Gym (@GopherWGym) February 4, 2018
Ona Loper and Ciara Gardner scored a 9.925 and 9.900 respectively to lead Minnesota to a 49.325 event total and a season-best 196.375 total.