2018 NCAA Season
Recapping The Action: Price Shines For Stanford, Kocian Returns
Recapping The Action: Price Shines For Stanford, Kocian Returns
Catch up on week three action, in which Oklahoma made its season debut, Price excelled for Stanford, and Kocian returned for UCLA.
Jan 22, 2018
by Lauren Green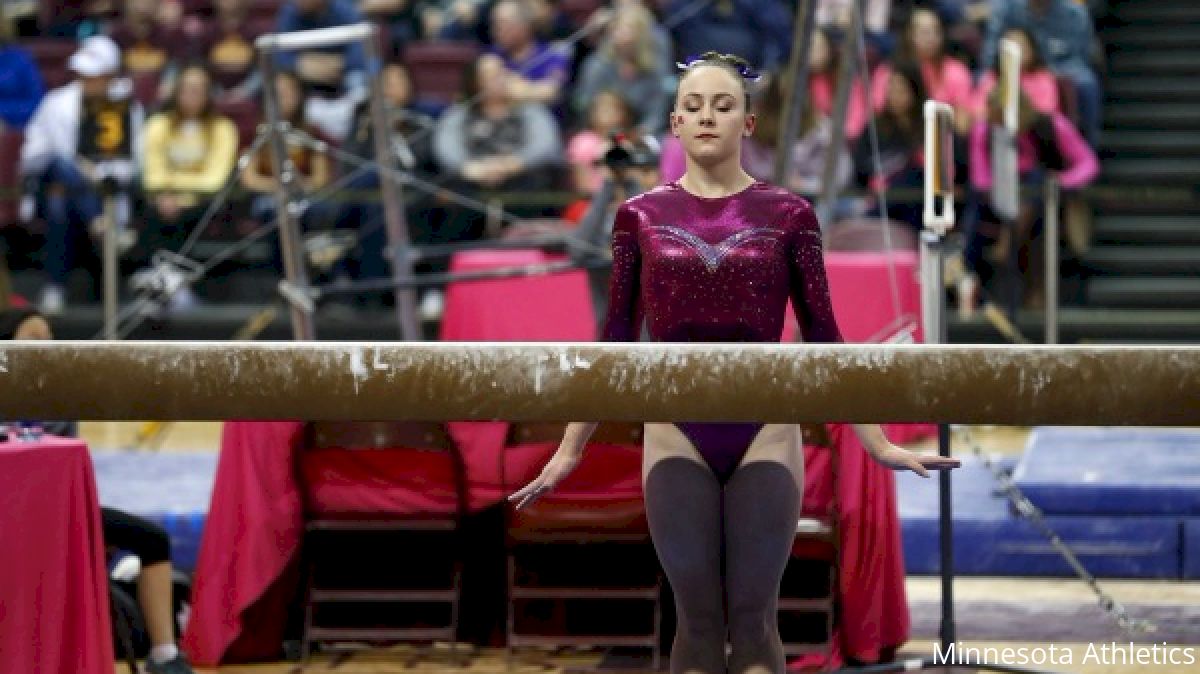 Catch up on all of the week three action as the Oklahoma Sooners took on Georgia and then Iowa State and Texas Women's University in two meets. LSU and Alabama battled in SEC action, while UCLA welcomed back Madison Kocian in a road win against Arizona. Elizabeth Price posted another excellent all-around meet and Minnesota freshman Lexy Ramler has been stellar on beam for the Gophers.
Oklahoma Takes Over The Top Spot
The Sooners competed twice in week three — a season-opening win on the road against Georgia and a home opener against Iowa State and Texas Women's University. Both scores for the defending national champions were over 197.500.
Oklahoma debuted five vaults starting out of 10.0 at the home opener — an Omelianchik from freshman Anastasia Webb and Yurchenko one and a halfs from Jade Degouveia, Brenna Dowell, AJ Jackson, and Maggie Nichols. For the second straight meet, Dowell stuck her vault. Nichols vaulted for the first time this season.
Brenna Dowell huge stuck vault. 9.95 pic.twitter.com/962OkpEdyC

— MohiniMeansBadass (@goBhardorgohome) January 15, 2018
LSU Floats To Top Uneven Bars Score
The Tigers put up the top score in the country against SEC rival Alabama with a 49.625. LSU was led by Sarah Finnegan's near-perfect 9.975. Myia Hambrick and Kennedi Edney posted matching 9.925s and Sami Durante, Lexi Priessman, and Ruby Harrold all posted 9.900s. The Tigers' stick crown was making some frequent appearances throughout LSU's second rotation.
Bruh.... @sfinnegan37 almost blew the roof of this place. She anchors bars with a 9.975! HOLY COW https://t.co/IHzHpkBqa3 pic.twitter.com/lEhDNcxrrW

— LSU Gymnastics (@LSUgym) January 20, 2018
Kocian's Return For UCLA
Madison Kocian made her return for UCLA this weekend as the Bruins defeated Arizona 197.300 to 195.750. The two-time Olympic medalist had shoulder surgery to repair a torn labrum in August and it was unclear whether the sophomore would make an appearance for the Bruins this season. Kocian scored just a 9.225 after a fall, but could figure into the Bruins' plans the rest of the season.
Felicia Hano goes 9.825, and despite a fall, we are so glad to have Madison Kocian back in competition!

— UCLA Gymnastics (@uclagymnastics) January 21, 2018
The 197.300 was the top score for UCLA this season. Katelyn Ohashi and Felicia Hano each competed in the all-around with Hano making her collegiate debut on uneven bars despite a fall, and Ohashi vaulting for the first time since UCLA traveled to Arizona in 2016.
Price Posts Top All-Around Score
Stanford senior Elizabeth Price posted the top all-around total in the country this weekend with a massive 39.775. For the second week in a row, Price posted a perfect 9.95 for her Yurchenko full. She posted 9.950s on both uneven bars and balance beam and a 9.925 on floor exercise at Arizona State.
Price has had a phenomenal start to her final collegiate season for the Cardinal, competing in the all-around for all three meets. She has not scored below a 9.900 on bars or floor all season.
.@StanfordWGym's Elizabeth Price had a milestone moment, scoring a career-high 39.775 in the all around today. She has three perfect scores this year, including THIS perfect 9.95 (9.95 SV) on vault! pic.twitter.com/JVGcEeG0Q8

— Pac-12 Network (@Pac12Network) January 21, 2018
Gophers Take On Spartans
Minnesota edged Michigan State on Saturday afternoon 196.075 to 194.925. The Gophers were led by freshman standout Lexy Ramler in the all-around with a 39.450. Ramler leads the country on balance beam with a 9.938 average across two meets. She scored a season-best 9.950 against the Spartans.
Ona Loper earned event titles on vault and floor with a pair of 9.900s while Ivy Lu grabbed a 9.900 to win the uneven bars title. Hailee Westney and Michelina Lupinetti led the Spartans on beam with 9.825s.
Nervous for the @Vikings game tonight? Distract yourself for a few minutes with highlights from our B1G victory over Michigan State last night! #Gophers #SkiUMah #LoveTheBattle pic.twitter.com/e76gVfSO7R

— Minnesota W Gym (@GopherWGym) January 21, 2018