2018 NCAA Season
Highlights From 2017-2018 NCAA Preseason Previews
Highlights From 2017-2018 NCAA Preseason Previews
Missed any of the action? We've recapped the highs from each of the previews to give you a flavor of what to look forward to in this upcoming season.
Dec 15, 2017
by Justine Kelly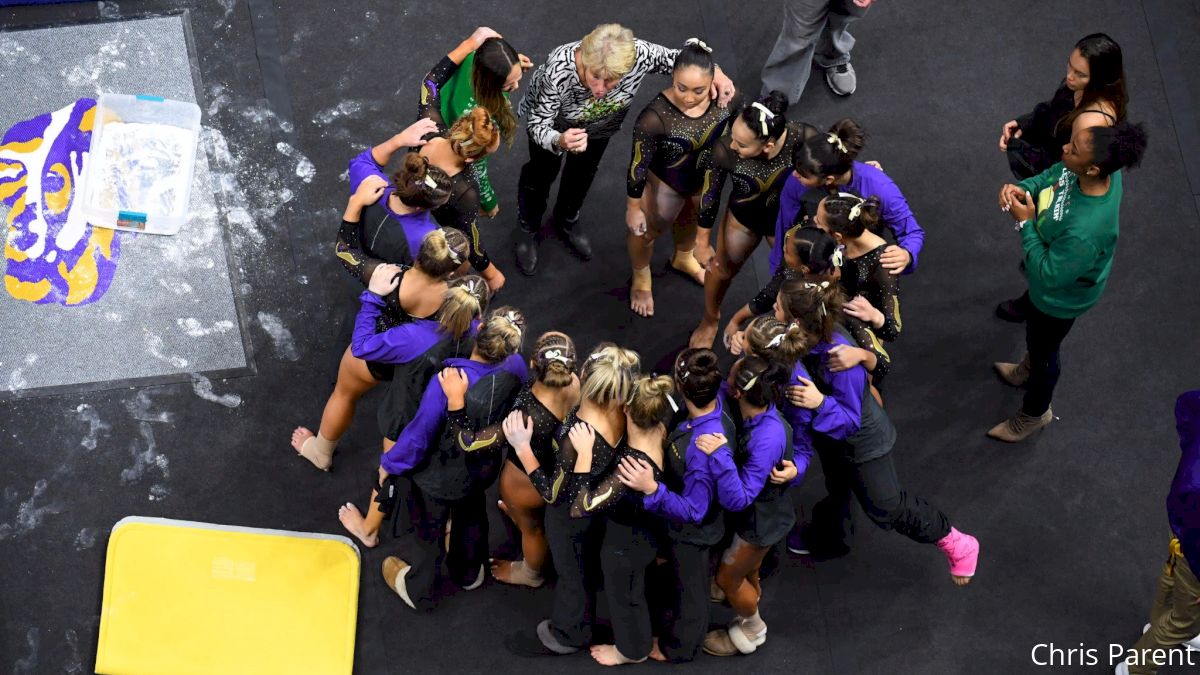 The 2018 NCAA gymnastics season kicks off next month, but fans were treated to a sneak peek at what the top programs are working on in various preview meets this past weekend.
Alabama had their Crimson & White Preview on Friday. UCLA showed off their stuff at the Meet the Bruins event on Saturday, which ran at the same time as Georgia's First Look, and LSU held their annual Gym 101 showcase on Monday, to name just a few.
Missed some of the action? We've recapped the highs from each of these previews to give you a flavor of what to look forward to in this upcoming season.
Lineup-Ready Freshmen
Some of the most anticipated gymnasts to watch with a new season are the freshmen — new gymnasts to the team who are just getting their first taste of competing in a college arena with these preview meets. There are tons of talented freshmen entering the collegiate scene this year, a combination of former elites and top J.O. gymnasts.
One of the freshmen that really stood out from these previews was Nia Dennis from UCLA. Dennis was a top elite and competed in the all-around at the Meet the Bruins competition, receiving the highest AA score. Head coach Valorie Kondos Field has already made comments that she intends for Dennis to lead off on beam, a crucial spot in the lineup. Check out a few clips of Dennis in the highlight reel below.
Video via UCLA Athletics
Alabama also has a star-studded freshman class this year, including former elite Bailie Key as well as Lexi Graber. Both gymnasts did especially well on beam at the Crimson & White preview meet. The freshmen also showcased their bar routines, and Graber competed on floor as well.
LSU has a large freshman class this year, including former elite Christina Desiderio, who competed on beam and floor. One of the highlights from Gym 101 was former Texas Dreams gymnast Reagan Campbell, who competed a super solid beam routine.
Our Returning Favorites
In addition to watching how the newbies do in a college setting for the first time, it's just as fun to see our returning favorites back on the competition floor. From UCLA, there were a few standout performers, including Kyla Ross, who debuted a new full twisting double layout dismount on bars, and Katelyn Ohashi, who has a sassy new floor routine.
From Georgia, Sydney Snead and Sabrina Vega proved they will be high scorers for the team this year. Assuming Snead can keep her back issues under control, Georgia will likely want to put her in an all-around spot. Her performances on vault, bars, and beam in particular were excellent, and she put up the highest scores for the team on vault and bars.
LSU's returning upperclassmen will be key contributors for the team this year, in particular senior Myia Hambrick and junior Sarah Finnegan, both of whom showcased beautiful routines at Gym 101 where they both competed in the all-around. Although Hambrick had some issues on vault, she was incredible on the other three events, especially on beam. Senior Erin Macadaeg, who typically only competes beam, showed she is definitely one to consider for other lineups, particularly on vault where she nailed a Yurchenko full.
In addition to Key and Graber's performances on beam for Alabama, the team also had a few upperclassmen who proved themselves worthy of consideration for the beam lineup. Nickie Guerrero, who has always been solid on beam, showed that nothing has changed this year at the Crimson & White Preview. Peyton Ernst, who is competing for the first time for Alabama, also showcased a beautiful and composed routine.
Our Favorite Floor Routines
One of the best things about a new season is new floor routines. These previews showcased so many fun routines, and though we don't have video of all of them, we thought it's worth mentioning routines from LSU's Finnegan, UCLA's JaNay Honest, and Alabama's Wynter Childers, to look forward to next season. You can see Childers routine in the clip below; she was the second to compete floor.
Video via Rick Davis
Check out the complete 2018 NCAA Meet schedule HERE and get pumped for season!