Two and a half years ago, 2008 Olympian Samantha Peszek dismounted the four-inch balance beam at the 2015 NCAA Women's Gymnastics Championships in Fort Worth, Texas, and won the event title to end her competitive career.
Now the 25-year-old is using that apparatus to help the athletes of the sport in which she's competed her entire life.
After coming up with the idea of a balance beam camp in the summer of 2016, Peszek held the inaugural Beam Queen Bootcamp one year later in Fishers, Indiana, at DeVeau's School of Gymnastics, the gym at which Peszek trained as a child.
Peszek has been coaching at gymnastics camps since she was 17 and usually coaches beam, but "would get frustrated because there was never enough time to truly help gymnasts on this event," she said. "There were so many different types of obstacles girls had on balance beam from fears to consistency to lacking confidence during meets."
The 2008 Olympic silver medalist empathized with the gymnasts and wanted to create a camp where she could help gymnasts with their beam struggles that couldn't be addressed in a normal gymnastics camp or typical practice.
I personally had a lot of fears on beam, and I used to hope that I would wake up and beam would not be an event in gymnastics. Once I got over my fears, beam became my best event and my favorite event.
"It also gave me confidence on all the other events," Peszek said. "So that's what I'm hoping to pass on to the Beam Queens that come to my bootcamp. To be honest, it's everything that I wish I knew as a young gymnast."
Beam Queen Bootcamp is a two-day camp that travels to interested gyms to help gymnasts with beam. The camp's rotations can differ depending on the available staff. The first camp included rotations for beam skills, beam dance, choreography, upgrades and drills, games, and confidence training.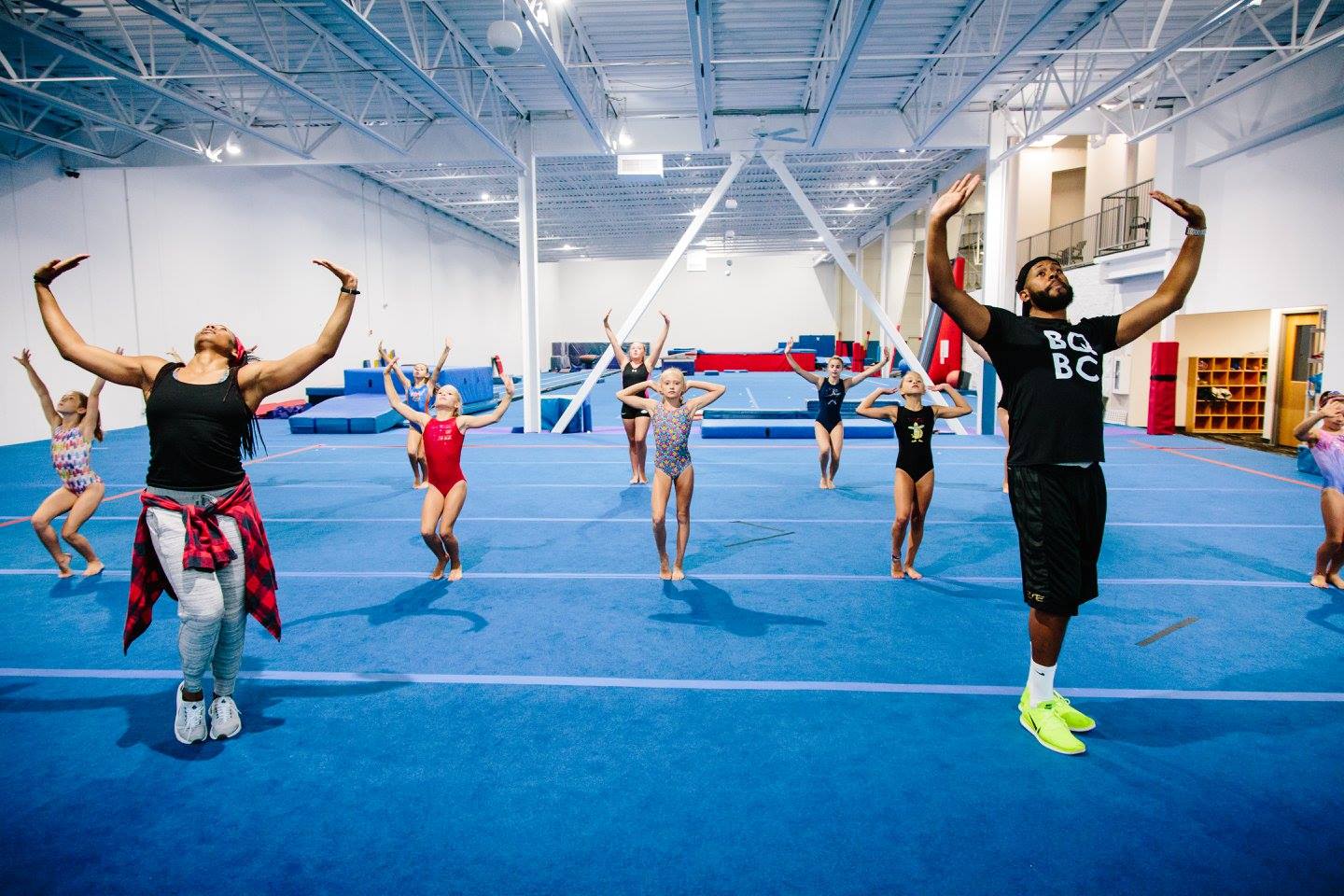 Photo by Dougie Collett
Peszek also brings a judge to the camp in order to teach gymnasts what judges look for on beam at each level. Following the rotation with the judge, the Beam Queen gymnasts practice judging one another's routines.
The staff members also share their struggles with beam and how those struggles became strengths.
The inaugural camp's staff consisted of 2012 Olympic champion Kyla Ross and Peszek's fellow Beijing Olympian Bridget Sloan -- both of whom, along with Peszek, are the last three NCAA balance beam champions. Other NCAA Division I gymnasts also helped with the rotations.
Cory Tomlinson, UCLA Gymnastics team manager, was also at the DeVeau's camp. Tomlinson helps with what Peszek calls "a beam party," bringing fun and confidence to the event. An upcoming camp at Arizona's Gold Medal Gymnastics, will include 2012 Olympic champion and 2011 world champion Jordyn Wieber.
Overall, Peszek makes sure the staff is "knowledgable, will instill confidence to the gymnasts, and bring a great energy to the [camp]."
While the staff members are decorated gymnasts themselves, Peszek and her staff members give awards to the gymnasts. Though all gymnasts participating in the bootcamp are considered "Beam Queens," the staff names one gymnast from each group "Beam Queen Supreme."
The staff votes on which gymnast embodies everything we consider to be a Beam Queen: hard-working, willing to make corrections, and bringing a great energy and spirit to the Bootcamp.
Another award is the Most Dedicated Beam Queen. This award went to a gymnast who flew in from Israel to attend the first camp in Indiana.
"I was so humbled and honored that she was able to come to the Beam Queen Bootcamp from so far away," Peszek said.
The "Actually, You Can" award goes to a gymnast who overcomes a fear, and the "I Am The Storm" is for "the fearless gymnast that was excited to try new combinations and new skills." Two gymnasts from the inaugural camp received special prizes for the elegance and power awards. The elegance award recipient was given an autographed copy of Nastia Liukin's book while the power award recipient was given an autographed copy of Shawn Johnson's book.
Peszek's original plan was to do one Beam Queen Bootcamp this past summer, and another during the next summer if the first went well. That plan has changed as expectations have been exceeded.
"Since the debut, we've had gyms from 18 states and two countries inquire how to host a Beam Queen Bootcamp," the 2015 NCAA champion said. "What I noticed was there was such a need for extra work, specifically on this event, all the way from the fundamentals and mental game to the performance quality of a routine."
Two camps will be held this month, one from October 14-15 in Zionsville, Indiana, at InterActive Academy, and another from October 21-22 in Chandler, Arizona, at Gold Medal Gymnastics. Peszek is already discussing plans for 2018 camps after the J.O. and NCAA season in May and hopes to continue them into next fall. She hopes to have at least one camp in each region of the U.S.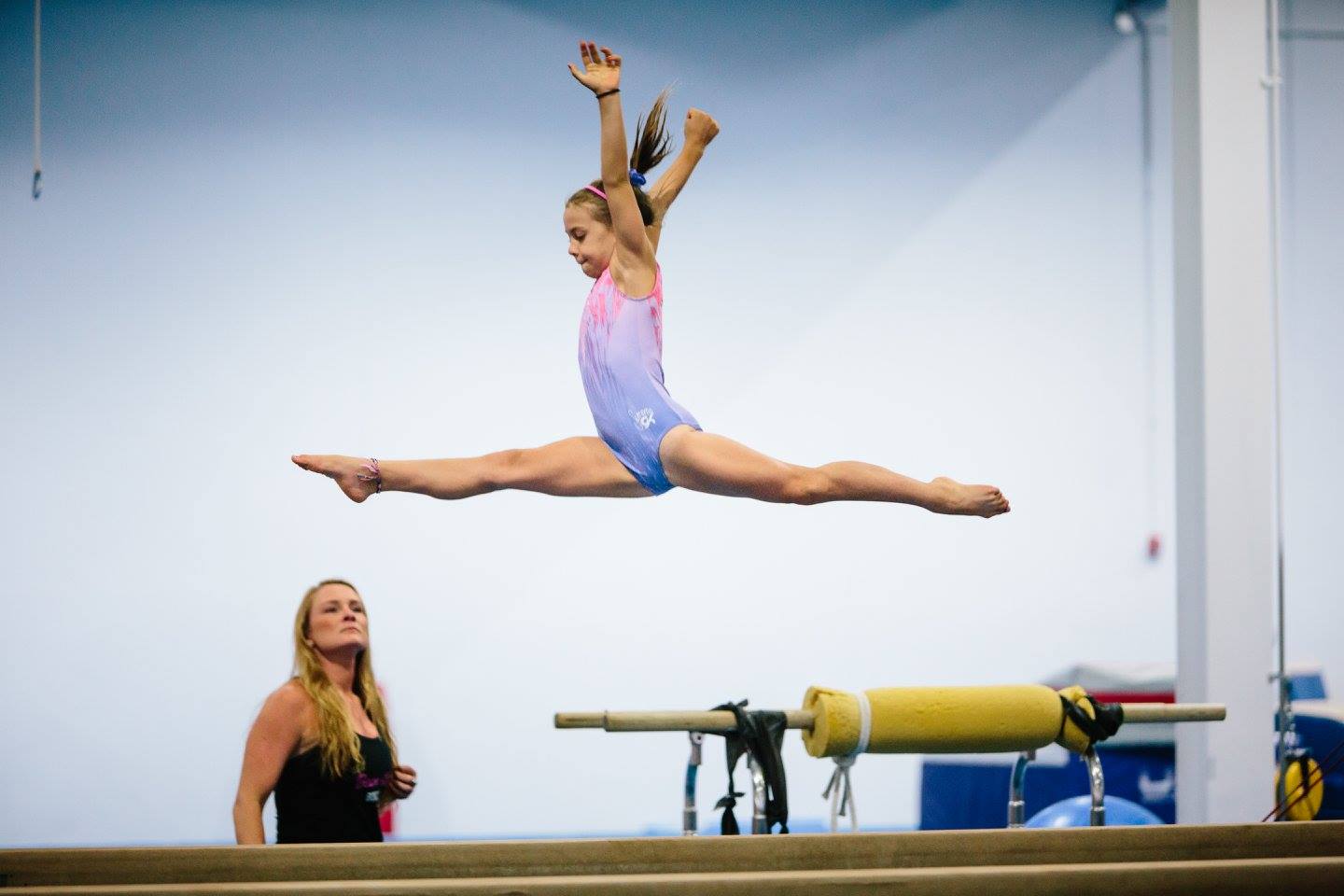 Photo by Dougie Collett
In addition to an overwhelming response about hosting camps, Peszek says the response from gymnasts' parents was better than she expected.
"We had so many Facebook messages and comments thanking us for what their daughter learned from the weekend. It was a very similar reaction from the gymnasts," she said. "They're even tagging @BeamQueenBootcamp on their social accounts so we can see their progress and continue to encourage them.
It was a very proud moment for me when I realized I actually put my vision into reality and was able to give back to the sport I love. I always tell the gymnasts that if I can make the world's hardest sport just a little easier, that's what I'm here for.
Peszek's event may be called "Beam Queen Bootcamp," but she knows it's about more than improving gymnasts' beam routines.
So much of what that translates to is gaining confidence. Whether the gymnast has a fear of a particular skill or the doubt that they will never be recruited as a college gymnast, we've created this event to battle all of these inner monsters in order for them to be the best gymnast they can possibly be.
Gyms interested in hosting a Beam Queen Bootcamp can email
BeamQueenBootcamp@gmail.com
.