RECAP: Five Winners Crowned On Event Finals Day 1, 2017 World Championships
RECAP: Five Winners Crowned On Event Finals Day 1, 2017 World Championships
Five World champions were crowned this afternoon on the first day of event finals at the 2017 World Gymnastics Championships in Montreal, Canada.
Oct 8, 2017
by Rebecca Johnson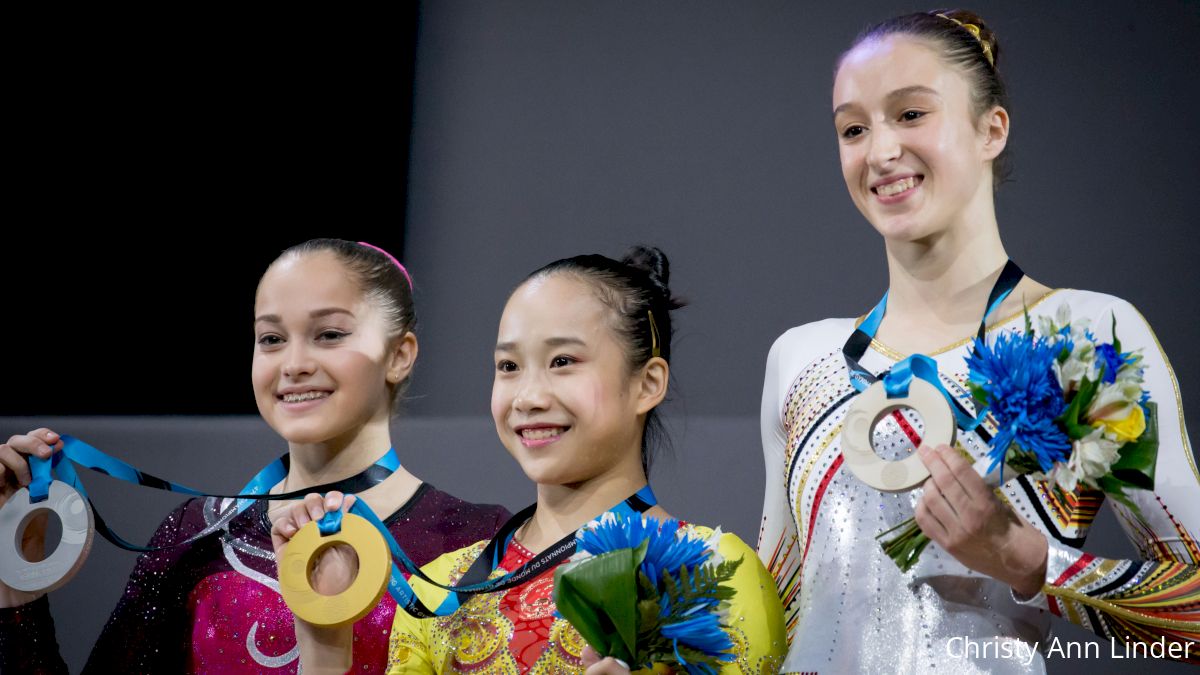 Meet Recap
Five World champions were crowned this afternoon on the first day of event finals at the 2017 World Gymnastics Championships in Montreal, Canada.
MEN'S RESULTS | WOMEN'S RESULTS | INTERVIEWS


The day started with the men's floor final and Japan's Kenzo Shirai dominated the competition to easily secure the gold. Endearingly known as the "Twist Prince," Shirai nailed every pass with ease and finished with a near-perfect quadruple twist to score a 15.633. The silver went to Artem Dolgopyat of Israel who scored a 14.533 and USA's Yul Moldauer performed a strikingly clean routine to secure the bronze with a 14.50.
Then it was the women's turn to take center stage and eight vault stars entered the arena. Russia's Maria Paseka competed early in the lineup and showed up strong with her Cheng and Amanar vaults. She scored a 14.85 which held up as the highest average to win her the gold. Jade Carey bounded forward out of her Amanar, but finished with a clean Tsuk double to average a 14.766 which was good for silver. It was an incredible showing for Carey who is a first-year elite at her first World Championships. In third on vault was Switzerland's Giulia Steingruber who scored a 14.466 for two powerful vaults.
Over on the pommel horse, it was the reigning Olympic Champion Max Whitlock of Great Britain who came out victorious. He increased his difficulty in today's routine while still performing it with ease to earn the top score of 15.441. Russia's David Belyavskiy got some redemption after a
tough finish in the all-around final
. He showed a smooth and steady routine to take silver with a 15.1. All-Around champion Xiao Ruoteng of China added another medal to his collection by earning the bronze with a 15.066.
The women's uneven bars final was a tight battle until the very end. China's Fan Yilin, who was part of the four-way tie for gold at 2015 Worlds in Glasgow, nailed a very difficult set for a 15.166. She became the 2017 bars champion and this year, she had the top of the podium all to herself. Elena Eremina of Russia put up a good fight with beautiful releases, taking the silver with a 15.1. Nina Derwael made history by earning Belgium's first-ever World Championship medal when she took bronze with a 15.033. Disappointingly, USA's Ashton Locklear came off the bar when she didn't make it over on a blind change, taking eighth with a 12.766.
The final event of the day was rings, which was another intense fight till the very last routine. Greece's Eleftherios Petrounias came in as the 2016 reigning Olympic champion and defending 2015 World champion on rings. He performed a difficult routine with immense control and scored a 15.433 to defend his title. Just one tenth behind him was Russia's Denis Abliazin who finished with a double twisting double layout and scored a 15.333 -- good for silver. Taking the bronze was China's Liu Yang who competed last and slipped past France's Samir Ait Said with a 15.266. Despite Ait Said landing in fourth with a 15.258, he has made an incredibly admirable return after his devastating leg injury in Rio.
Watch the winning routines:
Routines of the Day
On the men's side: Japan's Kenzo Shirai performed his amazingly difficult routine as clean as we've ever seen it! He nailed his triple twisting double layout to open and a quad to finish. It's not just unbelievable tumbling that made his routine so great, but he showed impeccable control on the landings too. He grabbed gold with a 15.633.
On the women's side: Fan Yilin of China was precise and clean in her intricate bar routine, including a stunning combo of In-bar full to in-bar Shaposh to Pak to Chow to in-bar Gienger. Her 6.5 D-score catapulted her to a 15.166 for gold.
Interviews of the Day
Nina Derwael talks about her historic bars medal and what it means for gymnastics in Belgium:
Reigning Olympic champ Max Whitlock talks about adding difficulty to his pommel horse routine to help him secure the gold:
Photo of the Day
Silver medalist Denis Abliazin of Russia showing a picture-perfect Maltese on rings.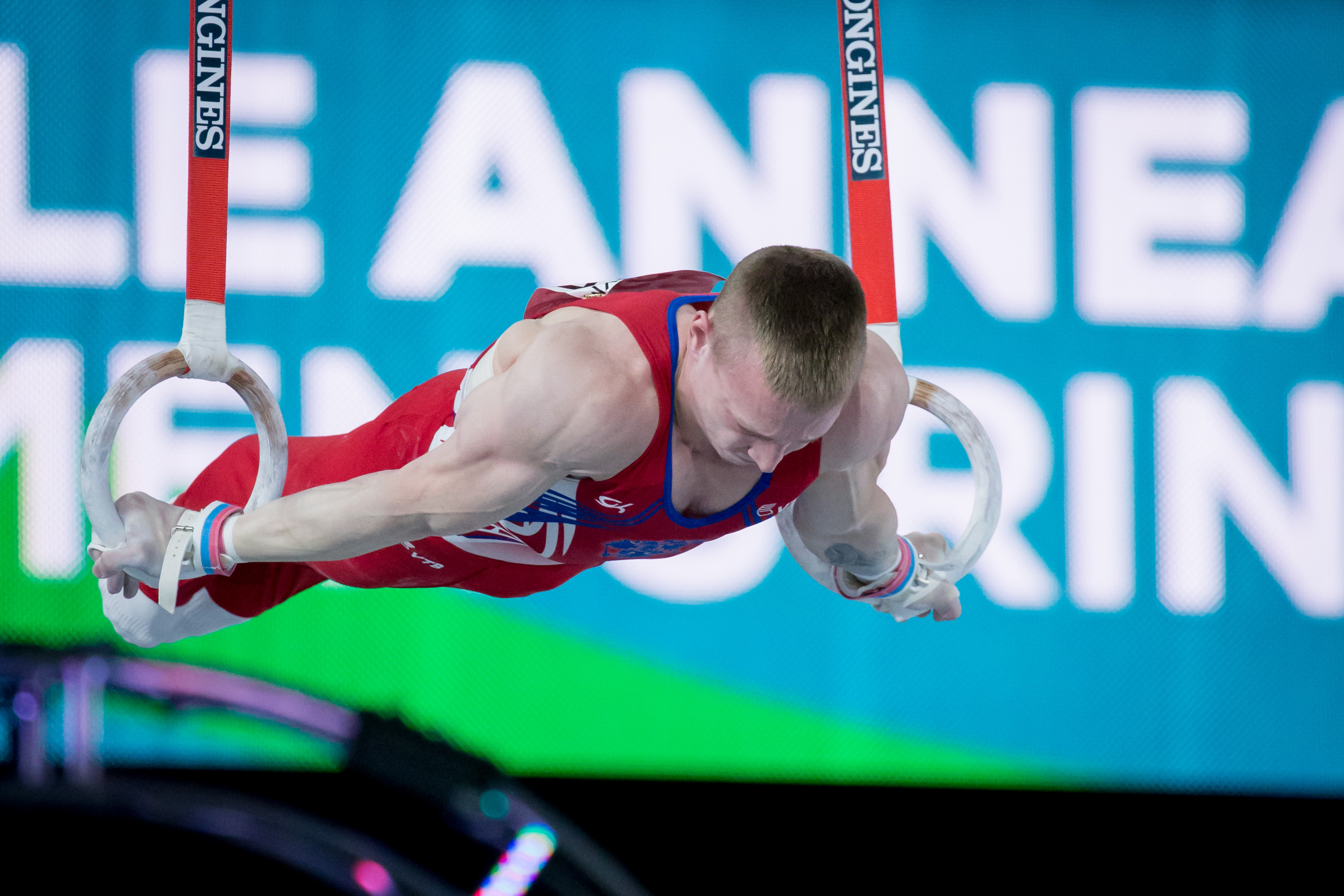 Tweets of the Day

Cheering on Jade and Ashton@USAGym @UnderArmour pic.twitter.com/45HRd5hiXc

— Rhonda Faehn (@RhondaUSAGym) October 7, 2017
It takes a village to get from there to here, shout out to Vladimir Artemev & everyone @5280gymnastics, Yul's junior gym & his biggest fans. pic.twitter.com/SVtT9l1d5t

— Mark Williams (@wellsgymn) October 7, 2017
Instagram of the Day
Related:
World AA Champ Morgan Hurd Receives Congratulatory Tweet From J.K. Rowling
RECAP: Heartbreaks & Triumphs Of Women's Quals At 2017 World Championships
RECAP: A Dramatic Men's Qualification Round At 2017 World Championships
Brazil's Rebeca Andrade Out Of 2017 World Championships With ACL Injury
Larisa Iordache Injured, Out Of 2017 Gymnastics World Championships
Women's Finals Qualifiers At The 2017 Gymnastics World Championships
Kohei Uchimura's Reign Ends: New World All-Around Champion Will Be Crowned